Hopkins County Commissioners Court Monday morning approved a reinvestment zone for BT Solerra Solar, LLC, a $140 million solar project planned in the Saltillo area.
Reinvestment Zone
The Commissioners Court at 9:23 a.m. Nov. 22 conducted a public hearing for the proposed reinvestments zone for a second solar project planned in the Saltillo area.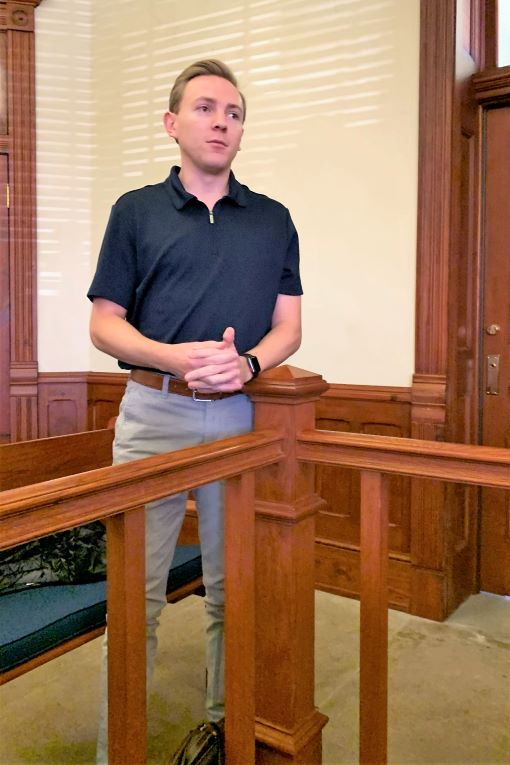 Austin Willis, director of Solar and Storage for Belltown Power Texas, which has been operating in North Texas, said the company has been operating in North Texas for about 5 years.
"We have done about 12 projects to date that are either completed or in construction, so tis will be project number 13-14. We are very excited about it an the investment it brings to Hopkins County," Willis said.
The company currently has three operational solar projects sold in the US, all in Texas: Rippey, Cooke County; Kellam Van Zandt County; and Coniglio, Fannin County. Belltown Power also has sold the following solar projects which are in development: Hopkins County,
It's a 140 megawatt project. Rule of thumb is about a million dollars a megawatt, so it's about a $140 million project. It's in the Saltillo school district. They're going to be a major beneficiary of this project," Willis told the Commissioners Court. "We've submitted the 313 application to that school district in late October, Oct. 25. So, that's under review at the State Comptroller's Office right now."
Willis said Belltown Power Texas hopes to begin construction in the second half of 2022 and operations in the second half of 2023.
The reinvestment zone as proposed in the Commissioners Court agreement is a contiguous geographic area which includes five properties owned by Delbert "Chip" Tully spanning across just over 260 acres and 10 owned by Los Senderos Cattle and Ranch Company totally just over 1,170 acres. Overall, that's a little more than 1,430 acres, all located west of FM 900, starting south of FM 3536 and continuing to property across FM 3532 and narrowing to property west of FM 3536, the proposed reinvestment zone map shows.
The resolution designates the area as a commercial-industrial or residential reinvestment zone for a 5 year span to begin in December 2021, renewable for an additional 5 years at a time or sooner with an order for those parts if any section, paragraph, clause or provision in the document is found to be invalid or unenforceable.
The company, as has been the case with the six other planned solar projects in Hopkins County (including Stampede Solar which is also planned in the Saltillo area), is seeking tax incentives from local taxing entities (Hopkins County, Saltillo ISD and Hopkins County Hospital District) to build solar powered facilities.
The Court was scheduled to consider a Chapter 381 Agreement with Solterra developer Belltown Power Texas, but that document was not yet ready for consideration.
Chapter 313 Application
The Chapter 313 application accepted by Saltillo ISD on Oct. 26, 2021, by Superintendent David Stickels and submitted for review by Texas Comptroller's Office asks the school district for a 10 year tax exemption for the 10 year project, with operations expected to begin during the 2028-2029 school year and conclude during the 2052-2053 school year.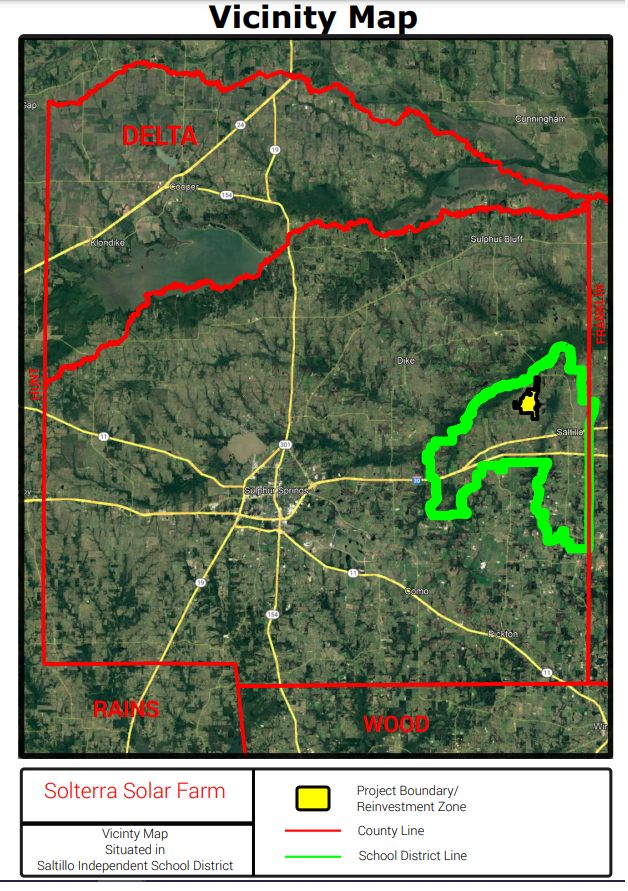 The application shows one qualified employee would be employed to oversee project operations at an annual salary of $47,221, which would require approval for a job waiver to meet Chapter 313.025 (F-1) of the Tax Code, which stipulates creation of 10 permanent jobs unless the jobs created exceeds the industry standard.
"The solar energy industry standard for committed jobs is one job per 350MW. In line with these industry standards for solar project's job requirements, BT Solterra Solar, LLC, as a 143MW project, has committed to create one qualified job," Brandon Westlake, senior tax consultant for Cummings Westlake property tax advisers, wrote in a letter to Stickels with the application.
The 143 MW facility will all be located within Saltillo ISD. Panel placement is subject to change but for purposes of this application, the Project anticipates using approximately 321,617 PV modules or equivalent and 49 inverters.
The "Qualified Investment and qualified property" for the requested 313 agreement with Saltillo ISD would include "solar modules/panels, tracking equipment, racking and mounting structures, O&M building, substation, inverters boxes, combiner boxes, meteorological equipment, foundations, roadways, paving, fencing, collection system, generation transmission lines, interconnection facilities, SCADA systems, transformers, fire suppression systems and all necessary ancillary equipment for commercial generation of electricity."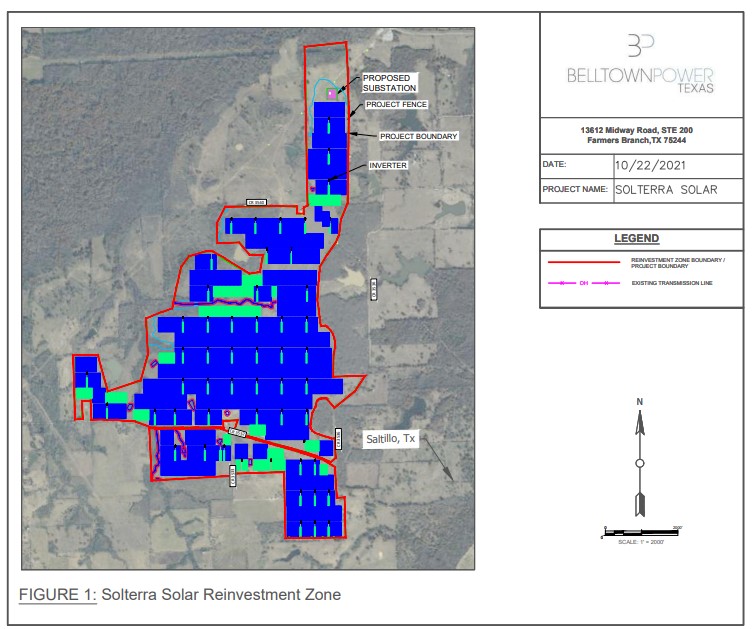 The map in TAB 11 shows the potential locations of improvements within Saltillo ISD boundaries; however, the final number of panels and inverters and the location of each of these facilities is dependent upon ongoing negotiations with power purchasers and other factors. That application, however, said the project is "anticipated to begin in the Q1 2027 with completion by December 31, 2027."
The 313 application also notes Belltown Power Texas anticipates producing final proof of a reinvestment zone or enterprise zone for the proposed solar powered electric generating facility known as BT Solterra Solar, LLC, by April 2022.
The company anticipates asking for a 100% tax incentive from the $0.8688 Saltillo ISD maintenance and operations tax, a 100% tax incentive from Hopkins County's tax rate and a 100 percent tax incentive from Hopkins County Hospital District's $0.22 per $100 valuation tax rate. BT Solterra Solar, LLC, being built in Hopkins County is contingent on the tax incentives, "due to the extremely competitive power market in Texas."
"The property tax liabilities of a project without tax incentives in Texas lowers the return to investors and financiers to an unacceptable level at today's contracted power rates under a PPA. A signed PPA in the Texas market is at a much lower rate than other states because of competitively low electricity prices. Both parties of the PPA have an escape clause if the terms of the PPA cannot be met. Without the tax incentives in Texas, a project with a PPA becomes non-financeable. Therefore, this appraised value limitation is critical to the ability of the proposed Project to move forward as currently sited," the Chapter 313 application made to Saltillo ISD and the Comptroller's Office states.
About Belltown Power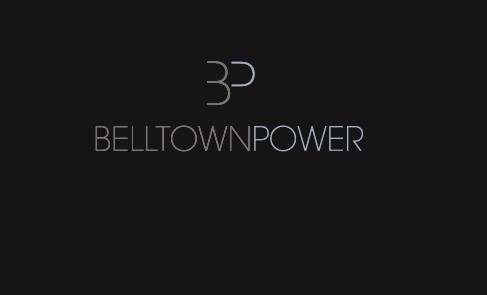 Belltown Power started in the United Kingdom in 2013 as a fully integrated renewable energy power company. With a small, dedicated development, investment, and engineering team, Belltown delivered over 23 projects across onshore wind, solar PV, and hydro projects during its first four years. Since early 2020, the UK team has been focusing on the greenfield development of onshore wind sites.
In early 2017, Belltown expanded into the United States of America to kick-start its next phase of growth with a focus on solar and energy storage development. Within the US, Belltown identified ERCOT and PJM as two key areas of focus with a highly liquid electricity market, low solar penetration, and ample capacity for additional development in many areas.
In the US, Belltown has accomplished rapid growth since inception with 330MW of solar projects already connected into the ERCOT network, an additional 650MW nearing construction, and a further pipeline of over 2GW at various stages of development.
Beyond renewable energy, the Belltown Group established a sustainable farming operation in the US that currently owns and operates 7,000 acres with a target of 50,000 acres across 8-10 regional hubs including Nebraska, Illinois, Michigan, and New York. The business model of Belltown Farms includes transitioning land to USDA certified organic and operating these farms in line with regenerative principles.