Two critical care paramedics received an award Wednesday from Parkland Health and Hospital system for their work, which not only saved a life but also saved the patient's limb as well.
Dudley Wilcoxson, trauma EMS liaison for Parkland Health & Hospital System, Nov. 10, presented Hopkins County EMS critical care paramedics Corey Coker and Chris Johnson with "EMS Lifesaver Recogntion" for their work Aug. 29, 2021, in Hopkins County. The CHRISTUS Trinity Mother Francis Health System Flight for Life #2 team of RN Kevin Hanley and RN Paul Putnam, as well as the pilot out of Mount Pleasant also were presented with the recognition Wednesday morning.
"Today's about recognizing EMS. I think we're in the service that doesn't get thanked enought," said Wilcoxson, who had already made the trip to Mount Pleasant to recognize the flight medics for their role in the patient care. "Your EMS crews are being recognized by Parkland's Rees-Jones Trauma Center for outstanding lifesaving trauma care of a patient transported to Parkland. Due to quick EMS intervention on a deteriorating patient, a bad outcome was prevented. This patient had a great outcome and was discharged home in stable condition," Wilcoxson said.
The Parkland liaison said not only are the paramedics capable in the field, but their use of a special tourniquet save the person's limb.
"Te intervention they did with the tourniquet saved this person's limb. That's beyond – really extraordinary service. I just wanted to come out and recognize you for that," Wilcoxson said.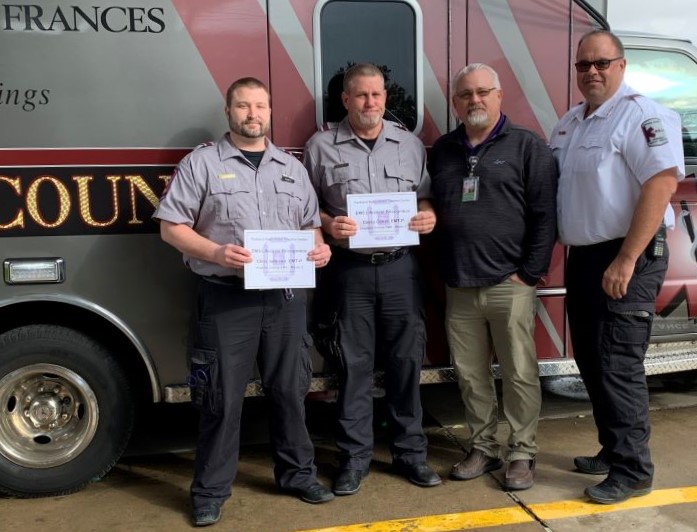 Coker and Johnson also reportedly notified the incoming crew they would be turning over patient care to that the person would require blood, which the flight medics in turn were able to give on the flight to Parkland. Because of the "exceptional job" performed in the field and flight paramedics, the outcome of the patient changed for the better.
"I think the community needs to know what type of service they have here. They should be really thankful they have such good service here. I've always heard good things about Hopkins County. When I was a different EMS provider, I've always heard great things. Talking to the flight crew this morning, they said the crew did an exceptional job. It was about their first intervention," Wilcoxson said.
Hopkins County EMS paramedics during the presentation offered additional credit to a local police officer, who attempted to use a belt to help slow the blood flow until they arrived.