Hopkins County United Way marked the half-way point in the United Way campaign, after three full weeks of the campaign approximately 40 percent of the $150,000 campaign goal had been collected.
Over the last week alone, HCUW campaign workers collected $27,786. When added to the 22 collected during the first two weeks of the campaign, that brings the total amount raised as of Oct. 19 to $60,554.15. That leaves three weeks to go in the 2021-22 campaign, which will benefit 18 local nonprofit organizations which provide services and enrichment programs that benefit all segments of the population.
HCUW President Mike Horne thanked the HCUW volunteers who attended Tuesday morning's campaign report meeting, whether or not they had any new donations or updates to report.
Horne said in his experience last year as campaign chair, the more people who showed up at the meetings each week the more support he felt and more excited he and others present became for the campaign. He encourages all HCUW campaign workers and volunteers to attend the final three meetings if possible (Oct.26, Nov. 3 and Nov. 9 at 9 a.m. at Texas AgriLife Extension Office) to continue building support for this year's HCUW Campaign Chair Kristy Moseley.
Moseley thanked all for their dedication to the campaign and encouraged those who still have packets out to return to the businesses and industries they approached about funding to try to collect donation packets so that next week's report total can equal this week's progress. The goal is to get all donations in by the Nov. 9 meeting if at all possible, so they can be counted toward the goal.
The campaign president also read a letter received from Rep. Bryan Slaton thanking and acknowledging HCUW for their efforts to help others.
As packets were turned in Tuesday, campaign workers noted which donors the donations came from. A representative from CHRISTUS Mother Frances-Sulphur Springs reported the the hospital is holding a pledge drive, offering a friendly Make A Change contest with the name of each person who pledges to HCUW by the end of the month to be placed into a raffle for a chance to win gift cards and donated prizes.
HCUW officer reported generous contributions from several faithful contributors to HCUW, as well as other new donors, whose contributions are all equally important as each helps HCUW grow the campaign fund closer to the goal to support the local agencies.
Sulphur Springs ISD Business Manager Sherry McGraw reported the school district's campaign started a little bit later than some to allow a little time between the school's annual Foundation fundraiser and the HCUW campaign.
Bill Owens at a previous meeting handed the campaign officials a check from Jay Hodge Chevrolet as a "down payment" on the amount the dealership hopes to raise this month through a giveback campaign being conducted this month. This week, he reported another $2,900 contribution from Jay Hodge Chevrolet; the dealership is contributing $100 to HCUW for every new car sold this month. So far, the business has contributed $5,500 to HCUW.
Some campaign workers turned in personal donations they were making or had received to HCUW.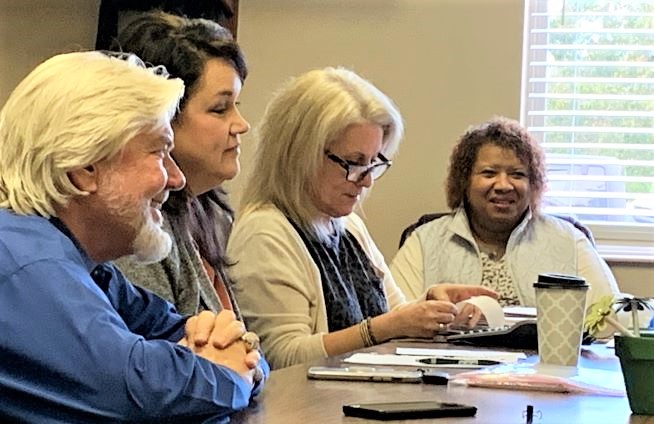 HCUW Executive Secretary Susan Berning reported donation packets are still a lot of packets out, some at very large industries which have traditionally been generous supporters of United Way. Some are anticipated to come in later than the typical 6-week campaign scheduled. For example, Holt CAT's annual campaign will be conducted through the corporation, which matches employee donations. Red River Credit Union will have their numbers in January. HCUW is still waiting to hear back about a Brookshire's Grant the United Way officials have applied for.
Thanks was again expressed to all contributors and campaign workers, which often include representatives of some of the agencies which HCUW supports, including Teen Court and SAFE-T, as well as Larry Crowson and some of his staff for installing the campaign "thermometer" on the Sulphur Springs Fire Department Station 2 grounds to update the community weekly on the campaign's progress.
Those who wish may make donations or learn more about Hopkins County United Way and the 2021-22 campaign via the organization's website, https://hcuw.org, via PayPal or debit/credit card, or by clicking the Shop Now button on the Hopkins County United Way Facebook page. Donations may also be mailed from individual contributors to HCUW Campaign Headquarters, at PO Box 735, Sulphur Springs, TX 75483.
For more information about this week's contributors, be sure to watch KSST's YouTube videos of the campaign workers report meetings.