A teen was jailed for a terroristic threat allegedly made at North Hopkins ISD on Tuesday, according to Hopkins County Sheriff Lewis Tatum.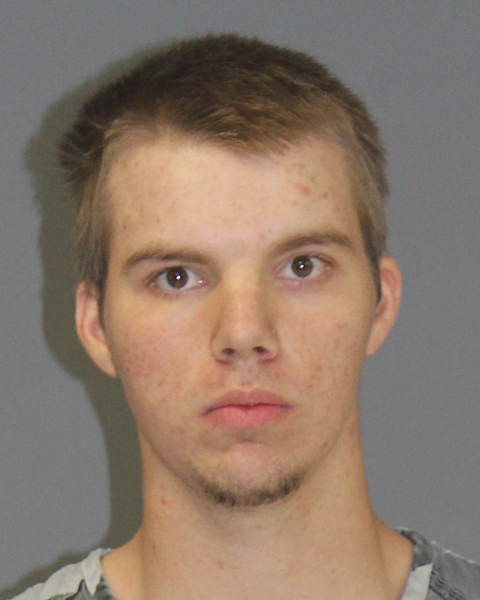 The North Hopkins ISD police chief contacted Sheriff Tatum at 5:30 p.m. Oct. 19, 2021, in reference to a threat that occurred at the school earlier in the day. Tatum said he immediately had an investigator contact school personnel to start a criminal investigation.
NHISD acknowledge the threat reported to North Hopkins Secondary School campus administration Tuesday afternoon, Oct. 19, in a "public statement" posted on the district website and social media pages around 9:30 p.m. Tuesday: "We know that, in today's world, any news of this kind is upsetting. Rest assured that your child's safety and security is always uppermost in our thoughts and actions. The NHISD, its administration, and its staff take all reports of this nature very seriously, and we appreciate your continued support and patience during this time."
"I want the community to know that any threat made toward another student or our schools will be taken seriously and investigated immediately," Tatum stated in a news release Wednesday morning.
"The NHISD campus administrators acted immediately to confront the student, address the situation, and conduct a preliminary investigation. The student has been removed from the NHISD secondary school campus and does not pose a threat to NHISD students or personnel at this time," according to the NHISD school statement.
The school district's reportedly preliminary investigation indicated no credible threat of imminent danger, but for the safety and security of students, the incident was turned over to law enforcement for further, more in-depth and ongoing investigation, according to NHISD.
"As a result, we expect to have a greater police presence on campus tomorrow morning as the Hopkins County Sheriff's Office conducts a thorough investigation," NHISD's public statement read.
According the NHISD report, "the student in question is not currently attending school and the North Hopkins ISD has taken all
appropriate measures to ensure the safety of our students and staff. We are confident our schools, our students, and our staff are not in any danger."
According to arrest reports, Troy Michael Stockton was accused of making verbal statements to cause serious bodily injury to others. Witnesses told officers the 18-year-old had been involved in a verbal altercation with a student at school and made statements which made another student fear for their wellbeing. A witness reportedly indicated fear of Stockton, who has a mental health condition and has been assaulted by the youth before.
Investigators obtained a warrant for Stockton's arrest for the alleged terroristic threat made at North Hopkins ISD, due to "substantial evidence" obtained while they spoke with the purported witness, Hopkins County Sheriff's Office Deputy Nick Marney and Investigator Michael Russell alleged in arrest reports.
"At approximately 9:31.pm., as a result of the criminal investigation, Troy Michael Stockton, an 18-year-old male student, was arrested for terroristic threat, a Felony 3, at his residence and is currently in the Hopkins County Jail with a $75,000 bond," Tatum reported.
According to Chapter 22.07, subsections (a)(4), (a)(5) and (a)(6) of Texas Penal Code, a person commits a terroristic threat punishable as a third-degree felony:
(a) if the person threatens to commit any offense involving violence to any person or property with intent to:

(4) cause impairment or interruption of public communications, public transportation, public water, gas, or power supply or other public service;
(5)place the public or a substantial group of the public in fear of serious bodily injury; or
(6)influence the conduct or activities of a branch or agency of the federal government, the state, or a political subdivision of the state.
"We commend the individuals who made the initial report to NHISD and the NHISD personnel who immediately responded to the report. We also thank our school district police department for quickly responding to the situation and the Hopkins County Sheriff's Office for working with the District to make sure that our students and personnel are safe," the NHISD release stated.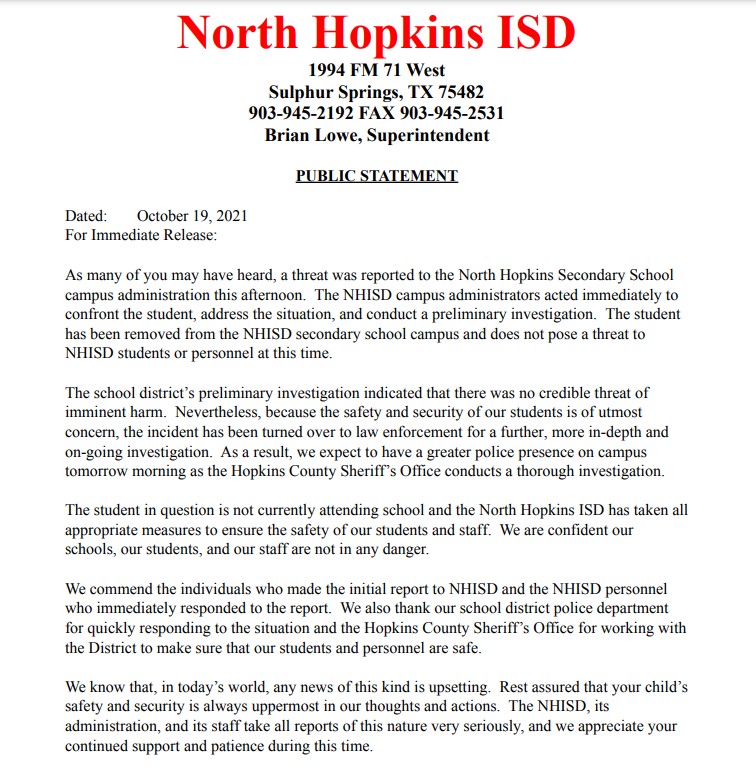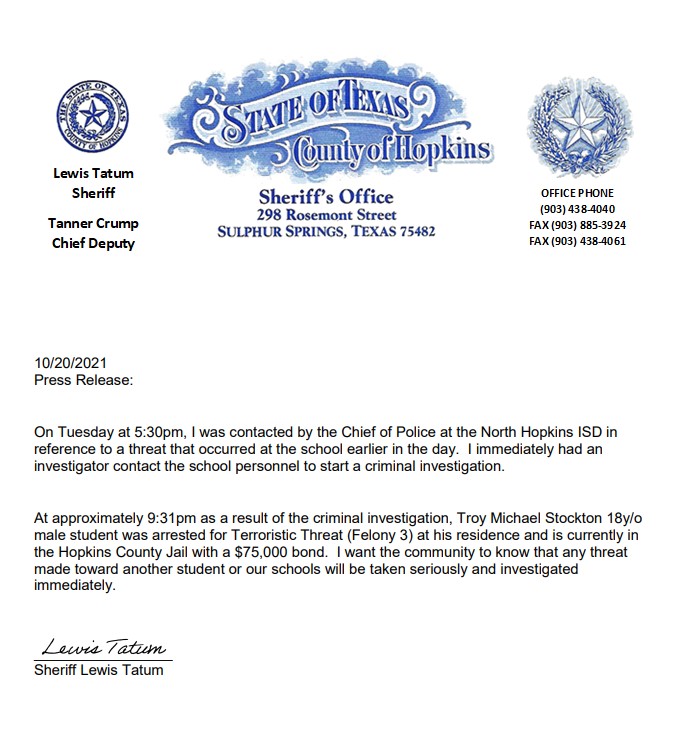 If you have an emergency, dial 9-1-1
The Hopkins County Sheriff's Office is located at 298 Rosemont Sulphur Springs, TX 75482. You can reach them for non-emergency matters at (903) 438-4040.