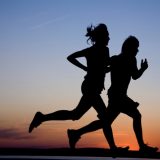 While the Lady Lions did not qualify for Regionals as a whole, they did have a top-20 finish in Brianna Tawil who placed 17th, finishing her 5K at 13:26.
For the varsity boys, Gunner Tarver led the way in fourth with a time of 17:37.
The second-place runner at 11th was Coy Collins at 18:22.
Rowdy Speir was the final Lion to place in the top-20 at 18:47, good enough for 18th.
Adrian Don Juan and Luke Ritter both cracked the top-25, crossing the line at 18:54 and 19 minutes flat, with those two Saltillo athletes placing 22nd and 24th, respectively.
The final two Lions Cristian Trejo and Andrew Redburn finished 33rd and 42nd.
Team results from the 1A-Region III championship meet were as follows:
1st- Miller Grove- 28
2nd- Saltillo- 74 (Team State Qualifier)
3rd- Slidell- 110
4th- Blum-114
The second-place finish was more than good enough to allow the Lions to move on to the state championship meet for cross country.
Next up, Saltillo will compete in the State cross country meet for 1A will take place at Old Settlers Park in Round Rock, TX on Nov. 5, 2021.