Hopkins County Sheriff's Office launched a search Wednesday morning for a 53-year-old Sulphur Springs man who managed to escape from the district court room after being placed into custody; the Sulphur Springs man still wore handcuffs when located shortly after midnight, according to sheriff's and arrest reports.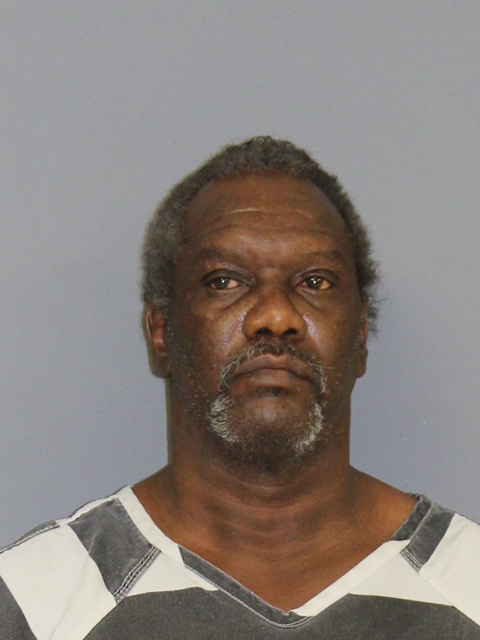 HCSO Sgt. Tanner Steward, in arrest reports, reported being notified Oct. 20, that Daryl Christopher Simmons, a man scheduled during the 9 a.m. court session in the 8th Judicial District Court for arraignment on manufacture or delivery and possession of Penalty Group 1 controlled substances in drug-free zones charges, had escaped from custody. At some point he was placed into handcuffs, but managed to escape from the courtroom, reportedly under the guise of using the restroom according to individuals said to have been in the district courtroom at the time.
At 10:27 a.m. Oct. 20, Lake Country Crime Stoppers issued a social media post with a prior jail photo of Simmons,and two images taken from area video of a white 2001 Mitsubishi car with body damage he was reportedly last seen driving in. He was reported at that time to have last been seen driving the car east on Jefferson Street. The social media post asked the community to assist law enforcement in their efforts to locate Simmons, by calling the sheriff's office of Lake Country Crime Stoppers with any information regarding Simmon's whereabouts.
The message was shared on the sheriff's office's social media page about 10 minutes later. During the day Wednesday, HCSO updated the post, noting that the "the suspect's vehicle was located today near his residence. A search was conducted with TDCJ K9's. The suspect was not located in the search. The investigation is ongoing."
During his shift, Steward reported contacting Simmons by cell phone, and pretending to be an acquaintance of Simmons. The pair allegedly discussed narcotic-related information. During the conversation, Simmons reportedly told the officer he was at his rural residence.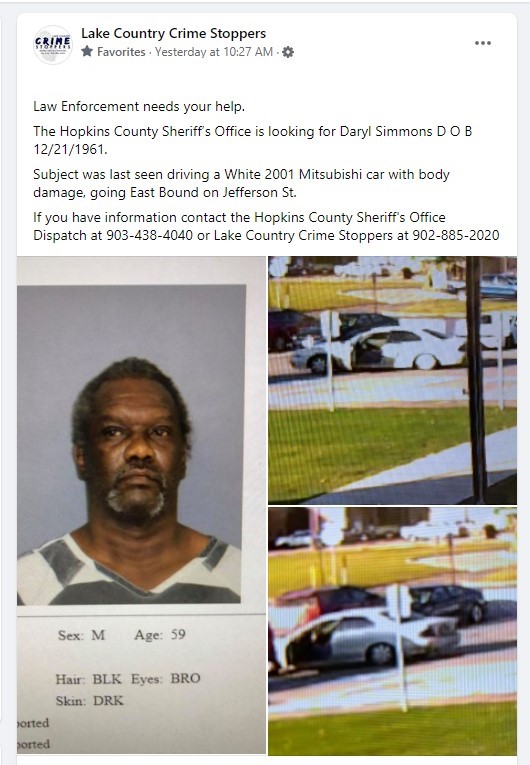 Sgt. Steward and HCSO Deputies Zack Horne and Josh Davis went to the man's residence late Wednesday night. The front door was breached so the officers could make entry into the CR 2310 residence. The sheriff's officer reported seeing Simmons walk down the hallway of his residence; he still wore the handcuffs put on him in district court, the deputies alleged in arrest reports. Simmons was arrested around midnight on warrants revoking his bond on both controlled substance charges and booked into jail on just before 1 a.m. Thursday, Oct. 21, 2021, according to arrest and jail reports.
Simmons, who is also known to use the aliases Bryson Alphonso Hill, Charles Kartney James, Charles Karney James, Triple OG and Simmons Schristopher, remained in Hopkins County jail on both charges late Thursday morning, Oct. 21, 2021, according to jail reports.
The arrest marks the third time Simmons has been in Hopkins County jail in the past 7 months. He was also arrested and jailed for possession of less than 1 gram of the Penalty Group 1 controlled substance in a drug-free zone March 24-30, 2021. Simmons was jailed June 11-15, 2021, on a warrant for manufacture or delivery of 1 gram ore more but less than 4 grams of a Penalty Group 1 controlled substance, according to jail records.
---
The Hopkins County Sheriff's Office is located at 298 Rosemont St., Sulphur Springs, TX 75482. Non-emergency calls can be made to (903) 438-4040.