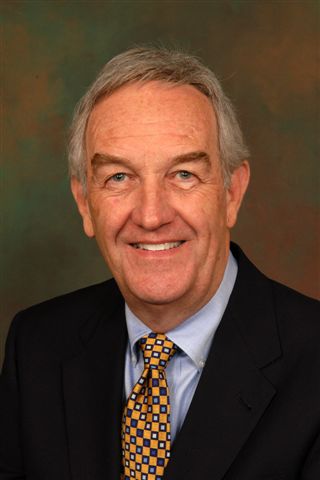 Charles David Baucom, 84, of Sulphur Springs, Texas, went to his heavenly home on Friday October 8, 2021, at his residence surrounded by his loving family. Born on September 18, 1937 in San Antonio, Texas, he later graduated from Sulphur Springs High School and Baylor University. He married the love of his life, Sandra Sale on June 2, 1962 in Stanton, Texas.
He was devoted to his Lord and served Him faithfully. David was a man of God. His lifelong service to his local church included teaching Bible Study, serving as a deacon and singing in choirs, ensembles and quartets.
David was passionate about many things including: flying, driving, music, business, reading, and baseball, especially the Cardinals. He also loved following and supporting his kids and grandkids in all their endeavors.
He was a servant leader, valuing public service. David loved America. He was a veteran of the US Army and served as a three-time delegate to the Texas Republican Convention as well as a Delegate to the Republican National Convention of 1984. Upon appointment by the Texas Governor, he served on the Texas Medical Board for 16 years; and the Sulphur River Basin Authority as President of the Board. He especially loved serving in his hometown, serving on the city council, as Mayor, as Chairman of the Republican Party of Hopkins County, and as President of the Chamber of Commerce.
David was the founder of Baucom Insurance Agency in 1976 where he worked until the time of his passing. In 1988, David and a group of local businessmen organized First American Mortgage Company which then grew to become First American Bank and Mortgage Company. In 1999, it merged with Guaranty Bank where he served on the Board of Directors.
David was a loving and devoted son, husband, and father. He was preceded in death by his parents, Reverend Robert Gaddy and Reba Catherine Baucom. He is survived by his loving wife Sandra, his three daughters, Connie Brice of Houston, Cathy and Darren Gray of Sulphur Springs, and Carla and Greg Owens of Sulphur Springs. He is also survived by his grandchildren: Benjamin and Diana Brice, Courtney and Aaron Correa, Juliana and Colton Hager, Isabella Brice, Hope Brice, Garrett and Brynn Gray, Sam and Shannon Gray, Justin and Toni Owens, and Morgan Owens and his great grandchildren: Liam and Emma Brice, Jase Owens, and Judson Gray.
David Baucom was a true gentleman whose life exemplified "a job well done, good and faithful servant."
Visitation will be held at 1 p.m. at First Baptist Church, Sulphur Springs, on Saturday, October 16, 2021, with services beginning at 2 p.m. Burial to follow at Sulphur Springs City Cemetery. In lieu of flowers, memorials may be made to either Cru at give.cru.org/1021870 or FBC Sulphur Springs for mission work in Nicaragua. Arrangements are under the direction of West Oaks Funeral Home.