Hopkins County County Commissioners Court approved the purchase of three pieces of equipment for Precinct 1 and one for Precinct 3, renewed an oil, gas and mineral lease for Rushing Cemetery, and heard from three individuals during the public forum portion of Monday morning's regular court session.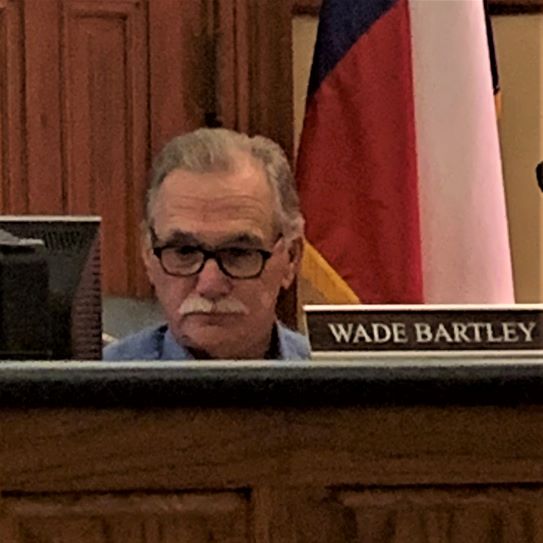 Equipment Purchases
Precinct 3 Commissioner Wade Bartley asked the court to consider accepting the purchase of a Case Backhoe from Associated Supply Company through a Sourcewell Contract. Bartley said during the summer, a backhoe was damaged during an accident. So far no insurance has been received on it. It's still in the shop being investigated. So, Precinct 3 has been without a backhoe for a few months, which has put a crimp in operations, which this seems to be one of the worst years with equipment break-downs
The county did not have to seek bids for a backhoe, since the purchase would be made from the purchasing cooperative. The backhoe, which did receive unanimous approval of the court, will cost $121,876.46, which will come from American Rescue Act funding allocated to the precinct from the ARA funding awarded to the county. The backhoe isn't expected to be ready for pickup until mid November or the first part of December.
Precinct 1 Commissioners Mickey Barker then asked the Commissioners Court approve the purchase of a Caterpillar 140 Motor Grader from Holt Cat under a Sourcewell contract, a BOMAG RS 360 from RB Everett & Co. through a Buyboard contract, and a 2022 Mack Dump Truck from East Texas Mack through a TIPPS contract.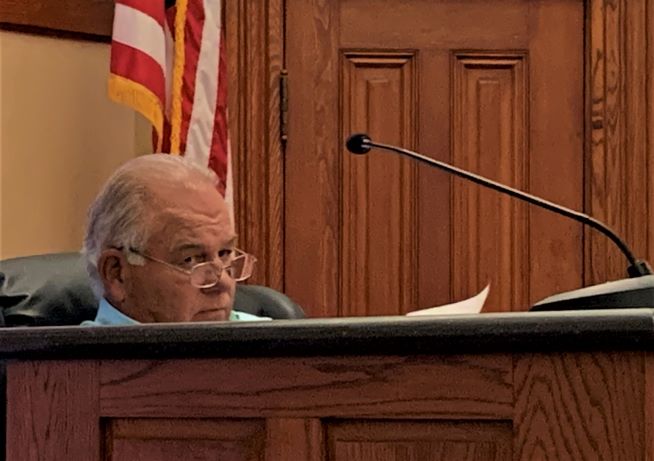 Barker said the motor grader will replace one Precinct 3 has had for many years. He is looking to potentially sell the old one in the near future. The approved single-axle dump truck was approved through TIPPS at a rate of $92,092. Rescue Act funding will be used on both purchases.
The Precinct 1 Commissioner explained that the BOMAG brand reclaimer tears up the road and mixes the existing oil sand. He has been renting the reclaimer in question for the last 3 months and will be looking to finance the unit he's been leasing for $307,500. The Commissioners Court unanimously agreed to allow Barker to purchase the reclaimer and, at the next meeting, will be asked to approve financing of the reclaimer.
Rushing Cemetery Lease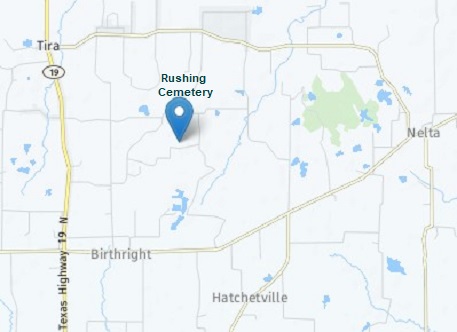 The Commissioners Court agreed to request for a 4-year oil, gas and mineral lease on property known as Rushing Cemetery, located in William Gregg survey, Abstract #338. Precinct 4 Commissioner Joe Price said he'd talked to someone earlier who indicated they wouldn't be drilling into but were after the rights to the minerals underneath. It's his understanding, that it's been leased for this purpose since 2004. It would be eligible for consideration for renewal in 3 years. The county receives some money for the mineral rights.
"It's a relatively small payment, but it they happen to strike oil in that area, we'd be in good shape," County Judge Robert Newsom noted.
Price said he wasn't able to go out and look at the area in question due to prior commitment at the Stew Contest.
Newsom said the property is somewhere in the middle of a pasture. He said he and his grandson at one time went out but never did locate Rushing Cemetery property. The map shows the 1.2-acre property to be located north of Birthright and south of Tira, off a country road, accessible by walking a distance. Price said he was assured it's being very well maintained.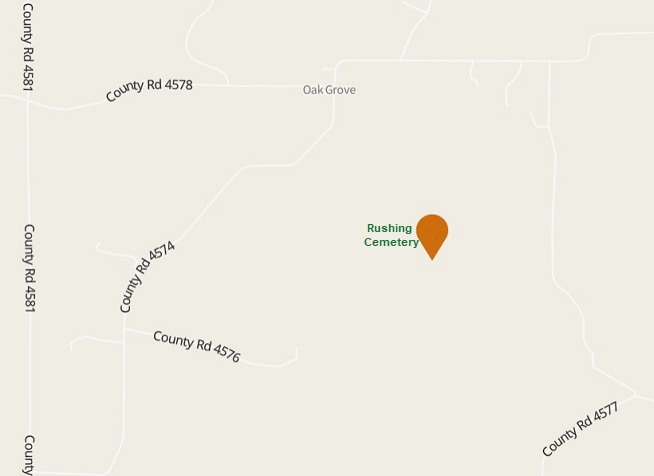 Citizens Comments
At least three residents and a public relations representative spoke during the citizens comments portion of the Oct. 25, 2021, Commissioners Court meeting.
Frank Brown for the second time in 2 weeks (he also spoke on the 15th) addressed Bartley about the condition of County Road 3546, on which he resides. He presented to Judge Newsom a page his said contained signatures of "everyone from highway 69 to 900" who are unhappy about the road condition. He asked when Bartley plans to start work, and when he does if work will start at the very beginning of CR 3546 and continue to the old dirt road. He said it needs to be sealed at least down to CR 3542.
Bartley noted Precinct 3 is working on that road, patching "what needs to be fixed." The crew won't, however, be redoing the entire road.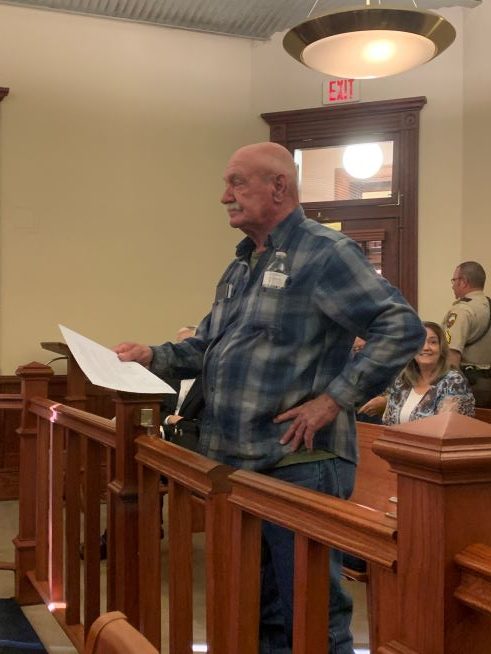 Brown said he noticed that the work began 1,115 feet from the very beginning of the road. The entire road, he contends, needs to be resealed.
"You ain't done nothing with that road since you've been elected," Brown said.
"We're working on your road right now. I don't care what I do to it, it won't be to your satisfaction, period," Bartley said.
Brown told Bartley if his crew would "pave through there and cleanup a little bit" and he would be happy. Currently, however, the road is every old and unlevel, Brown said.
Michelle Barnes, who has often during Commissioners Court voice her disapproval of the Court especially their decision to allow a solar facility to be constructed in Dike community, also spoke during the Oct. 25, 2021, court session. She asked them whether their purpose as elected officials is to make money or to represent rural county residents. Barnes told the Commissioners Court that it appears to her that they are working more for the goals of the City of Sulphur Springs, who is represented by an elected city council, than the for the rural residents throughout the county they are elected to represent.
She urged them to slow down and thoroughly research solar power plants, which she says are "popping up all over Hopkins County faster than and male and female rabbit can reproduce," and to study the power plants' potential impact on the future. She urged the court to be proactive regarding solar power and green energy power in Hopkins County so that others in the future won't have to be reactive toward it.
"Data is now coming out that we cannot rely solely on green energy. You need backup energy on those non-solar power surge days and nights that is currently coming from the same people you are trying to replace. Think ahead and resist creating issues down the road because of green energy," Barnes urged the court.
"I've been in the power business for most of my adult life and no one is saying we should run this country solely on solar energy or wind energy or any kind of renewable energy. It takes all the above to power our needs on a daily basis. No one is trying to make that claim by saying we need clean energy, that we need solar energy, that we need all the above. No one is making the claim that we don't need backup energy," Bill Penatak, who with Open Doors Public Relations is working with Engie on the planned Dike solar project Hopkins Energy LLC, said when addressing the Commissioners Court after Barnes.
Barnes also during her address to the court, said she too believes, like a famous quote states, that history shows most bad government results from too much government, and when are piled upon one another like larger cities in Europe can become corrupt.
"I find it also fascinating for someone to come up and stand up here and say that the problem is too much government when at the same time they are trying to get this body to coerce land owners to dictate what they can and cannot do on their land. Furthermore, if that's not working for them, they cannot control this body, they are working very diligently to try to incorporate Dike to try to set up their own government so they can tell people what to do," Pentak said.
Jim Helfferich too addressed the Commissioners Court to correct a social media post in which he was pictured and which stated he wrote a letter. He said make a donation to a volunteer fire department and had his photo taken by the fire truck. He denied writing any letter or condemning county officials and said he does not appreciate the context of the social media post.