Although COVID-19 cases have continued to decline over the last month as vaccinations rose, three additional Hopkins County deaths were attributed to the virus, according to Texas Department of State Health Services Oct. 29, 2021 COVID-19 reports.
COVID Deaths
As of lunch time Friday, Oct. 29, 2021, a total of 146 Hopkins County residents have died from COVID-19, including three this month. Because coronavirus deaths are confirmed when the virus is listed by official as the "cause" of death on death certificates filed with the state vital statistics office and reported to DSHS, those numbers could and likely will increase as additional death certificates are filed for individuals whose addresses ended with a Hopkins County zip code.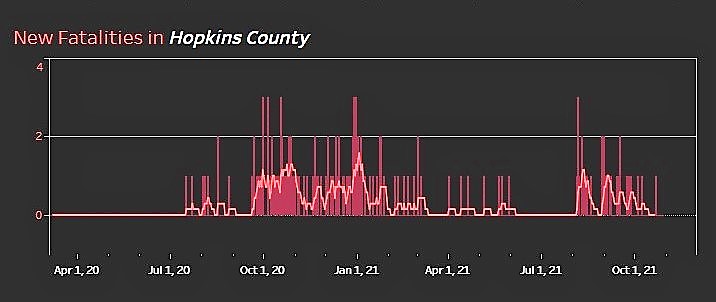 For instance, eight Hopkins County COVID-19 deaths have been confirmed and reported during the month of October, but all except three were for deaths that occurred in September. That increased the total number of COVID-19 deaths for September 2021 to 14, just one fewer than in August 2021.
One Hopkins County resident has been confirmed to have died on each of the following days as a direct result of COVID: Oct. 4, Oct. 8 and Oct. 22. That makes 62 Hopkins County residents who have died from COVID-19 in 2021. Added to the 84 COVID deaths recorded from July to Dec. 31, 2020 (no Hopkins County COVID deaths were confirmed to have occurred before July 2020) , that makes 146 Hopkins County residents who've died from coronavirus.
Case Counts
The number of new COVID-19 cases in Hopkins County has declined significantly since the last 6 weeks, dropping from 242 new cases the second week of September, to 125 new cases recorded the third week of September, 129 new cases the last full week of September and only 12 new cases the last 2 days of the month. The new case count has continued to fall every week in October, with 93 new cases (79 lab-confirmed and 14 probable) reported the first seven days of the month, 78 new cases (64 confirmed and 14 probable) the second week, 70 (55 confirmed, 15 probable) the third week, 52 new cases (41 confirmed and 11 probable) Oct. 22-28, and only three new cases (2 confirmed and 1 probable) on Friday, Oct. 29, 2021.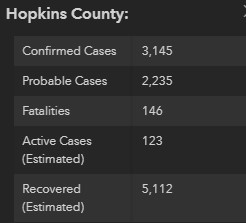 Overall, that makes 296 new Hopkins County coronavirus cases reported Oct. 1-29, 3,241 this year and 5,480 total COVID cases since March 21, 2020.
The lower case counts have lowered active case counts. On Sept. 14, the active case count had risen to a whopping 498 for Hopkins County, by Sept. 21 there were only 388 active cases. Active cases dipped to 306 on Sept. 30 and 237 the last day of the month, for an average daily active case count of 392 in September.
The active case count continued falling in October, with 220 active cases on Oct. 7, then 176 on Oct. 14, had dropped to 167 on Oct. 21 and on Oct. 28 was 130. At lunchtime Friday, Oct. 29, 2021, a total of 123 Hopkins County residents were reported to have COVID.
Fewer cases, mean fewer people who are need to recover, so those number too have been lower in October. A total of 123 recoveries were reported from Sept. 1-7; that number increased to 159 recoveries Sept. 8-14 and 220 recoveries Oct. 15-21. The weekly total number of recoveries have continued to decline since. A total of 712 recoveries were reported for Hopkins County Sept. 1-28, with 50 more on Dept. 29 and 31 on Sept. 30, for a monthly total of 793 recoveries.
During the first 29 days of October, a total of 405 recoveries had been reported, 109 recoveries the first week, 119 the second week, 74 the third week, 93 Oct. 22-28, and 10 on Oct. 29.
Testing, Vaccines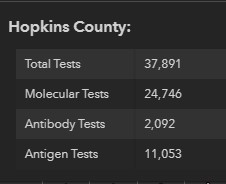 COVID testing in Hopkins County appeared to be declining weekly as well, with 790 tests conducted Oct. 1-7, 660 tests from Oct. 8-14, and 537 tests Oct. 15-21. However, from Oct. 22-28, a total of 789 COVID tests were conducted. A total of 411 antigen tests were conducted Oct. 22-28, twice the 205 reported Oct. 15-21, and still more than the 209 reported Oct. 1-7 and 296 antigen tests conducted Oct. 8-14. Molecular testing number haven't fluctuated too much, from 319 to 385. The number of antibody COVID tests conducted remained a single digit for each 7-day period this month, except Oct. 15-21 when 13 antibody tests were conducted.
As of Oct. 28, a total of 28,762 doses of COVID vaccine had been administered to Hopkins County residents, 351 doses since Oct. 25, acording to DSHS Vaccine Data dashboard. As of Oct. 28, a total of 15,252 in Hopkins County had received at least one dose of the vaccine, another 13,426 were reported to be fully vaccinated and 1,200 people had received an additional or booster dose of the COVID vaccine.
Broken down, 429 youth ages 12-15 had received one dose of COVID vaccine and 345 were fully vaccinated as of the Oct. 28 DSHS COVID-19 Vaccination in Texas report.
In the largest vaccination group, ages 16-49 years, 4,707 in Hopkins had been fully vaccinated and 5,669 had received one dose of the vaccine. Of those age 50-64 years, 3,679 had been fully vaccinated and 4,084 had received a first dose of the vaccine. A total of 3,812 people ages 65 to 79 years had received one dose of COVID vaccine and 3,534 were reported to be fully vaccinated for COVID as of Oct. 28, 2021. In the final age group, those 80 years and older, a total of 1,157 were reported to be fully vaccinated in Hopkins County and 1,249 had received one dose of coronavirus vaccine. One final group, those for whom dose providers were unable to provide age demographics, showed 9 had gotten one dose of vaccine and four others were fully vaccinated as of Oct. 28.

Also notable is the fact that in all age groups, except one, more females than males had received doses of the vaccine. In the youngest age group 12-15 years, the opposite was true: 176 males and 169 females have been fully vaccinated, and 217 males and 212 females had received one dose of the vaccine, according to he DSHS data.
Broken down by race and ethnicity, 54.22 percent (8,270 people) of people vaccinated in Hopkins County identified as White, 18.56 percent (2,831 people) identified as other, 15.12 percent (2,306) as Hispanic, 5.58 percent (851 people) as Black, 5.53 percent (844 people) as Unknown, and 0.98 percent (150 people) as Asian.