Sulphur Springs Municipal Airport has been undergoing improvements over the past month, and soon is scheduled to close for about 10 days for rehab on the runway.

This $1.9 million runway and taxiway surface rehabilitation project which began in early August is 90 percent funded by a Texas Department of Transportation grant. All the concrete and asphalt surfaces on the operations side will be completely rehabilitated and the ramp will be significantly enlarged. Just before the project began city officials reported the runway was expected to be closed for a total of 9 days over three different times.
Phase 1 of the runway and taxiway surface rehab project was scheduled to begin Aug. 10, with work expected to take about 90 days. Runway 1/19 was expected to be closed for 12 days during the project. Rain delayed completion of the project, so Phase 2 was to get under way on Aug. 17, with Phase 1 resuming as soon as weather permitted.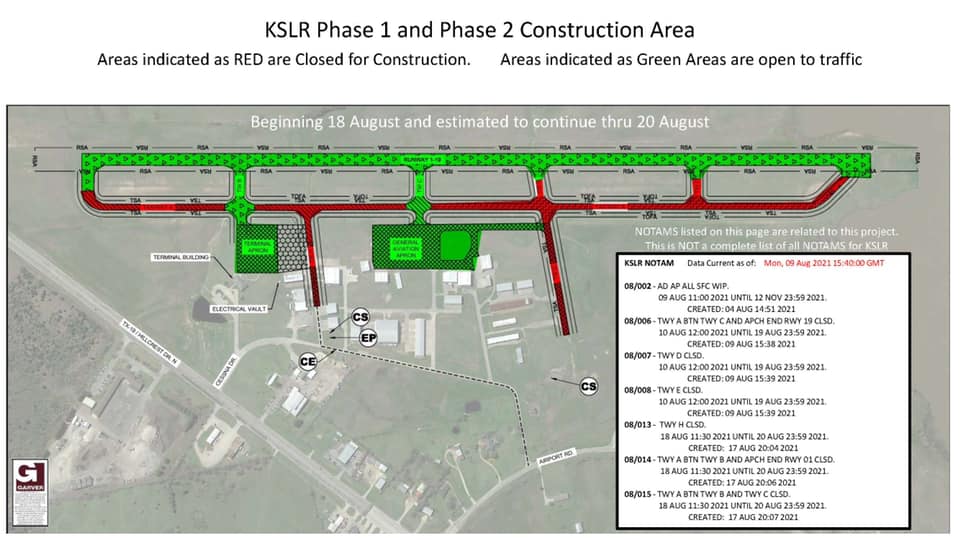 However, Phase 2 also got delayed by weather, pushing the start of that part of the project back to The week of Aug. 23-this week, allowing all surfaces to open Aug. 21-22.
Last weekend, all surfaces except taxiway A between taxiway B and approach end of runway 1 were open. Phase 3 of the project was slated this week, with the terminal ramp closed to all traffic through Sept. 3. Full service is available from the midfield ramp as needed. The first runway closure is not scheduled for Sept. 13-21.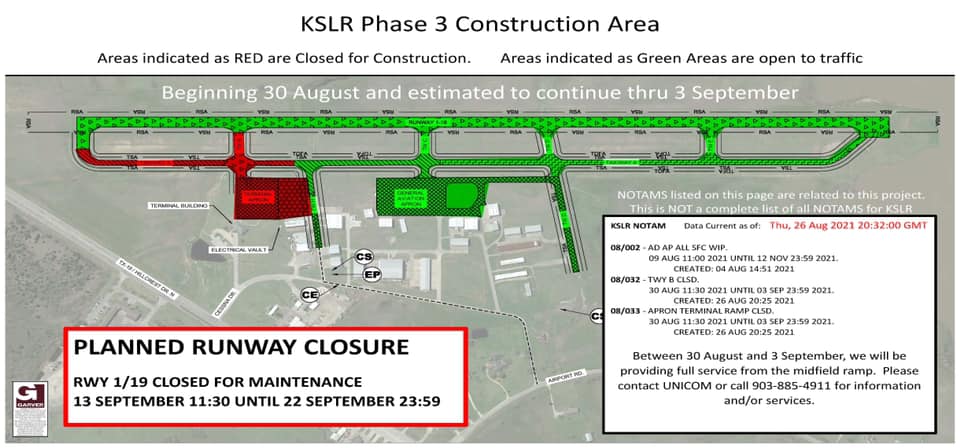 On Thursday morning, a crew worked ceiling cracks in the surface. They are portioning off the taxiway and in a few weeks are expected to shut the runway down for 10 days to perform rehab work, getting it all done at one time.
Airport patrons and visitors are encouraged to check NOTAMs regularly and contact UNICOM (123.075), or direct questions to the Airport office at 903-885-4911.