This last weekend marked the final round of the Jettribe Mid America Jetski race series, meeting in El Dorado, Kansas. This was the last stop for the IJSBA race tour in the region.
This race series brought in the best Jet Ski racers from Arizona, Kansas, Oklahoma, Ohio, Colorado and New Mexico. It was a long season which started in Lincoln, Nebraska (June 5 – 6),Lawrence, Kansas (July 17 – 18 ),Pomona, Kansas (August14 – 15),and finished in El Dorado, Kansas (August28 – 29).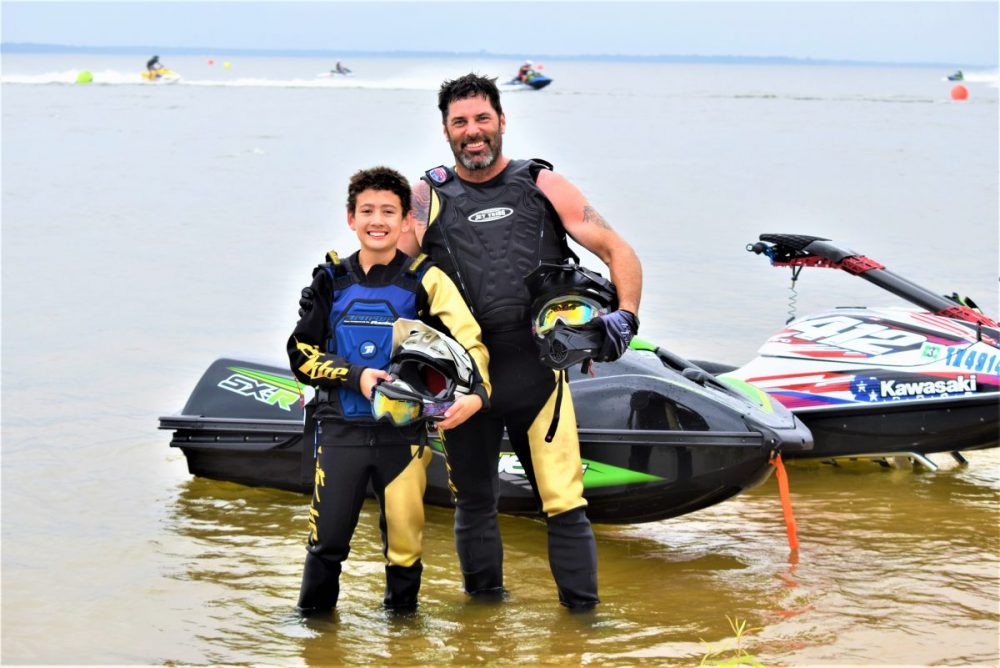 Your Sulphur Springs Jet-ski racers were Brian Snyder and Andrew Vo, a 12-year old junior racer. Both Andrew and Brian relocated from California in recent years, and now reside in our great city of Sulphur Springs. Andrew and Brian were beginner Jet-ski racers this summer season who both took first place overall in the Jettribe Texas Jet-ski race season. They were favored for podium finish at the final round of the final race in El Dorado, Kansas. But racing is racing and luck, of course, plays a huge part in winning or losing.
Saturday, Moto 1, race 1, Brian Snyder had his work cut out for him, he moved up a class to Amateur 4 strokes from the Beginner class. This a tough class, with a stacked line up. The other riders have raced in this class for years, with the only next level for advancement is the Pro class.
On the first race of the day, Brian was on the line with his stock 1500cc Kawasaki stand-up Jetski, among a huge line of experienced racers, with fast fine-tuned skis. The next 30 seconds seemed like hours. When the starting line rubber band snapped back, all racers sling-shot down the straight away. Brian was caught behind the pump wash from the other racers and his ski's intake was sucking mostly air and pump wash, much like a washing machine, along with big wakes. Brian was ejected off his ski, but he stubbornly applied the death grip, and hung on to his 500-plus pound Jet ski, going at 60 MPH. This painfully caused his shoulder to separate and instantly tore some muscles.
After his race, we brought Brian to the on-site Butler County EMT. They aid "No more racing for you"! Brian regrettably sat out the rest of the weekend. Tony from Jettribe always reinforced that we are racing for fun not for any prize money.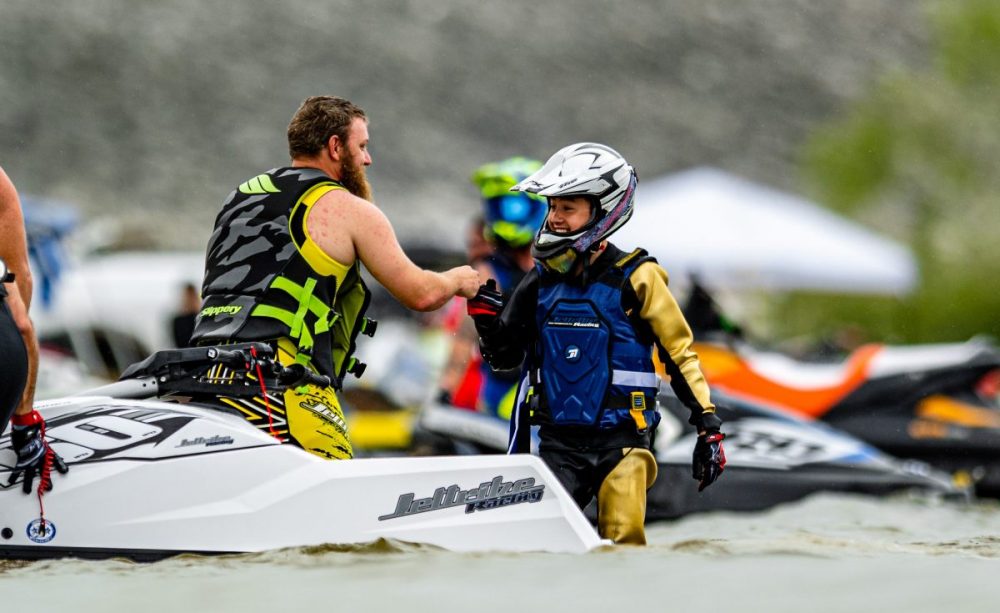 Andrew Vo, came into the final race in the Jettribe Mid America Jetski Series with a sense of confidence. He narrowly earned first place overall in the beginner ski Junior class for the Texas.
Series and two first place podium finishes from the Mid America Series. For this weekend, at the last minute, Andrew asked the race organizer (Terry Hebert) if he could race in the men's beginner stand up ski class also, just to gain some experience. Terry reluctantly approved for Andrew to race with the adults, but Andrew was advised not to try for the hole shot and stay back for safety reasons.
The men's ski class was stacked with 1500cc SXR Kawasaki stand up jet skis. These are the fastest most power stand up stock jet skis you can buy straight out of the box! Andrew lined up with this 2021 Yamaha Super Jet, with is a 1050cc motor, a 450cc disadvantage but he only weighs 80 Lbs! His race class all season was the beginner Junior class, and we knew that next season, Andrew will need to graduate to the next class up. Andrew will have his hands full next season, so getting some practice early was what he wanted to do.
Since the previous rounds this season, all of Andrew's junior teammates had gotten faster (really fast), and many were equipped with more powerful jet skis. Andrew fought hard on the race track all weekend throughout his four motos. He managed to steal three firsts when one of the moto the leaders, Noah (an up and coming junior racer from Kansas), fell off his ski at the back straights. Andrew held a comfortable solid second place and was able to pass the downed rider and snatch the checkered flag!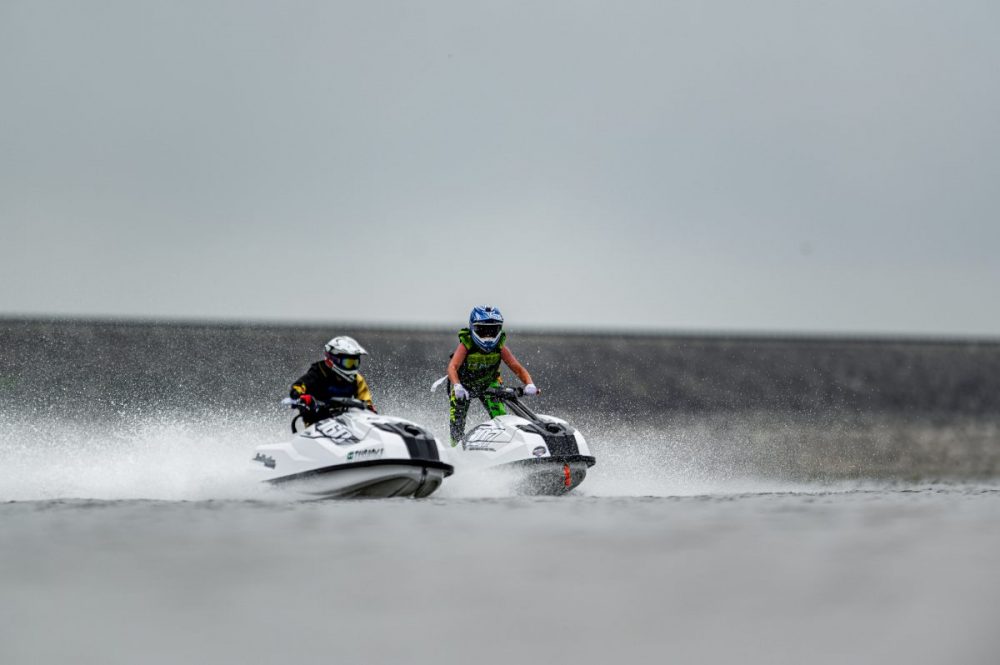 Sunday's final race day counted as double points, and it all came down this moto. Tristan, an experienced junior racer also from Kansas, got the hole shot on his 1500cc Kawasaki SXR. Andrew fended off the pack and followed around the first lap in second place, charging hard and pushing Tristan for a mistake. But Tristan rode a solid race until the last lap. Andrew took the inside split track and caught up to his teammate, as both fought for their ski to corner the next red buoy.
Both riders were coming in hot, and both riders got ejected off their skis at nearly at the same moment, just like the a scene from the Movie Hot Waters! Both Andrew and Tristan swam to their skis like it was the Olympics, frantically trying to restart their skis to dash for the finish line. As luck would have it, Andrew's friend and teammate was a faster swimmer and restarted his ski and rightfully won the last moto. Overall points added up on Sunday and amazingly Andrew earned another "First" weekend overall in the Juniors Beginner ski class!!! Congrats to all junior riders, it was a close and narrow points weekend, and luck had a huge factor in this.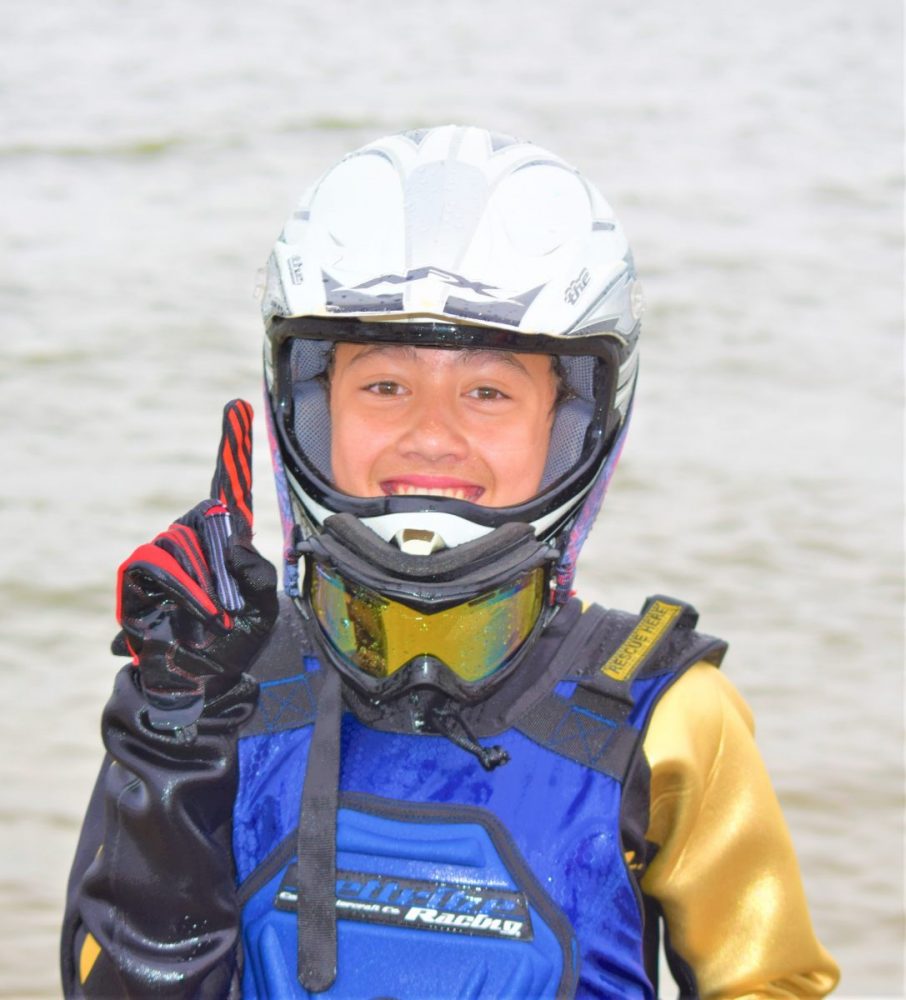 Once again, Lady luck must be watching over Andrew. In men's ski class Andrew rode his trusty Yamaha Super Jet 1050cc that was slightly under powered. Andrew would swap positions all weekend with the top 3 adult riders on their Kawasaki 1500cc jet skis. At the final race of the weekend, Andrew was doing what he was supposed to do, staying safe, while he chased the adults around for experience.
As the extra-long race progressed Andrew was in the middle of the pack, then found himself gaining one spot after another as adult racers fell or fatigue kicked in, slowing them down. We guess that Andrew's playing Soccer in Sulphur Spring Soccer Association helped his endurance. To the crowd's amazement on the final lap, Andrew, a junior racer in the men's ski class, found himself reeling in the race leader! For some reason the current race leader fell hard at full speed at the back straights, ejecting himself over a 100 feet away from this stand up jet ski. Andrew holding on to a far second place pounced and skirted past the course marshal trying to fish the down racer leader. Andrew crossed the finish line taking the win the men's skis class!
We are proud of Andrew for finishing a long, hard first season of racing in Texas, Kansas and Oklahoma. We watched Andrew grew emotionally and physically while he always stayed humble at this exciting power sport. Next season will be very difficult as Andrew enters a higher class and will face a more experienced group of racers.
Jetski racing is half luck and timing and the rest is skill. For our next race event site we will travel to Lake Havasu City, Arizona for the IJSBA Jet Ski World Finals, where Andrew will join hundreds of Juniors racers from all over the world in a training camp with the Pro racers. We're looking forward to the next Race!