COVID-19 recoveries have continued to outpace new cases reported for Hopkins County for the 10th consecutive day. While that means the rate of spread is slowing among county residents, it doesn't mean the virus has been eradicated in Hopkins County, nor does it mean it's any less deadly. In fact, not only were are there still 343 active COVID cases on Friday, but the sixth Hopkins County COVID fatality was reported for September 2021 as well.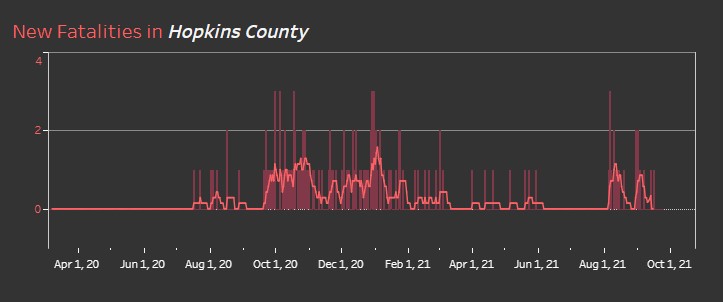 The latest COVID-19 deaths, confirmed by death certificate, are reported to have occurred on Sept. 16 and 13. Two Hopkins County residents also died from COVID-19 on Sept. 1; and one each on Sept. 3 and Sept. 7. That makes 64 Hopkins County residents who have died from COVID in 2021 and 135 since the pandemic swept the world during Spring Break of 2020.
On Friday, 17 additional Hopkins County residents received positive lab-confirmed COVID-19 results, the same number as on Thursday. Ten probable cases and 36 recoveries were also reported on Friday. That makes 46 new molecular coronavirus cases, 17 additional probable cases and 105 recoveries reported from Sept. 22-24, 2021.
That's 417 new COVID-19 cases and 229 additional probable cases (646 total new cases), with 607 Hopkins County residents reported to have recovered for the virus during the first 24 days of September 2021. That's a new record for Hopkins County, as far as new cases go. In August 571 new cases were reported among Hopkins County residents.
Cumulatively, 1,724 Hopkins County residents have received positive molecular COVID-19 test results and 1,026 who've been reported as probable cases in 2021; and 2,846 who've been lab-confirmed to have the virus and 2,143 probable cases reported for Hopkins county since the pandemic began in March 2020.

With the larger number of recoveries and fewer new cases over the past 10 days, the active COVID-19 case count too has gone down from 498 Hopkins County residents who had the virus on Sept. 14 to 343 on Sept. 24.
Overall, 138 COVID-19 tests were performed in Hopkins County on Thursday, up from 116 tests on Wednesday, and 82 on Monday, but down from the 290 COVID tests performed in Hopkins County on Tuesday.
In Hopkins County, 14,707 have received at least one dose of COVID vaccine, while 12,395 were reported to be fully vaccinated in Hopkins County as of 11:59 p.m. Thursday, Sept. 23, 2021, including 4,121 age 16-49, 3,439 age 65-79. 3438 age 50-64, 1,120 age 80 and older and 273 ages 12-15, according to Texas Health and Human Services data.