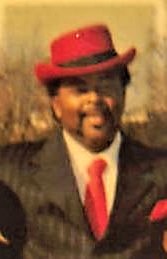 Robert Joe Clayton was born January 23, 1951, in Dallas, Texas to Lesley (Baby) Clayton and Nettie Mae (Pryor) Clayton. He attended Douglas Public School and went on to become a small town businessman known by practically everyone. He worked at several companies before becoming self-employed in numerous business ventures such as Night Club owner, Dairyman, Clayton and Sons Bail Bond and Wrecker Service and shade tree mechanic.
He also had many gifts, he could play the bass guitar, saxophone, piano, member of a local band (with many of his dear friends), love to dance, sing and had a Black belt in Karate. One of his favorite past times was playing bingo, per daughter Charolette, who accompanied him to many bingo halls, said, "He could play 10 or more bingo cards, the computer bingo cards, eat, have conversations with others and make sure his kids didn't miss any dabs at the same time."
Robert Joe was a member of Pleasant Hill Baptist Church, where he was a servant in The Voices of Praise Choir. He talked about heaven on many occasions leading up to his death and rededicated his life to Christ while a resident and Rock Creek Health and Rehabilitation Facility.
Robert Joe leaves to cherish his memories children, Tyrone Clayton (Tammy) Sulphur Springs, Texas, Lisa Hawkins (Raymond), Catina Wilburn (Glenn), Charolette Washington (Kevin), Ulanda Stephens (Ardis), Van-Christopher Williams (Victoria), Justin Clayton (Quatina), Deon Clayton of Dallas, Texas, Ne'Tonya Jones (Timothy), Tony Thompson and Eric Pope Houston, Texas; and siblings, Lesley Clayton (Nell) Campbell, Texas, Sonia Clayton, Billy Clayton (Sandra), Joy Harrison (Miron) of Sulphur Springs, Texas.
To cherish his memories, he left an army of beloved grandchildren, great-grandchildren, nieces, nephews, cousins and loved ones; and he was a surrogate father figure and uncle to many in the Birch Creek Community. Additionally, he left us with a lot of jokes and stories that can be passed down for many years to come.
He was preceded in death by his parents, Lesley and Nettie Mae Clayton; brother, Ray Clayton; son, Rodney Dunlap; and grandsons, Kendall Dunlap and Caleb Anderson (who shared the same birthday).
Robert Joe was known for many things (one having a lot of children). God used him in so many ways to uplift, inspire and motivate others. He was the best version of a man/father that he knew how to be. His strength and love will be remembered by all that had the pleasure to know him!
A come and go visitation will be held from 10 a.m. to 8 p.m., Friday, September 17, 2021, at West Oaks Funeral Home. A private family funeral service will be held. Interment will take place at Pleasant Hill Cemetery.
Arrangements are under the direction of West Oaks Funeral Home.