Hopkins County appears to be headed in the right direction, with recoveries outpacing new COVID cases during the month of September, due marked decrease in new virus cases reported over the past 16 days than during the first 2 weeks of the month. Unfortunately, 1 more Hopkins County COVID fatality was reported as well.
The first half of September was marked with high rates of new cases 458 total, 212 during the first week an 246 during the second week. During the next 2 weeks, 257 total new cases were recorded, 126 during the third week and 131 during the second week of September, and 12 new cases over the past 2 days. In other words, the daily case count total for Sept. 15-30 was about half the amount reported from Sept. 1-14, 2021, according to Texas Department of State Health Services' Sept. 30 COVID Case Counts dashboard.

Hopkins County had 136 new lab-confirmed COVID cases during the first week, 148 the second week, 87 the third week and 84 the third week, 94 the fourth week and 10 new molecular cases the last 2 days, for a total of 475 new confirmed molecular cases in September. Unfortunately, the total is still 67 more than were reported during August – a new monthly record.
That increases the total number of Hopkins County residents who received lab-confirmed molecular cases so far in 2021 to 1,725, and the cumulative total since spring break of 2020 to 2,904.
A total of 252 probable cases were also reported for Hopkins County residents during September, 76 during the first week, 98 the second week, 39 the third week, 37 the fourth week, and one each over the last 2 days of September. Only 163 probable cases were reported for Hopkins County during the month of August. That's nearly as many new probable cases form Sept. 8-14 than during the entire month of August.
A total of 1,060 probable cases have been reported in 2021 and a cumulative total of 2,178 probable cases since the state began tracking probable COVID cases last fall.
While COVID case have declined over the past 16 days, the number of recoveries has increased from 282 Sept. 1-14 to 430 Hopkins County recoveries from Sept. 15-28, including 81 recoveries over the past 2 days. That's a total of 783 recoveries during the month of September, more than twice the 362 reported in August.
That, in turn, has reduced the active case count in Hopkins County which rose from 368 on Sept. 1 to 498 on Sept. 14, then fell to 388 on Sept. 21 and continued to drop to 306 on Sept. 28 and 237 on Sept. 30. Overall, that drops the weekly average number of active cases from 468 on Week 2 to 418 on Week 3 and 327 on Week 4, then 250 for the past 2 days.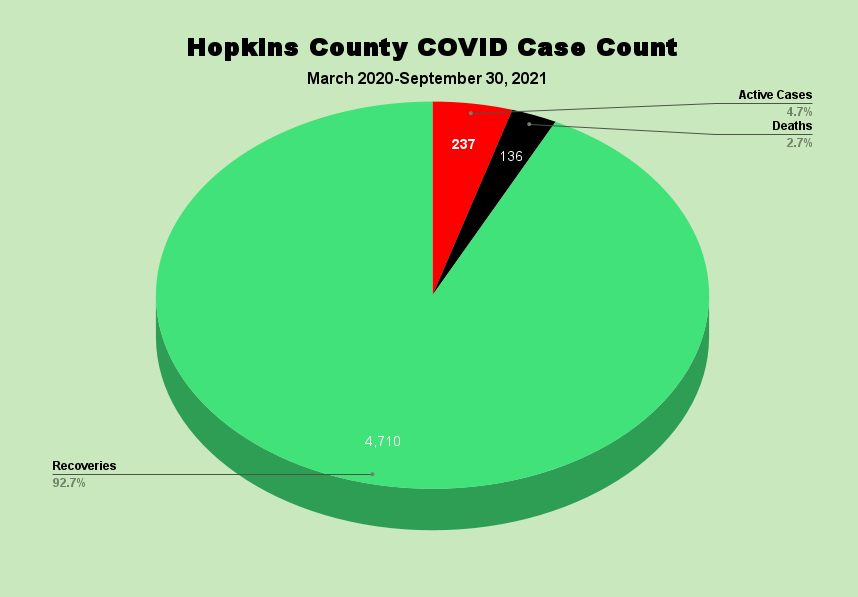 Unfortunately, DSHS also reported another COVID fatality for Hopkins County. The death from COVID was reported to have occurred on Sept. 7. That makes seven Hopkins County residents whose cause was listed on death certificates to be COVID. Two residents died on Sept. 1, and one each on Sept. 3, Sept. 7, Sept. 13, Sept. 14 and Sept. 16, 2021. That's four fewer deaths than in September of 2020 and eight less than August 2021.
Overall, 65 Hopkins County residents have died this year from COVID-19 and 136 since March 2020.
The number people being vaccinated has also risen, from 14,707 who received at least one dose of vaccine on Sept. 25 to 14,752 on Sept. 28, then 14,802 on Sept. 29 and 14,868 today who've received at least 1 dose of COVID vaccine. The number of fully vaccinated in Hopkins County rose from 13,395 on Sept. 25 to 12,459 on Sept. 28, 12,566 on Sept. 29 and 12,666 Sept. 30. The state also began reporting the number people who've received a third COVID booster on Sept. 29. From Aug. 13-Sept. 29, a total of 406 COVID booster shots had been given. That number increased to 509 on Sept. 30, 2021, according to the Health and Human Services/DSHS Sept. 30 COVID Data dashboard reports.