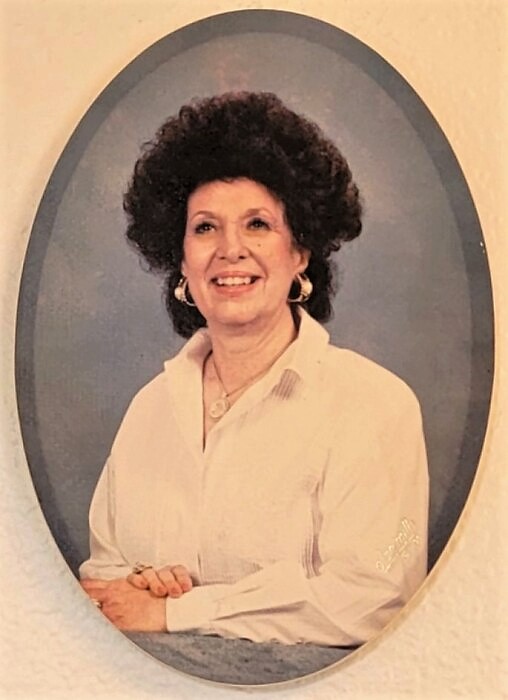 June 1, 1932 – September 27, 2021 (age 89)
Peggy Sue Lowry, age 89, of Mount Vernon, Texas, passed from this earth into the presence of her Lord and Savior Jesus Christ on Monday, September 27, 2021, in Mount Pleasant, Texas.
A Celebration of Life service will be at 1 p.m. on Saturday, October 2, 2021, at the First United Methodist Church in Mt. Vernon. Family will greet friends at the church following the service. A separate, private graveside service for family will be held prior to the church service.
Peggy was born on June 1, 1932, to Roy James and Una Mary (Johnson) Watson in Duncan, Oklahoma. In 1950, she graduated from New London High School in New London, Texas. She attended Texas Christian University, and it was there she met the love of her life – Charles Lewis Lowry of Mount Vernon. They were married on June 6, 1951, in Palmer, Texas and, upon his college graduation in 1952, they moved to Mount Vernon, where they would raise their three children and spend many wonderful decades in loving service and support to their family, friends, neighbors, church and community.
It would be almost impossible to accurately list all of the ways Peggy contributed to the people of Mount Vernon and Franklin County over the years, but here are a few: For almost 20 years, she served as the director of the Miss Mt. Vernon Pageant, where her positive influence on young women of the community is still felt today. For more than 30 years, she was an active member of the Franklin County Chamber of Commerce, including having served as its president. She also served several terms on the Mount Vernon City Council and one term as Mayor Pro Tem of the City of Mount Vernon. Other boards on which she enthusiastically served included the Franklin County Library Board, the Franklin County Hospital Board, the East Texas Medical Center Advisory Board, the Northeast Texas Community College Foundation Board, and the Franklin County Youth Recreation Board. She was also a member of the Daughters of the American Revolution, and taught kindergarten for several years.
Remarkably, she was the organist for the First United Methodist Church of Mount Vernon for 56 years. Almost every Sunday during that time span, she was faithfully at the church providing beautiful organ music to fellow members and guests. As part of that ministry, she also shared her musical talents with many others at countless weddings, funerals and other local events.
Peggy and Charles were almost always together. God blessed them with an incredibly happy marriage of more than 70 years, and they made the most of it. Anyone who knew them could see how much they adored each other. They were often holding hands, even during their very last days together before Peggy's illness separated them.
In addition to Charles, she was most proud of her children, grandchildren and great-grandchildren. God blessed them all with many wonderful times together and the memories will endure.
Peggy's bright smile, loving nature and engaging personality will be sorely missed by all who knew her.
Peggy is survived by her beloved husband of more than 70 years, Charles Lowry of Mt. Vernon; daughter, Lisa Lowry of Mt. Vernon; son Brad Lowry and wife, Cari Lowry of Argyle, Texas; son, Stan Lowry and wife, Jill Lowry, of Mt. Vernon; grandchildren, Jared Williams of San Antonio, Bradleigh Coats and husband Jason Coats of Argyle, Texas, Layton Lowry of Dallas, Laine Sadler and husband Ian Sadler of Argyle, Texas, Charleigh Lowry of Argyle, Texas, Grant Lowry and wife Bekah Lowry of Mount Vernon, and Samantha Lowry of Mount Vernon; great-grandchildren, Cason Coats and Camden Coats of Argyle, Texas; brother-in-law, Len Lowry and wife, Vickie Lynn Lowry, of Mt. Vernon; sister-in-law, Jeanie Hayes and husband, Jere Hayes, of Dallas; and numerous nieces, nephews, cousins and extended family.
If desired, contributions in Peggy's memory may be made to The First United Methodist Church of Mount Vernon.
Services entrusted to Sam B. Harvey Funeral Home.