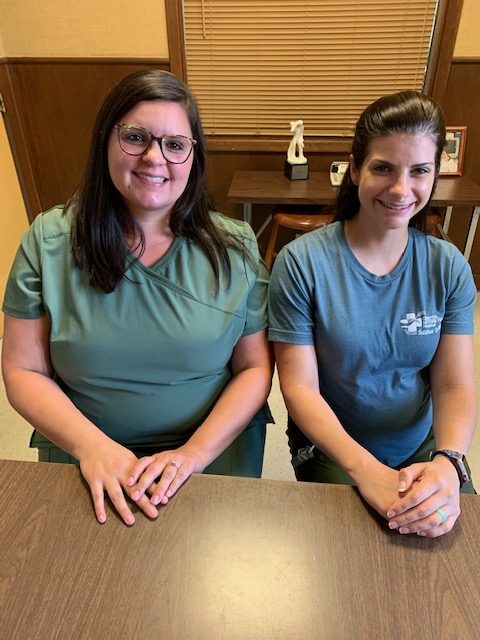 Magan Bradford was born and raised in Hopkins County, went off to North Texas colleges to obtain the training she needed to pursue her chosen career path, and is now loving her job as an Outpatient Speech and Language Therapist at CHRISTUS Mother Frances Hospital in her hometown. Brittani Mills came from Lake Jackson near Houston, studied at Texas Tech in Lubbock and always thought she would live and work in 'the city'. But today she is happily settled with her husband in Winnsboro,Texas, and commutes daily to CHRISTUS Sulphur Springs. Brittani loves her job as a Pediatric Therapist. Both these professionals cite 'observation' as the motivating reason they pursued the field of Therapy. As youths, they were each able to observe a therapist at work and see the benefit to the young patients, and that helped to develop an early interest into an occupation.
Magan actually works with children as well as with adults. Since the CHRISTUS Healthplex offers Physical, Speech and Occupational therapies, she gets to work with persons who need help in developing, improving or regaining speech and communication skills. In adults, it maybe a stroke survivor who needs assistance in expressing themselves understandably to others once again. She admits it's hard work for these patients, but perseverance and dedication to the exercises and therapy can really be worth the effort, and that there is joy in seeing someone improve these basic skills for daily living. "Now when it comes to the kids, we might employ reading, talking and singing. Often, they think we are playing! but we are actually training their speech and language skills. For some children, there maybe a problem with hearing which causes speech sound disorders. Our department offers improvement in skills involving both expressive and receptive language in children. Most often our patients come to us as referrals from their primary care physician or from pediatricians".
Brittani's passion is for helping children of all ages with difficulties in movement and use of muscles. "In Outpatient Pediatric Therapy, we look at gross motor development in our referrals. Some may have delays in sitting up or crawling, or in walking, jumping or running. We notice gait patterns, like toe-walking and toes-in or toes-out walking habits, and develop programs of therapy. In small babies, we may get a referral of tight neck muscles, which allows the baby to only turn their head one way, or to sleep only in one position. We offer help in this, sometimes with use of a special helmet that helps with correction of these muscles. By addressing and correcting the neck muscles before the child is old enough to crawl, he or she may go on to normal development of childhood physical skills. For best results, we also need the parents learn the exercises and habits needed for their child, to use these at home, between visits to therapy or the doctor". CHRISTUS has excellent doctors and pediatricians who truly care about the patients they refer to the Healthplex Rehabilitation and Therapy Center.
When you need rehabilitation and therapy services, the more convenient, the better. That's why CHRISTUS Trinity Mother Frances Physical Medicine and Rehabilitation provides outpatient services with many convenient locations, and convenient parking for our patients. Find out more online about the Healthplex Rehabilitation and Therapy Center at CHRISTUS Mother Frances Hospital in Sulphur Springs.