Each Monday when the Northeast Texas Food Bank truck arrives in Sulphur Springs, volunteers are needed to assist local food pantries in getting their supplies for the week. Recently, a call went out on local media for more volunteers. KSST went to see how best to help the local situation.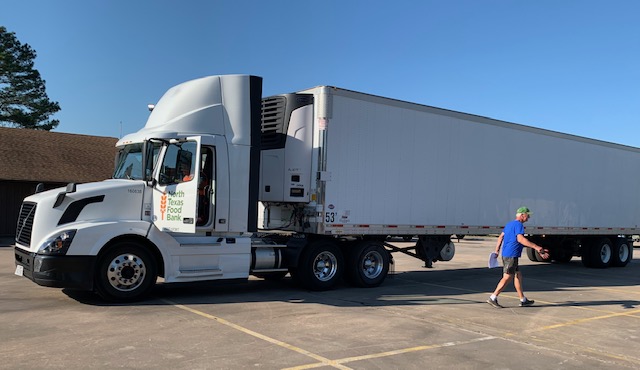 A Northeast Texas Food Bank semi-truck arrives at approximately 9 a.m. Mondays on the parking lot of Church of the Nazarene, 1300 League Street. That's when volunteers are most needed….to help put the boxed and crated foods onto the trucks and trailers of the individual pantries. There are six of these served by the Northeast Texas Food Bank, and they all receive their weekly food orders on Monday mornings. Many of the volunteer drivers are senior citizens themselves. Can you help out for an hour or two on Monday mornings?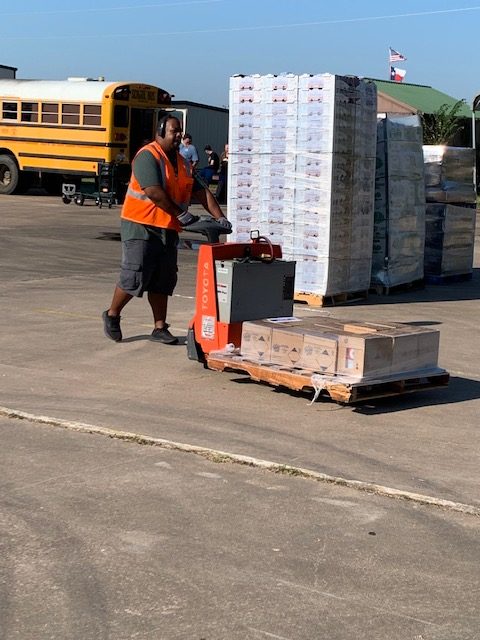 Once the food truck driver sets all the pallets onto the parking lot, then the work of loading each pantry's order gets underway by volunteers. Sharon Newton of Cumby is co-ordinator for the six Hopkins County pantries served by Northeast Texas Food Bank. Among these are Cumby Food Pantry, Pine Forest Food Pantry, Jehovah Jireh Food Pantry at Como, Fruitful Harvest Food Pantry and Meal a Day. "It's like a team effort out here, in all kinds of weather", stated Gloria of the Cumby Food Pantry.
"We all participate in sorting the food in the crates and containers and dispense it evenly. Then we each help each other load up. If one of the pantries is short-handed on a Monday, we all pitch in. No one has to do the work alone. And we all feel blessed that there is food for those individuals and families who most need it in our communities".

Obviously the efforts are rewarding. Several are long-time volunteers: Edith Bain for 14 years, and Melba Sickles has also been serving in this way for a long time. Karon Weatherman of the Meal- a Day program reminds everyone, "if you'd like to become a Monday morning volunteer, just show up with two hands and a willing heart. You will probably go home with a bigger blessing than the gift you give. All it takes is a little time to volunteer and a spirit of giving to others".
Dennis Hunt, Scott Lennon,Jan and Hrold Smithson and Mike Borden of Jehovah Jireh Food Pantry at Como. Nancy Attaway (not pictured) heads up that facility

Paul Bennet, Edith Bain and Eddie McGregor of Pine Forest Food Pantry in the southeastern portion of the county

For Meal a Day, Mack Pitts and Pamela Johnson are among the regular volunteers. They transport the food to the Senior Citizens Center, where other volunteers store the supplies and prepare nourishing meals which are then packaged and delivered to shut-in senior citizens in the Sulphur Springs and Como areas, five days a week.

Fruitful HArvest Food Pantry volunteers include Melba Sickles, Barbara Martin, Jerry Brewer and Heath. Volunteer James Hathcoat is not pictured. Fruitful Harvest distributes on Mondays from 2-4pm at 413 West California Street in Sulphur Springs. Persons who need food can come to the location and get signed up.

For the Cumby Food Pantry, Gloria, Allen and Walter are joyful volunteers. Cumby distributes every other Thursday from 9am til noon

New volunteers who answered the call on Monday September 20, 2021 "Will you join us next Monday?"