Hopkins County Hospital District Board of Directors have called a special meeting Sept. 28 to consider reducing the tax rate and setting a fiscal year 2021-22 budget.
According to posted notice, the board will be asked to consider lowering the tax rate from 25-cents to 22-cents for the coming year. In accordance with the modifications the 86th Legislature made to the manner in which the voter-approval tax rate is calculated, the proposed tax rate for 2021 is below both the no-new-revenue rate of $0.223198 and the voter approval rate of $0.241053.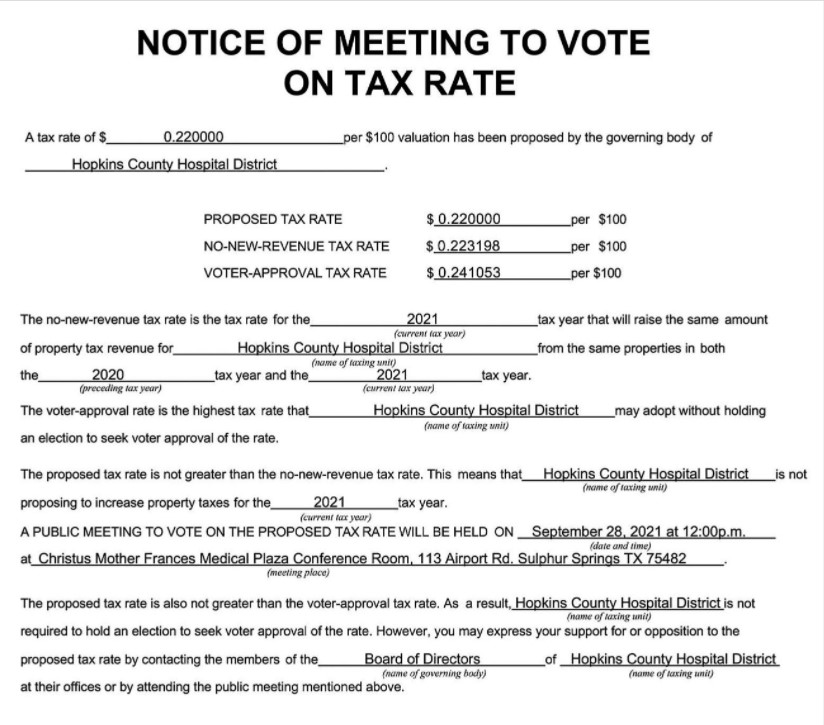 The no-new revenue rate is the tax rate that will raise the same amount of property tax revenue for the hospital district from the same properties in both the 2020-21 and 2021-22 tax years. The voter-approval rate is the highest tax rate the hospital district can adopt without holding an election to seek voter approval of the HCHD tax rate. The
The hospital district tax rate as proposed in the public notice, is expected to raise $5,728,84.14, which is $47,049.31 less in tax revenue levied in FY 2021-22 than in FY 2020-21. However, that does not mean tax bills will decrease. Property appraisals on the average homestead have increased 15.45 percent. While that's great for people looking to sell their property, in terms of property taxes, that means an increased in the tax bill.
Anyone who wishes to make comments regarding the proposed tax rate may do so during the public forum portion of the Sept. 28 hospital district board meeting, to be conducted prior to the board's vote on the tax rate. HCHD Board too will be asked to review and approve a budget for the FY ending on Sept. 30, 2022.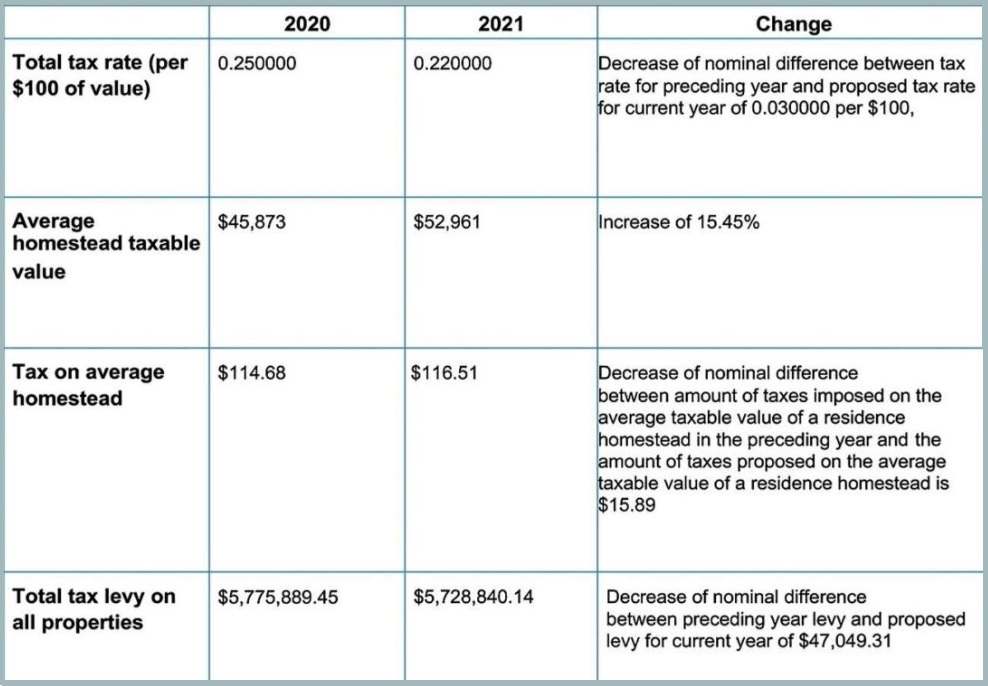 The hospital district's primary duties are oversight of Hopkins County EMS services as well as six nursing homes in other counties.
The Sept. 28 noon meeting agenda also includes review and approval of financial statements for August 2021 and the depository bid process, as well as minutes from the previous board meeting, and the EMS update. Paul Harvey, CHRISTUS Mother Frances Hospital Sulphur Springs president and CEO, is slated to give an update on the CHRISTUS-Hopkins Health Alliance.
The agenda shows closed session is scheduled during the Sept. 29 meeting to "review and discuss personnel actions for Hospital District." The meeting will be held in the Conference Room on the first floor of the two-story CHRISTUS Mother Frances Medical Office Building, located at 113 Airport Road, just across from the hospital.