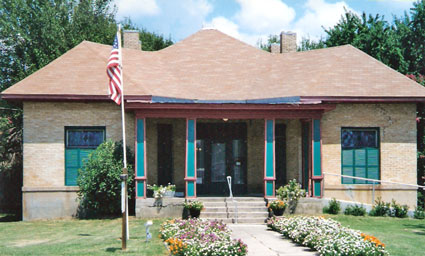 At a recent fundraising event at Heritage Park, about 18 models treated the audience to a glimpse of what styles in pioneer days looked like in Hopkins County. And a delicious Brunch was spread, and enjoyed by all in the beautiful all-purpose Winniford House, the most recently added building to the grounds. The Winniford House is a modern small event venue, standing in beautiful contrast to the numerous restored historic buildings around the grounds. If you have an event planned, consider holding it at Heritage Park!
Carlie Penson, late 1880's skirt, blouse and bonnet

Portraying sharpshooter Annie Oakley, Tori Cotton wears braids, split skirt and high boots. Neice Teagan carries her great-grandfather's lariat.

Tammy Vincze in pioneer days costume

Amy Phillips in Sunday best pioneer dress with home-spun lace and summer straw hat

Bill Glover models late 1880's vest with pocketwatch, a Pinkerton Detective Agency badge and holstered 1858 Remington percussion revolver

Brenda Payne in hand-made "going to town' ensemble of yellow cotton blouse and calico print skirt and matching cap.

Barbara O'Dell enjoyed the 1970's and wore outfits similar to this one, with bell-bottom jeans, fringed suede vest and lots of beads with oversized sunshades and floppy hat

In an example of 1870's-1880's bustle 'walking dress', Karey Hayes would have worn this in town for promenading and visiting.

Linda Panter's 1860 Civil War-era ensemble includes a top hat with veil and a puffy crinline slip under her gown. Many women wore very wide hoop skirts during this era.

Carolyn French's late 1880's pioneer dress is nostalgic of Little House on the Prairie, and features a bustle on the back. Simple accessories are a carved-shell cameo and her mother's flapper-era silver mesh coin purse.

Julie Parker's outfit is an 1895 two-peice outfit which she wears with her favorite Sunday hat and pearls.

Joyce Bateman's print dress has eyelet lace at collar, front and sleeves with a bonnet and apron. She carries a rolling pin which came toTexas by covered wagon.

Barbara Hudson made the apron she places over her patchwork skirt. Many times, clothing would be re-made for another use or for quilt scraps.

Paula Altenbaumer models a 1700's-era dress with lace-up back and square neckline, white underskirt and standard white mobcap or "mop' cap.

Carlie Penson reveals the foundation of ladies pioneer wear. Very modest, most women wore cotton camisole and pantaloons with leggings. Once dressed, mostly only hands and faces showed as they went about their work. And outdoors, a bonnet and shawl kept away sunrays and breezes.

Historical Society President Rick Wilson as a farmer with emcee Enola Gay as a western woman
The September 11 Style Show and Brunch served as a Fundraiser for upkeep and maintenance of Heritage Park. Upkeep is provided by Hopkins County Historical Society members, with assistance at times by Hopkins County jail inmates. Donations are needed year round to keep Heritage Park a beautiful place to visit. Mail donations to 416 North Jackson Street,Sulphur Springs, Tx. 75482 and call for information at 903-885-2387.