Whitley: Medicaid Waiver, Pandemic Impact Hospital District Budget But Overall Tentative Audit A "Great Report"
Construction of the new EMS station/hospital district headquarters on Airport Road is progressing but did hit a snag recently, EMS and hospital district officials reported this week during the regular meeting of Hopkins County Hospital District. An outside auditor also noted that while things are looking much better financially for EMS and the hospital district, the overall budget is impacted by Texas Medicaid Waiver, QIPP and the pandemic.
New EMS Station
Ground work is well under way at the Airport Road site, just across the street from CHRISTUS Mother Frances Hospital-Sulphur Springs and Hopkins County EMS' current station. The dirt is being leveled out and the site raised to make it suitable for the new EMS/HCHD headquarters. Grading has been delayed, however.
"They had some utility line issues that they are working on. They're having to resurvey some different things with the grades. So, other than that, there's no big update – unless there's some big utility line issues, but they think they can work through some grade issues on the driveways. They're trying to solve that," Brent Smith, Hopkins County EMS Director/HCHD chief operating officer, told the hospital district board at their Aug. 30 meeting.
Financial Matters
Deborah Whitley with BKD CPAs noted she'd normally present the annual hospital district audit findings in March, however, with everything going on with CHRISTUS, the audit was delayed this year.
She said industry factors such as the 1115 Texas Medicaid waiver and turmoil surrounding it can have a significant impact on healthcare. The district has benefitted from it financially for a number of years. The waiver is the transition period from the time a state hasn't extended Medicaid to the period it has extended it. Texas has been under a waiver extension since 2011. Prior to the Trump Administration's departure, Texas filed for another 10-year waiver. The Trump Administration approved the waiver. In April of 2021, the Biden Administration canceled the waiver extension. Texas then sued the Centers for Medicare and Medicaid Services over their right to cancel, then the state reapplied in July for an extension. The state hadn't been approved for the extension as of Aug. 30. The old extension expires in September 2022.That gives the state a year to put it together.
However, the QIPP program is a part of the extension application program. (The Quality Incentive Payment Program serves as a resource to help nursing facilities achieve transformation. This performance-based program encourages NFs to improve the quality and innovation of their services through implementation of program-wide improvement processes for which facilities are compensated for meeting or exceeding certain goals. Improvement is based upon several indices of success, including quality metrics that are collected by the Centers for Medicare & Medicaid Services, according to Texas Health and Human Services. If the waiver isn't renewed the HCHD will lose a couple of million dollars in funding, Whitley noted. For instance nursing home QIPP revenues to actual activity before adjusted put $1,389,661 in the HCHD.
HCHD CEO Ron Folwell, who attended the meeting via conference call, asked if there were any projects on when that would happen and what that would be like if it does indeed happen.
"There are federal funds out there. Texas has got to figure out a way to access those federal funds. So the State of Texas has to be able to figure out what are the parameters we're going to live under to access those funds. That's the dispute right now because it's the reshuffling of money," Whitley said. "I would tell you that I think it's a very high percentage that the waiver is approved but I don't have any odds on the way the funds are going to be allocated to what programs. So, I don' t know how many dollars of funding, Ron, the QIPP program will actually get."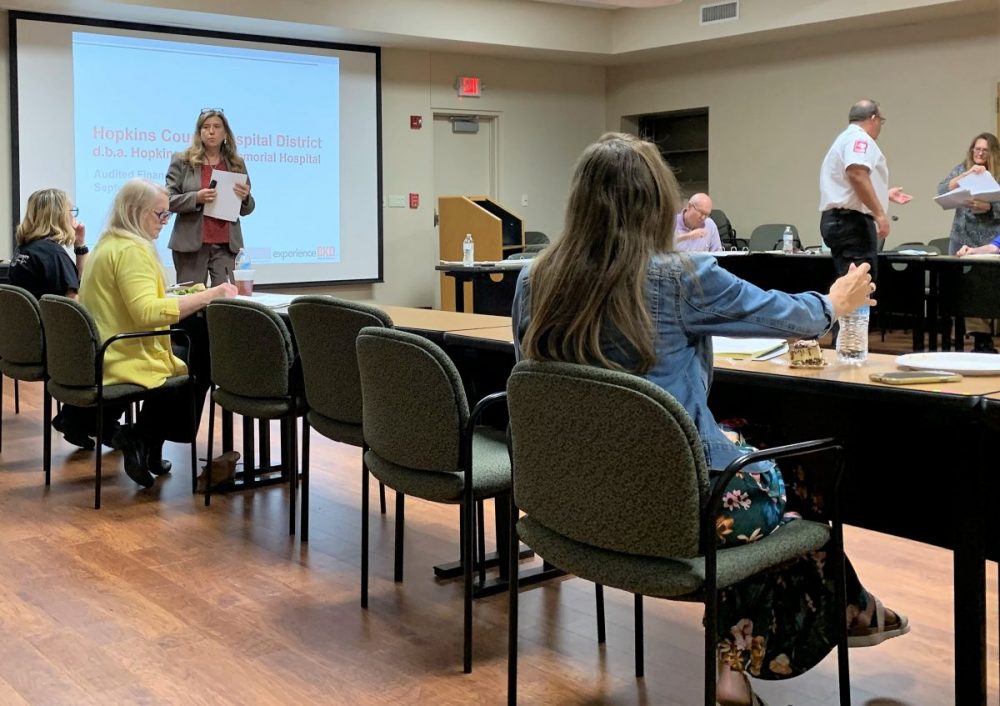 Hopkins County Hospital District has receive about $3.5 million from the nursing home program. In 2017, HJCHD receive a profit of $16,000, the funds went up the next year to $850,000, fell to $750,000 and in the past year was almost $2.1 million from funding from the 1115 waiver through the nursing home program, according to financial BKD representative.
Whitley also said while pricing transparency isn't something that HCHD has to worry about day-to-day, but since the district was so close to the hospital operations for so long, it's something the Hospital District Board needs to be aware of. A deadline of Jan. 1, 2021, was set for hospitals give to patients inforamtion about charges, out-of-pocket costs and things of that nature. CMS is putting in place a monitoring and enforcement plan for hospitals that are out of compliance to follow.
"It's important for you to know the whole healthcare system is working a lot on pricing transparency. Following a lot of this, he health plans are going to have requirements for some of that transparency as well. There should be information on a hospital's website for your to see information on different charges for different services. If those aren't as transparent, CMS is going to start doing website auditors and put hospitals on affirmative action plans on when they are going to become compliant and if they are not and penalties potentially following," Whitley said. "that's just important for you as a board to know that is probably one of hte things CHRISTUS is having a challenge with to get done."
Also in early 20202, the federal government put $175 billion for the health care industry, nursing homes included. The Hospital District received about $4 million in provider relief funds. Those funds were received prior to June 30, 2020. Those funds had to be expended by June 30, 2021. The reporting of those funds will have to be done prior to Sept. 30, 2021Any funds not spent for the purpose for which the district received them, those funds will have to be returned by Oct. 30, 2021. That means an enormous amount of reporting nation wide on a portal. That should receive high priority in September between the Hospital District and the nursing homes, and has already begun, Whitley noted.
Annual Audit
Whitley presented what she called a "great report" to the Hospital district during the Aug. 30 meeting. The bottom line reported in 2020 was an increase of $4,9 million, up from the 2019 net income of $2.1 million, Whitley reported. The QIPP program, which accounted for $1,389,661of that increase and improved EMS efficiencies were huge factors in that gain, Whitley reported.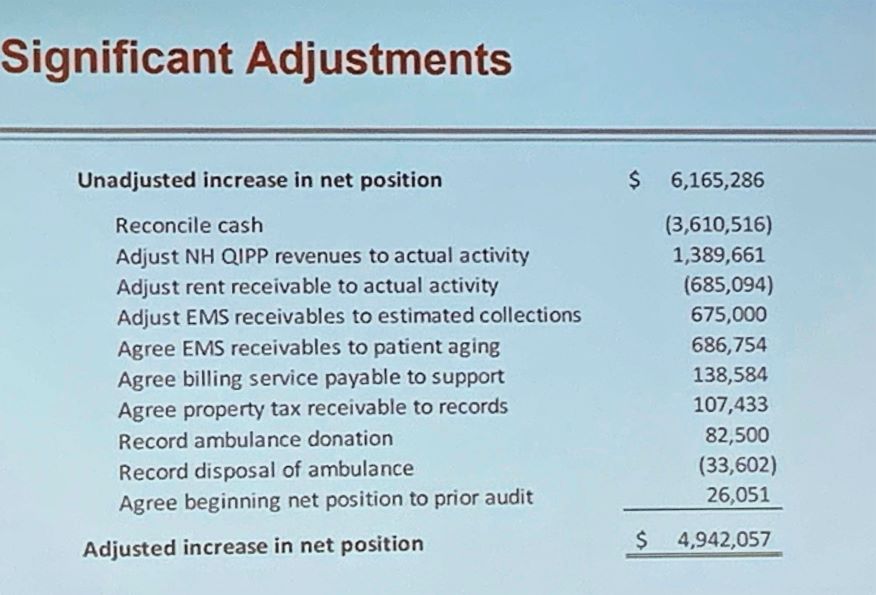 EMS receivables brought in $675,000 more than estimated collections and $686,754. She reported an increase of $2.5 million in 2020 to the district's operating income. EMS' net revenue increased by $1 million and nursing home revenue increased buy $1.3 million. Property tax revenue increased by $339,000 from Oct. 1, 2019 to Sept. 30, 2020, Another $114,000 gain from insurance proceeds on ambulance that was impaired,
However, the district did see a $179,000 decrease in interest income.
She noted that the two stapled packets presented to the board, each is a tentative draft for review purposes because the EMS director was still trying to confirm one number that's material enough that she wasn't quite comfortable list the documents as a final audit. There are one or two monetary changes that could be impacted, although Whitley and the HCHD officials don't think so, If nothing changed over the last week or when Smith provided the final information needed, the final audit will look exactly like the packet presents presented at the Aug. 30 meeting, she noted.
From 2019-2020, HCHD's cash went up about $3 million from $10 million to $13 million.
"That's a big jump. That's the reason I know your bottom line of $4.9 million is good, because I see cash in the bank, cash in hand. Another amount that changed is the amount of the QIPP program. You were expecting at the end of Sept. 30 was $4.4 million compared to about $3 million in the previous year, so that's $1.4 million additional dollars in the QIPP program that still had not been received," Whitley noted.
She said that $4.1 million of the $4.9 million in prepaid nursing facility fees was provider relief funds distributed to nursing homes. About $810,000 of that was Medicare advance payments that came in for the nursing homes.
All of those funds came in and were funneled back out except about $30,000, shown as a receivable on the books.
"You're on the hook for this money if the nursing homes don't pay it back, And until that revenue is recognized, I'm keeping it on the books because that would be a holdback from you from the nursing homes if they don't give you everything that you need to be able to report that correctly. I'm recording it as received and you've given it to the nursing homes," Whitley said. "That's the money I would expect you'll see in your net revenue. It recognizes revenue in fiscal year 2021. Once you're earned the right to keep that, report it as spent."
Prepaid expenses and other expenses was up about $950,000, That's up $400,000, with the bulk of that prepaid rent from CHRISTUS. The district also has another $600,000 increase from EMS deployments.
In September 2020, there was still about $600,000 to account for. Smith and the auditors were sure EMS had received $200,000 of that amount, but not the remaining $400,000. Smith was trying at the time the report was composed to locate that information as the COO was out on medical leave. He noted at the Aug. 30 meeting that the funding comes from Texas Department of State Health Services finances, which works at a slower pace.
Assets were up about $9 million this time last year. Two new ambulances were purchased in 2020, for about $150,000 each. Construction progress, the start of the new EMS headquarters and hiring or an architectural firm, had just begun at a cost of about $175,000.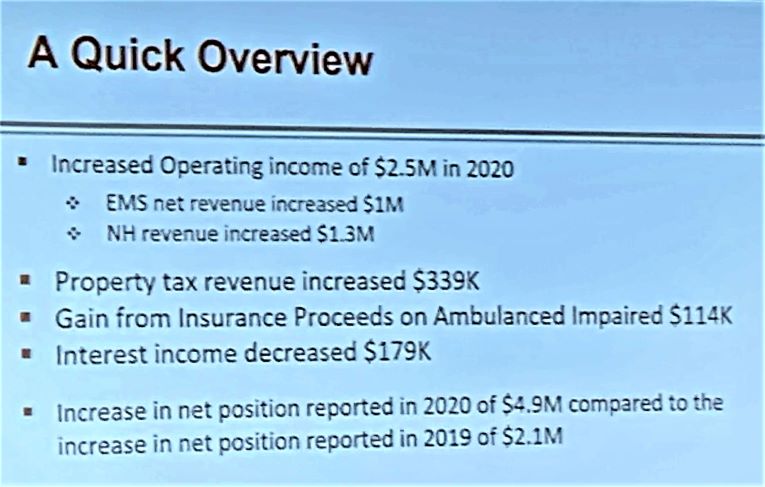 After the deal in which CHRISTUS agreed to purchase HCHD's remaining shares in the Healthcare Alliance is reflected in the budget, the long term debt of $24 million for bonds will be paid with proceeds from the deal and go away. Until then, it will remain on the books although paid.
Funding was expected to come into the QIPP funds to be be distributed to nursing homes at hte end of FH 2020. More was expected to come in last year, and more is expected to be paid out for the nursing home's share of the QIPP program funding, Whitley said. The more than $4,121,000 doled out, the nursing homes have to provide poof the funding was used as allocated so the hospital district, as owner, doesn't have to pay it back.
A $3.2 million lease security budget on the balance sheet represents the initial lease money that CHRISTUS put up at the very beginning of the deal. That's goes away during the course of the sail. It will be converted into the overall sales proceeds.
Overall, HCHD had an equity improvement of $4,922,000 for the year, Whitley said.
She noted initially reported to the district as profit was $6 million, but an adjustment of $1.2 million was made, reducing that to $4.9 million, the majority of which was reconciling cash throughout the year, the auditor noted.
Looking at district operations, EMS has traditionally and over the last 3 years finished with a negative balance. In 2020, that number finally flipped to a positive number, due largely to the $600 in federal funding the EMS service received to cover expenses while responding in other areas to emergency or critical medical situations.
Smith noted the district has already had quite a few deployments in 2021 as well, which should help improve the bottom line in the coming budget year which finishes this month as well.
Indigent care funds balance, depreciation on buildings and interest expense on the bond payment also are in the 2020 budget, which comprise a loss.
When comparing current cash in excess of current liabilities, HCHD's liquidity continues to grow stronger annually. If all funding stopped with not even a dollar in additional funding coming in, HCHD could operate EMS for 3 years with the amount of cash the district had on hand on Sept. 30, 2020.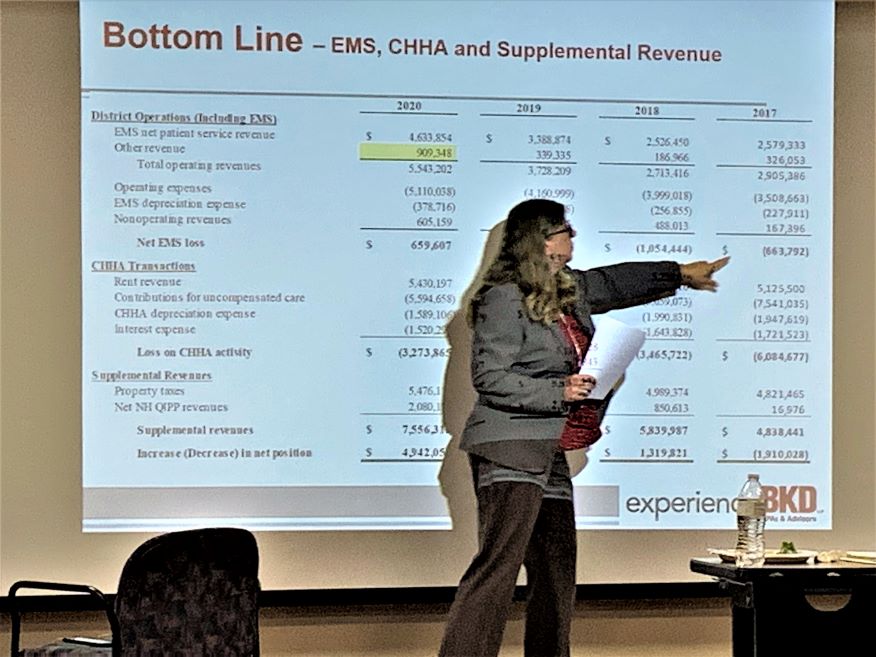 "Over the last 3 years, I'm happy to report you've done a better job of getting those bills turned into cash sooner. Not that the cash is a lot, but you're getting it turned around faster. So, I'm happiest to see that trend up there," Whitley said of accounts payable.
She said that it will be a major challenge for HCHD to get all of the documentation of direct COVID-19 expenses and capital purchases from nursing homes to get them turned in by the Sept. 30, 2021 deadline. When HCHD complete its reporting, it will have completed documentation for six nursing homes (all in other counties). She recommended not starting entering information in the reporting portal until all 6 nursing facilities have all of the needed paperwork in to HCHD and district officials are 100 percent comfortable with the documentation on how the money is spent, because the burden will be on the hospital district in 3 years to show everything is in order.
Folwell said HCHD would like for BKD's staff to do that for them. Whitley explained that while the accounting firm can be helpful, going through all of the documentation with them to make sure they are comfortable with it, but HCHD staff will be required to enter the information into the portal.
Whitley also recommended not waiting until Sept. 28, 2021 to begin entering the information into the online reporting portal as it is likely to get jammed up or bogged down due to the large volume on it at that time, and the district would be late getting it in if it went down. She recommended getting it in between Sept. 15 and Sept. 27. She said she wanted to be sure the HCHD Board knew they would be on the hook if the amount reported isn't accurate, and would be required to pay back at a future date any amount identified as not meeting the requirements.
Angelia Harris, HCHD benefits coordinator, said the nursing homes have been asked to get all of their paperwork in by Aug. 31, 2021, and already had most of the nursing facilities paperwork in already.