Sept. 13 Agenda Also Includes Proposals For 381 Economic Development Agreements For JBW Holdings, 2 Pine Forest Solar Projects
Hopkins County Commissioners Court will be asked Monday to consider a number of proposed contracts and agreements, including a reinvestment zone and economic development agreement for Stampede Solar. The Sept. 13 agenda also includes proposals for 381 economic development agreements with JBW Holdings LLC and the two Pine Forest solar projects, Pine Forest Solar I, LLC, and Pine Forest Hybrid I, LLC.
The solar proposals are among at least six that Hopkins County Commissioners Court has been asked to consider. Solar projects that have been greenlit for development with tax incentives granted by local taxing entities over the past 2-3 years include Solemio Solar LLC in Arbala, Hopkins Energy LLC in Dike, Pine Forest Solar in the Pine Forest community in eastern Hopkins County, Bright Arrow Solar LLC in northwest Hopkins County, and now Stampede Solar in the Saltillo area and Pine Forest Hybrid which will allow the project in that community to be expanded to include batteries.
While the Arbala and Dike projects have been protested by community members, most off the other projects haven't generated near the attention. One property owner in Dike has filed a lawsuit against the county and Hopkins Energy, and is working with attorneys and community members to try to prevent solar facility from being constructed in the community, including exploring options for making Dike an incorporated area. Aside from concerns and disapproval expressed by a few Pine Forest residents during an initial public meeting at Como-Pickton school, that project isn't reported to have face nearly as much community dissent.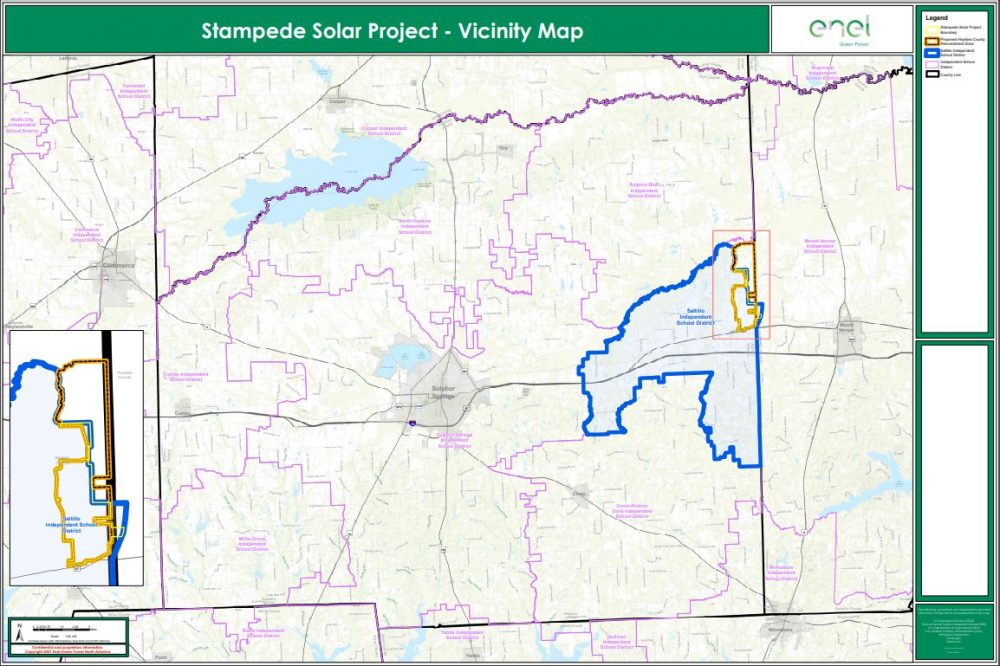 A public hearing is required to be held during the 9 a.m. meeting Monday, for any questions or comments community members may have regarding the establishment of a reinvestment zone with Stampede Solar Project, LLC, to be located in eastern Hopkins County within Saltillo ISD. The Commissioners Court then are expected to consider approving a resolution granting a reinvestment zone as well as a 381 agreement with Stampede Solar Project LLC.
Stampede Solar is planned as a hybrid solar plus battery storage project developed by Enel Green Power to have a 255 MW capacity plus a 70 MW battery storage capacity. The project is to be located on 2,700 acres owned by four landowners, with Zach Precopia of Enel Green Power as project developer. Enel Green Power, according to the company and project website, manages more than 12,00 power plants on five continents with projects under construction in 21 countries and development activities in 6 other countries, according to the company website.
According to the application submitted to Saltillo ISD and Texas Comptroller's Office, the solar facility is projected once constructed to have seven employees, whose annual wage would be $45,968.12,
The Commissioners Court too is expected to consider amending the Chapter 381 Economic Development Program and Agreement with Pine Forest Solar I, LLC, and granting a 381 EDP and agreement to Pine Forest Hybrid I, LLC.
The Sept. 3 meeting agenda also calls for the Commissioners Court to consider approving a 381 economic development program and agreement with JBW Holdings LLC during the 9 a.m. meeting.
Additional agreements submitted to court approval include one between the City of Sulphur Springs Fire Department, Hopkins County Fire Department and Hopkins County EMS District; and one with Vickers Consulting Services, Inc.
Contracts up for approval include one for the purchase of juvenile services with Ark-Tex Council of Governments and the county, and a second contract renewal participating in Entity Services agreement for the Statewide Automated Victim Notification Service known as SAVNS.
The agenda also includes requests from Farmers Electric Cooperative to construct 2 electrical power distribution facilities over county roads, the repositioning of a culvert at 69 Wylie Drive in Sulphur Springs, a DMV optional fees calendar for 2022.
After the 9 a.m. meeting in the Commissioners Courtroom on the first floor of Hopkins County Courthouse adjourns Monday morning, Sept. 13, the Commissioners Court is slated to immediately move upstairs to the Meeting Room on the Third Floor for a work session with sheriff's office, fire department, Civic Center staff, and to discuss maintenance of count buildings with Tom Glosup. A budget work session may also be held during the work session.