Fewer New COVID Cases, More Patients Recoveries Reported In Last Week
The daily case counts reported are mixed with overall new cases declining and active case counts declining, each outpaced last week by recoveries for Hopkins County; unfortunately, three additional Hopkins County residents Wednesday were confirmed to have died from COVID-19.
Fatalities
Over the past 7 days, Texas Department of State Health Services has reported five additional COVID-19 fatalities have been confirmed by cause of death on death certificates of people who lived at addresses with Hopkins County zip codes, three of them recorded for the first time Sept. 22. That's nine new deaths confirmed this month for Hopkins County.
Only two of the latest round of COVID deaths, however, are occurred this month, one on Sept. 7 and another on Sept. 17, increasing the total number of Hopkins County residents who have died this month as a direct result of coronavirus to five. Two Hopkins County residents also died on Sept. 1 and one on Sept. 3, 2021.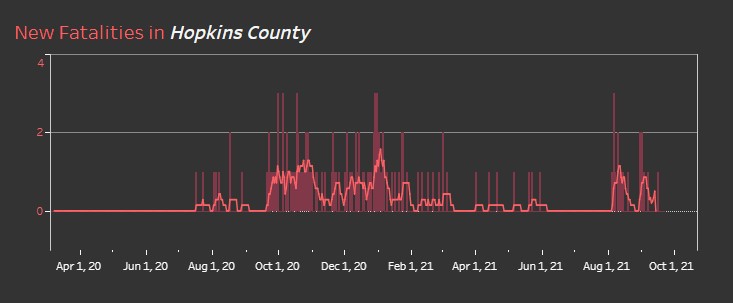 The three additional new cases occurred in August, including one on Aug. 31, one of Aug. 19 and one on Aug. 15. Combined with the three fatalities on Aug. 6; two each on Aug. 10 and 2 on Aug. 30; and one each on Aug. 5, 7, 11, 12 and 13.
That makes 63 Hopkins County residents who have died from COVID-19 this year, 20 in the last month and a half after 2 months with no COVID deaths.
Cumulatively, 134 Hopkins County residents have died from COVID since July 17, 2020.
While 134 represents a death rate of less than 1 percent of the total population of Hopkins County, 4.77 percent of Hopkins residents who've received lab-confirmed COVID-19 results have died from the virus.
Case Counts
Week three of September began with recoveries outpacing new cases 22-16, reducing the active case count for Hopkins County to 382 on Sept. 22 – the least number of active cases in 20 days.
The total number of new lab-confirmed COVID cases rose from 136 on Week 1 to 148 in Week 2, then dipped to 87 for Week 3 of September. That's 383 Hopkins County residents who have received positive molecular test results, 115 more confirmed cases from Sept. 1-22 than Aug. 1-22. That makes 1,690 new lab-confirmed COVID cases so far in 2021, and 2,812 since the pandemic began in March 2020.
Another 216 people have been reported Sept. 1-22 as having "probable" cases of COVID-19. DSHS, following the CDC terminology, defines a probable case as one in which a person "has either tested positive through an antigen test or has a combination of symptoms and a known exposure to someone with COVID-19 without a more likely diagnosis."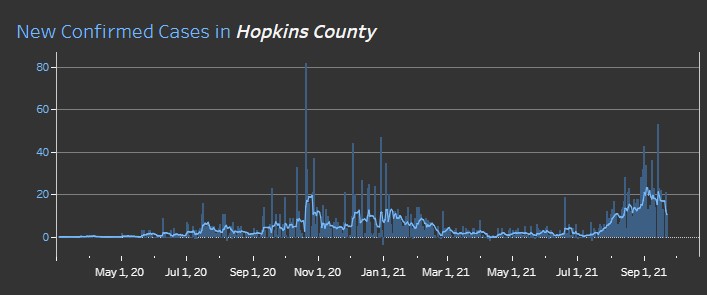 During the first week of September 76 new probable corona virus cases were reported, 98 during week 2 and 38 during week 3. That's 93 more probable cases reported during the first 22 day of September than from Aug. 1-22, 2021.
That increases the total number of probable COVID-19 cases reported so far in 2021 to 1,026, and brings the cumulative pandemic total to 2,143. Probable case tallies only go back to late last fall as the state didn't begin tracking probable cases until then, and didn't begin reporting them daily until Dec. 11, 2020.
Combined, that's 599 total new COVID cases reported so far this month, 208 more than during the first 22 days of August. In fact, that's more than the 571 total new cases reported during the entire month of August 2021.
That makes 2,716 new COVID-19 cases reported for Hopkins County in 2021 and 4,967 COVID cases since Spring Break 2020.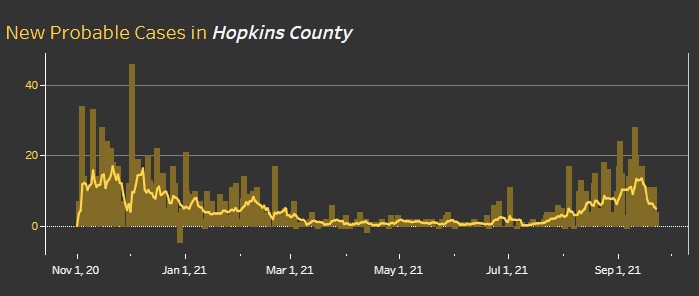 Testing
Of course, the daily case counts and active case counts always have the potential to rise significantly with exposure and sickness. For instance 290 people were reported to have been COVID tested on Tuesday, Sept. 21, in Hopkins County — 150 molecular, 1 antibody and 130 antigen tests.
Molecular COVID tests can be nucleic acid amplification tests or NAAT, reverse transcription polymerase chain reaction (called RT-PCR) tests and loop mediated isothermic amplification (called LAMP) tests that diagnose current infections by looking for a germ's genetic material. An antibody test or serology test is a blood test that can show whether a person had a past infection by looking for proteins the body creates to fight an infection. An antigen test is the rapid test that uses a nasal swab to check for certain proteins on the outside of a germ.
That's up from 82 tests performed on Monday, Sept. 20, according to the DSHS data. Overall, that makes 34,181 COVID tests performed in Hopkins County using one of the three methods as of Sept. 21, 2021, including 22,710 molecular, 2,046 antibody and 9,425 antigen tests. On Monday, only 1 antibody test, 35 antigen and 46 molecular tests were conducted in Hopkins County.
To find COVID testing site near you, click here. Those not sure if they should be tested may use the CDC's Coronavirus Self-Checker to help make decisions about seeking appropriate testing and medical care. When in doubt, call or message your physician for further information.
To find out what COVID testing collection sites are available near you near you, click here to view an interactive option for COVID-19 test collection sites.
| Category | Sept. 19 | Sept. 20 | Sept. 21 |
| --- | --- | --- | --- |
| Molecular | 22,505 | 22,551 | 22,710 |
| Antibody | 2,044 | 2,045 | 2,046 |
| Antigen | 9,260 | 9,295 | 9,425 |
| Total Tests | 33,809 | 33,891 | 34,181 |
COVID-19 Daily Testing Reports by DSHS for Hopkins County as of the Sept. 22,. 2021 report
Recoveries
Not only were fewer cases reported in Week 3 of September, but recoveries were on the rise. A total of 524 Hopkins County residents were reported to have recovered from the virus in September, 123 during Week 1 (Sept. 1-7), 159 during Week 2 (Sept. 8-15), 220 on Week 3, and 22 on Sept. 22. Overall, that's 524 total recoveries so far in September, 323 more than during the first 22 days of August.
So, that makes 1,026 Hopkins County COVID recoveries reported so far in 2021 and 4,372 since the pandemic began in March of 2020.
While must higher than desired, the smaller numbers of daily new cases last week and increased recoveries have resulted in fewer active cases in the county, dipping from 412 on Sept. 7 and the whopping 498 on Sept. 14 to 388 active cases on Sept. 21 and 382 active cases on Wednesday, Sept. 22, 2021.
COVID-19 RECOVERIES
Week 1
Week 2
Week 3
Month
(1st-22)
September 2021
123
159
220
524
August 2021
33
62
86
201
Hopkins County Covid-19 Recoveries according to DSHS data
Vaccines
Across the state 71.06 percent of the population age 12 and older had received at least one dose of the COVID-19 vaccine as of Sept. 21, according to the Feb. 22 COVID-19 Vaccination in Texas dashboard on the Texas Health and Human Services/DSHS website. Overall, 30,515,802 doses of vaccine have been administered in the state to 17,103,070 people with 14,601,872 (60.67 percent) of those age 12 and up fully vaccinated.
In Hopkins County, 25,592 doses of COVID-19 vaccine had been administered as of 11:59 p.m. Sept. 21, including 7,133 doses administered from Aug. 30 through Sept. 21, 2021. Fifty-eight doses were administered Monday-Tuesday of this week.
A total of 14,501 people have received at least one dose of a COVID-19 vaccine, and 12,160 have been fully vaccinated.
More females than male have gotten the vaccine in every age category except one; 258 youth ages 12-15, 129 boys and 129 girls, were fully vaccinated for COVID-19 as of Sept. 21. The largest group vaccinated in Hopkins County, 4,104 people, is that of individuals age 16-49; a total of 1,812 males and 2,197 females had been fully vaccinated for the virus at the conclusion of the day Tuesday. Overall, 5,243 people in Hopkins County had received at least one dose of the vaccine, 2,412 males and 2,823 females.
The "People Vaccinated" tab in the HHS/DSHS COVID-19 Vaccine in Texas dashboard also shows 58.08 of people in Hopkins County who have been fully vaccinated for COVID-19 are white, almost four times more than any other group identified in the charge. Only 14.65 percent of Hispanic individuals and 14.64 percent of people who listed their race/ethnicity as being other than Asian, Black, Hispanic, white or unknown (typically denoted when the person did not select any response for this demographic). Of the 12,160 fully vaccinated in Hopkins County, 5.81 percent identified as race/ethnicity unknown, 5.71 percent are Black and 1.11 percent Asian, according to the HHS/DSHS website.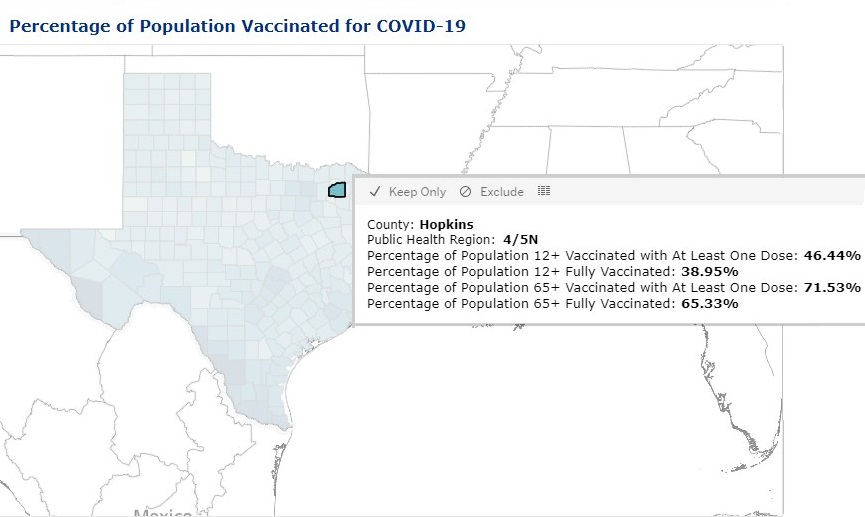 CHRISTUS Mother Frances Hospital – Sulphur Springs will continue hosting COVID Vaccine Clinics every Friday from 9 a.m. to 12 p.m. in the main lobby of the hospital until further notice. Moderna (2-doses, ages 18 and older) and Pfizer (2-doses, ages 12 and older) will be available. Appointments not required, but parent/guardian must accompany anyone 17 and younger.
Boosters are also available for the immunocompromised. The CDC recommends people with moderately to severely compromised immune systems receive an additional dose of mRNA COVID-19 vaccine at least 28 days after a second dose of Pfizer-BioNTech COVID-19 vaccine or Moderna COVID-19 vaccine. Those unsure if they fall into this category should consult their physician.
Most vaccines are available at local pharmacies. Click here to look up the information online.