Three additional COVID fatalities have been confirmed for Hopkins County this week, increasing the pandemic total to 130 cases, Texas Department of State Health Services reported Friday afternoon, Sept. 17, 2021.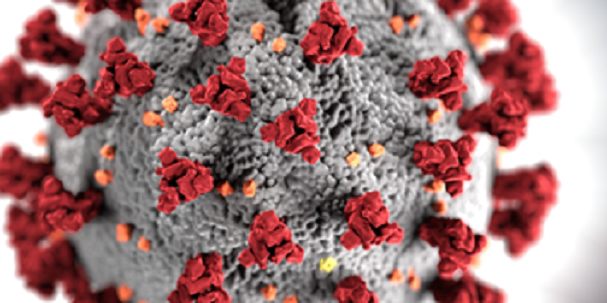 All COVID-19 deaths come from death certificates filed by the doctor, medical examiner or other official who completes the paperwork and sends it to the state vital statistics office with COVID listed as the direct cause of death. This does not include individuals who may have had COVID but whose death was reported to be the result of another cause. That information is then reported DSHS, who updates the various COVID case count dashboards on the agency's website daily. COVID deaths are reported as soon as the information is filed by the reporting party.
Most recently, that process has been taking 1-3 weeks. However, it could take longer if an autopsy is ordered to determine a specific cause of death such as COVID-19. Some of the tests performed on samples taken or factors analyzed take longer than others to complete due to a backlog of cases, staffing and type of screenings and data is analyzed. So although a new death announced today, that does not mean it occurred today.
That makes 6 Hopkins County COVID deaths announced in the past three weeks, three of which were occurred in August and three in September – two on Sept. 1 and another two days later. While a total of 130 COVID fatalities have been recorded for Hopkins, only 46 have died in 2021. The rest occurred from July 1 to December 31, 2021; Hopkins County has had COVID cases since March 27, 2020, but did not have any confirmed coronavirus deaths until July 17, 2020, according to DSHS and local emergency management records.
Hopkins County is ahead the September 2020 case pace, with a total of 118 new lab-confirmed cases reported during the entire month in 2020 and 337 new lab-confirmed cases reported during the first 17 days of September 2021.
In fact, September 2021 could prove to be the worst month of the pandemic for Hopkins County in terms of new and active case counts. August exceeded the previous highs of 484 total new cases reported in December 2020 (the state didn't daily report probable cases, and include them in in the overall daily new cumulative case and recovery counts for each county) and 323 new molecular cases (lab-confirmed cases) reported in October 2020. September appears to be on track to exceed the 471 new COVID cases (408 confirmed and 163 probable) reported for Hopkins County in August of 2021.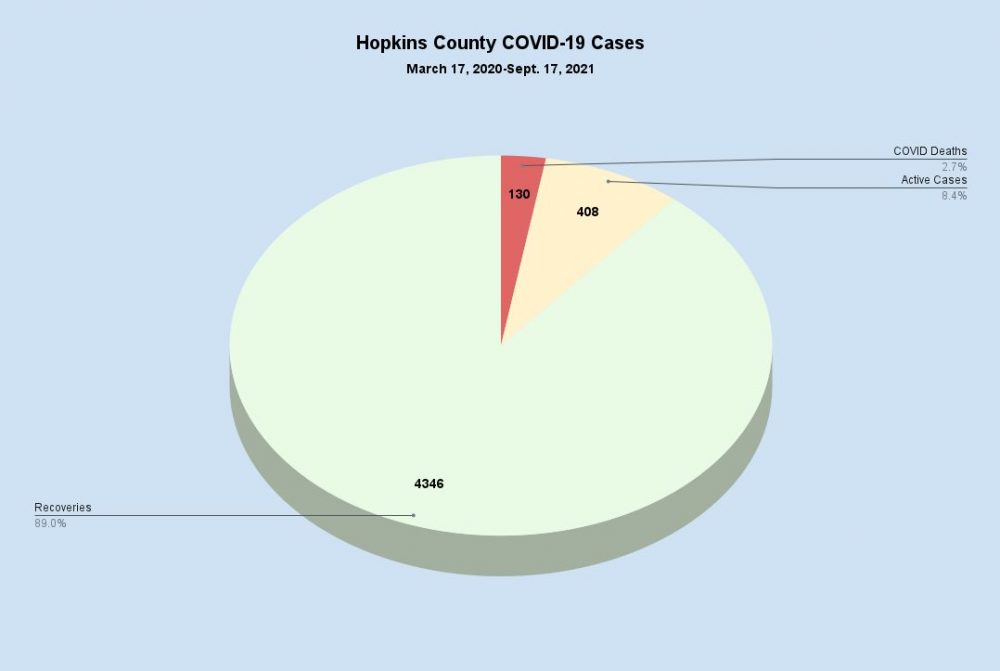 A total of 76 Hopkins County residents received positive COVID-19 lab results during the first week of August, 94 more the second week, 80 the third week, 97 the fourth week and 61 the final three days of August, for a total of 408 new lab-confirmed COVID cases among Hopkins County residents in August 2021.
During the first seven days of September 2021, a total of 136 Hopkins County residents received COVID positive lab results. Another 148 tested positive the second week of September, 53 more in the past three days more so far this week. That's 337 new lab-confirmed COVID-19 cases so far in September, 142 more than during the first 17 days of August.
A total of 191 Hopkins County residents have been reported so far this month as "probable" COVID cases. That means 28 more probable cases have been reported during the first 17 days of September than during in all 31 days of August 2021.
On the other hand, recoveries have outpaced new COVID cases this month, 408 recoveries to 337 new confirmed cases and 131 probable cases..
Unfortunately, that still leaves 408 Hopkins County residents reported to actively still had coronavirus Friday afternoon. While down from the 498 active cases reported on Sept. 14 but up from the 324 active COVID cases reported on the last day of August.