For the 20th anniversary of the terrorist attacks on the United States, local emergency responders held a service to honor the emergency responders who were killed Sept. 11, 2001, while responding to offer aid to those in the Twin Towers of the World Trade Center.
Hopkins County and Sulphur Springs Fire Departments, Hopkins County Emergency Medical Services personnel, Fire In Texas recruits, Hopkins County Sheriff's Office, Sulphur Springs Police Department, Hopkins County elected officials and community members were among those attending the fourth annual remembrance service, hosted has become tradition at the Hopkins County Intermodal facility, which houses HCFD's Station 20 and a HCEMS ambulance crew.
Rodney Caudle with Fire in Texas gave the opening comments, denoting the annual event to honors the firefighters, medical and law enforcement personnel who ran toward the Twin Towers, while everyone else was running away after the airplanes crashed into them on Sept. 11, 2001. He noted that many present were not born or not old enough to remember where they were or what they were doing that day, others were just beginning or still early in their careers as first responders.
"Take a moment to reflect on why we wanted to serve in the capacity we serve. Times are changing. People are changing. Let us remember, life is short and there's no time for hate. Let us remember we can overcome any endeavor or feat by looking to God for help. Let us remember 'they word is a lamp unto my feet and a light until my path.' Let us stay focused and restore unity where evil has prevailed," Caudle said
Pastor Joel Tiemeyer said a prayer of thanks for the freedom of gathering and open worship afforded in this country, and asked the Lord to be with the families of those who paid the ultimate sacrifice in the line of duty responding 20 years ago to the terror attacks. He then offered thanks and asked for protection for those who continue to serve and give of themselves daily. He prayed for the county and city to have God go "before use" and to become a Matthew 5:14 city, a city on a hill where the Lord's light cannot be hidden, and asked for peace and grace.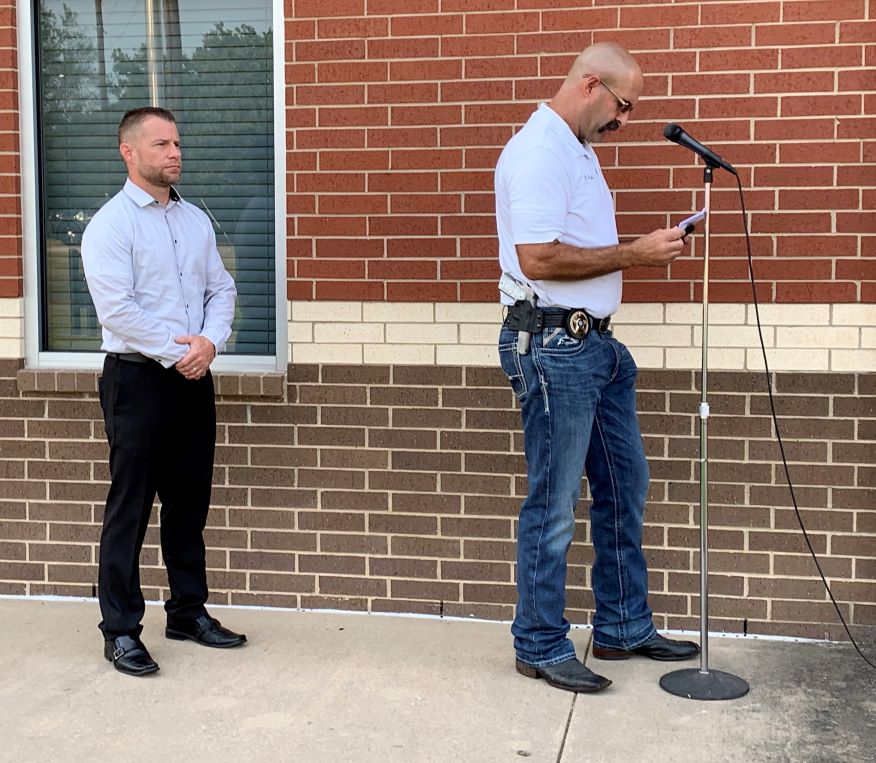 Fire In Texas academy recruits marched in formation to accompaniment of bagpipes played by South Texas bagpiper and Fort Worth Bagpiper Lary Fowler to the flags on the front lawn of HCFD. The academy color guard raised proceeded to the flag poles in front of Station 20 while the rest of the class filed along the approach. The color guard posted the American and Texas flags on the three poles in front of the station. The recruits saluted the flag. All present recited the Pledge of Allegiance to the USA flag. The flags then were lowered in honor of the 412 first responders killed in the 9/11/01 attacks.
Central dispatch broadcast across the radio a call for all first responders to stop what they were doing and take a moment to bow their heads in a moment of silence and prayer for those killed in the line of duty. Thanks was offered for all the emergency responders do daily serving others. Fowler played Amazing Grace on bagpipes.
Hopkins County EMS Director Brent Smith over the radio recalled those responders lost on Sept. 11, 2001, ordinary men and women running that horrific morning toward the danger as emergency responders do.

"Greater love hath no man that this: that a man lay down his life for a friend. Twenty years ago 412 emergency responders, including 343 New York city firefighters, 60 police officers, eight emergency medical technicians and paramedics or private EMS services, one patrolman from the New York Fire Patrol ran towards danger and did not make it home to their families. Today we honor their courage, commitment and sacrifice with a long standing tradition in the fire service with the tolling of the bells," Smith said.
Firefighters rang three sets of five tolls of a bell on a fire engine to signal those first responders who did not return home after responding on Sept. 11, 2001.
After additional playing of bagpipes by Fowler, Caudle directed the attention of those responding to a fire truck park across the approach, a 1993 Seagrave pumper. While currently in service as Engine 2 in Como, on Sept. 11, 2021, the truck, in service as Lanchmont, New York Engine 33, responded at the World Trade Center.
Tiemeyer then offered thanks to all who serve on a daily basis, giving their lives to keep the rest of us safe, for their service. He then offered a closing prayer for the protection and safety for all those present at the remembrance service as well as those who put their lives on the line across the nation. He concluded the prayer asking the Lord to bless the US once again.
The recruits then filed out, concluding the service with a selection of patriotic music by Fowler. The annual remembrance is typically held on Sept. 11, however, because the event will be on a Saturday, not a traditional work day, it was held one day early in 2021.
The tribute also featured an American flag against a flag backdrop, with firefighting gear, complete with coat with FDNY on it, pants and boots, an air cylinder and coat to present the 343 firefighters who lost their lives on Sept. 11, 2001. SSFD too draped a large US flag from the ladder on Tower 1 in remembrance of those killed in the terror attacks.
Cumby Volunteer Fire Department will hold a 343 Memorial Walk Saturday, Sept. 11, 2021, in honor of the 343 firefighters who lost their lives on 9/11/01. The 3.43 mile walk/run will begin at 7:46 a.m., the time the first of the World Trade Center twin towers fell. Departing from Cumby YSA Field. the walk will continue east on FM 499 to the I-30 service road, then turn and eventually conclude at Cumby VFD station at 101 East Main Street in downtown Cumby. All are welcome to join the walk or line the route to show support and togetherness in remembering. Call Ryan Horne at 936-645-5475 or Jimmy Helfferich at 903-335-1619 for additional information.