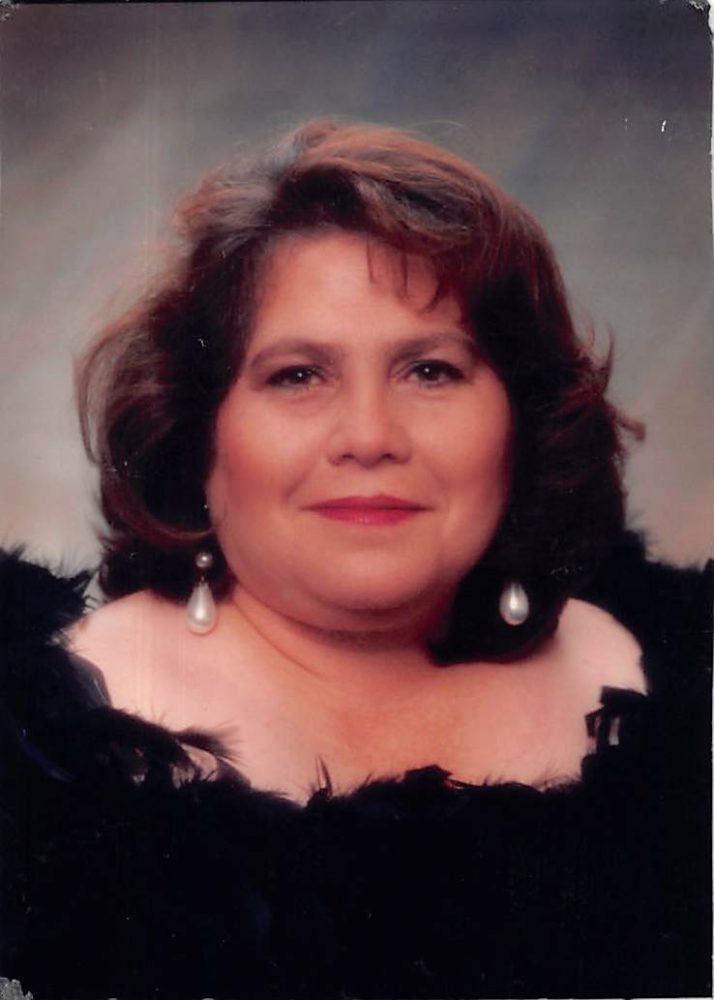 Yolanda Lemos Fuentes was born on September 21, 1955, in the beautiful city of Corpus Christi to her loving parents Delia Godoy Lemos and Robert Herrera Lemos.
She was married at a young age to Fernando Padron Fuentes Sr., and had three children, Dr. Fred Fuentes (Aminta), Veronica Knotts (Jeff) and Victoria Miller (Bryce). She was the proud grandmother of 10 amazing grandkids: Devien Malik Fuentes (Yeimi), Jonathon Andrew Medina, Colin McCaye Miller (Maya), Annika Leanne Medina, Tanner Bryce Miller, Belen Alexis Fuentes, Owen Robert Miller, Lucy Elizabeth Miller, Ayden Blair Fuentes and Ariana Rose Fuentes.
She is proceeded in death by her youngest grandson, Henry Miller; her oldest sibling, Delia Ann Gomez; and her parents, Delia Godoy Lemos and Robert Herrera Lemos.
Grandma Yolanda, Mylonda, La Huera, Ma and Mom! That's what we called her. She was described by her friends as "a little firecracker" among many other fun titles including "Mrs. Tell it like it is", "Spicy" and "The best little grandma in the world."
She was full of love for her three children and bragged to anyone who would listen about their lives and successes. She loved telling people she would meet how proud she was of "Freddy, Ronnie and Vicki." Other moms understood this joy, but some may have simply showed disinterest. If they were bold enough to do that in front of "Mom," then she was bold enough to tell them how she felt. They were often left appreciative of her effective communication strategies at ensuring that you "got it," whether you wanted to or not.
At 4'7", she was a small one, but let me tell you, she was fierce. She was a consummate advocate for "the underdogs" of the world, for the disenfranchised, for people living with disabilities, and for people that were being discriminated against. She simply would not stand for "mean people" and was quick to let them know that they were wrong. She taught her children and grandchildren to never tolerate racism, sexism, or any attempt to minoritize another person. She wanted everyone to have equal access to life's opportunities and riches.
Mom was rich! She used her credit cards like she had a million dollars, but she really lived on a very modest budget. Her riches came by way of love – a love for her children, her grandchildren, her siblings, her friends, and her famous salt and pepper shakers collection. If salt & pepper shakers were a global currency, she would be equivalent to having the money of Oprah Winfrey. She had that many shaker sets! She was rich with memories, and she had a story for each one of the thousands of shakers that adorned her small home. Looooong stories.
Mom told very long stories. All true, but goodness did they have details to them. If you asked her about her day, her joyful response would begin with a reference to 10 or 14 days ago. The story would take you through engaging and colorful reflections of her days, her interactions, and her successes; and we celebrated her successes with her. She had to communicate with at least one of her sisters each day and talk about her adventures. As a person living with a disability for all of her life, she knew how to find success. She was fierce and determined and would humbly ask for help on rare occasion, but mostly she did things on her own, her way.
Mom's way meant hand-written notes with advice, beautiful decades of old memories, music from the 1950s playing on the radio, and redecorating her home. If you visited her home, even for a few minutes, you would likely be asked to help move a piece of furniture, change a light bulb, or nail something on the wall. If you were more skilled, she may ask you to "help fix the ceiling real quick."
Mom had fun with her requests, as she did living her life. She was so much fun and was the "life of the party" at most occasions, but she harbored a secret. She was often in physical pain and struggled with some emotions, some regrets. She was such a loving woman that it was hard for her not to feel "hurt" by some actions. She loved and felt love, hard. She felt pain hard, too. She was no different than the majority of people living with tough lives. She was a tough woman and handled her pain, her emotions, and her joys. She knew and believed that her next life, her eternal life would be painless. She is in that state now and was greeted by her Savior, parents, and big sister. She eagerly anticipated reconnecting with everyone to show off her celestial salt and pepper shakers.
Mom loved everyone and would always provide advice whether you thought you needed it or not. Sometimes it was spiritual, marital, or professional. Sometimes it was medical. That means that she always had a dosage of Vicks vapor rub and Neosporin near, and a beautiful healing touch of her hands. Ironically, her healing hands were first touched by God and she lived life on earth with her "imperfect" perfections.
We could go on forever bragging about Mom's ability to overcome adversity, her loving and kind words, her intentional efforts to connect with people, and her simple requests to have her feet rubbed. Instead, we will leave you with a note we found in her home in the past few days that provided her last wishes and a last dosage of handwritten advice:
Keep Vicks and Neosporin handy.
Obey your parents.
Call your parents and visit them often.
Say your prayers.
Stay in school while you're young.
Pack a lunch just in case.
Carry a blanket in your car.
Never drive your car on empty.
I could go on forever, but I will let your parents do that.
Thank you, Mom, for being the best we could ever have, for fighting for us when others wouldn't, and for fighting for yourself even when it was difficult. Thank you for being a friend to so many, for being honest, and for being YOU. We wish to honor your legacy by ensuring we fight for the same people in our communities that need us. We love you, and we miss you, Mom!
A celebration of life ceremony will take place on Tuesday, August 24, at 10:30 a.m. at Central Baptist Church in Sulphur Springs, Texas, where she was a member. An additional service will take place in Corpus Christi for family and life-long friends at Abundant Life Fellowship. Service time will be promptly at 3:33 p.m.
If lead donations for medical expenses and funeral arrangements can be made to Venmo @Vicki-Miller-13 thank you so much for all the continued love and support!