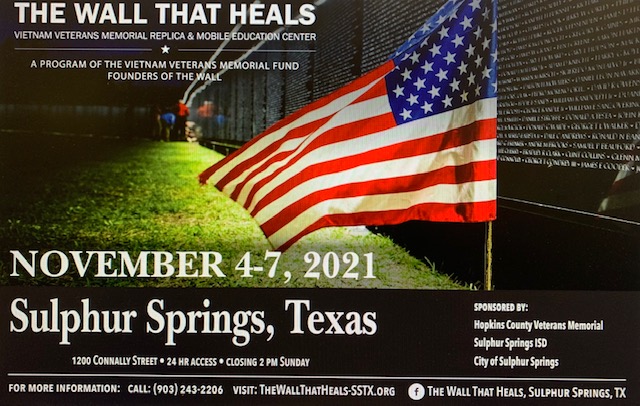 During the KSST Good Morning Show on Thursday August 12, 2021, a first interview on-air about the "The Wall That Heals" visit to Sulphur Springs was discussed with Committee members Danny Davis and Dena Loyd. Mandy Kennedy, who is spearheading the event, was not able to attend. As a result of her efforts as a member of the Veterans Memorial Committee. Sulphur Springs was selected as the only Texas town to receive a visit by 'The Wall That Heals' replica and mobile education center. During it's planned visit November 4-7 of this year, TWTH will spread the healing legacy of Washington's Vietnam Veterans Wall and educate about the impact of the Vietnam War. It also honors the more than three million Americans who served in the U.S. Armed Forces during the Vietnam era, and bears the names of the 58,279 men and women who made the ultimate sacrifice during that conflict. Local committee members and residents of Hopkins County are thrilled and excited about the opportunity to host the display.
Davis, a military veteran, is Hopkins County Treasurer and Veterans Service Officer. He counts it a special privilege to have a share in the unique 2021 event planning, and to help prepare the community to welcome as many as 30,000 visitors to our city over the four days of the display. Two days of preparation will begin on November 2, and dozens of volunteers will be needed. Ways you can help will be detailed in the coming days and weeks. Saturday November 6 may be the busiest day, with a Parade and the Heritage Car Show adding to the excitement in the downtown area of Sulphur Springs. Persons who wish to visit the traveling exhibit can do so with 24 hour access on the Sulphur Springs High School campus.
Funding is required to host the Wall, and that was provided in a generous donation by local resident Carol Gunn Vernon, who underwrite the cost of $10,000 so that Hopkins County can welcome home America's Vietnam veterans. Sponsoring partners are SSISD, City of Sulphur Springs, and the Hopkins County Veterans Memorial. Other funding needed will be covered by a Yellow Ribbon Campaign and by two fundraising concerts. Gold Star mom Dena Loyd is organizing a concert by Neal McCoy for September 10 in the SSHS Auditorium. Local band Jason Walden and The Alibis will open that show. Walden's band will also perform a concert for a private fundraising event on September 25 at Cedar Canyon Event Center in a Dinner and Dancing Night for 150 guests. For individuals, groups, clubs, business or industry who wish to give a donation toward this worthy cause, these can be made anytime by going to the website www.thewallthatheals.org.