A 42-year-old Sulphur Springs man was arrested on a felony drunk driving charge following a crash in an East Shannon Road restaurant parking lot Friday.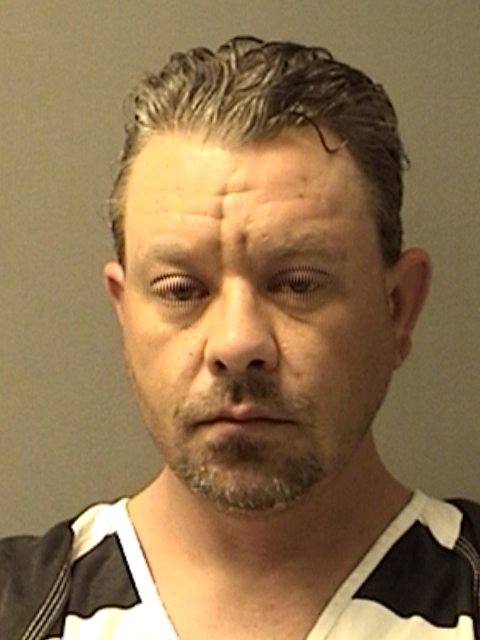 Sulphur Springs Police Sgt. Brandon Mayes responded at 11:28 a.m. Aug. 6, 2021, to the single vehicle crash in the Panda Express parking lot. He contacted Brandon Gene White, who was reported to have been involved in the crash. Mayes observed White to have bloodshot eyes, to occasionally have slurred speech and to be unsteady on his feet to the point of nearly falling; and the detected a faint alcoholic beverage odor on him.
As he was walking back to his truck, after the wrecker got it unstuck, White reportedly stumbled back and forth with his feet together, then leaned forward instead of standing straight up. He indicated he understood the officers instructions when told to follow the movement of his finger with his eyes only, but failed to do so. White was taken into custody and transported to jail. He agreed to give a blood sample. It was taken at the hospital and the man was returned to the county jail, where he was booked for third or more driving while intoxicated offense.
He remained in Hopkins County jail Saturday morning, Aug. 7, 2021, awaiting arraignment. Jail records show White was booked into the county jail on Feb. 5, 2000 for DWI, spent the night in jail May 1, 2002 and on a second DWI offense charge.
KSSTRadio.com publishes Sulphur Springs Police Department reports and news. The Police Department is located at 125 Davis St., Sulphur Springs, Texas. Non-emergency calls can be made to (903) 885-7602.
If you have an emergency dial 9-1-1.
The Sulphur Springs Police Department continues to serve its citizens with pride in its overall mission and will strive to provide the best possible police force in the 21st century.
---
The Hopkins County Sheriff's Office is located at 298 Rosemont St., Sulphur Springs, TX 75482. Non-emergency calls can be made to (903) 438-4040.