Although school will not officially start until Wednesday, Aug. 18, days have been designated for Sulphur Springs ISD back-to-school activities over the next week to help ease students and families into the 2021-2022 school years, including Meet the Teacher, School Supply Drive Thrus, Squad Offs, an alumni basketball tourney and Device Pick Up. Elementary officials too have announced plans for an After School Program to begin the first full week of school.
Supply Drive Thru, Meet The Teacher Events
"It's so exciting for students to get to meet their teachers in person," SSISD Assistant Superintendent Kristin Monk said earlier this week. "Campuses are excited about having kids ad students in the building this year."
Sulphur Springs High School Counseling Department coordinated a 9th grade parent orientation last week.
"We had almost 500 parents and students in attendance out of a class of about 300 students," Monk reported. "It was standing room-only to hear from administrators, directors, counselors, CIS staff, Student Council, and the Class of 2025 Sponsor."
The remainder of SSHS students and parents will be able to attend a Meet-the-Teacher Tuesday afternoon , Aug. 17, Students can pick up schedules if they don't already have them and walk the building, learning where classes will be and the path for their daily schedule.
Douglass Early Childhood Learning Center will have a traditional Meet-the-Teacher day. They will be able to drop off supplies, meet the students' teachers, walk the building to help these youngest of students "have a truly good first day of school."
Sulphur Springs Elementary and four primary campuses will be holding School Supply Drive-Thru events at their campuses from 3:30 p.m. to 5 p.m. Thursday, Aug. 12, to allow parents to drive their children through the line to see their new teachers and drop off school supplies. A reading academy is being held to provided ELAR teachers with added strategy with which they can assist their students, so those campuses are not expected to be quite ready to welcome students and their families Thursday.
However, SSES does plan to hold a parent orientation after school starts to give parents a chance to be on campus with their students. The Back to School Bash/ Parent Orientation is planned for Monday, Aug. 23, while the four primary campuses — Bowie, Barbara Bush, Rowena Johnson and Travis — will hold their Back-2-School Bash/Parent Orientation Tuesday, Aug. 24. Families are invited to accompany their student to their assigned the campus on the designated day. More details will be provided to these families, including times, as the B2SB and parent orientations nears.
At Travis Primary, the June 12 Ready to Rock back to school drive through will take place in the Main Street horseshoe entrance for kindergarteners and on Garrison Street for first through third graders. Parents should watch for grade level signs on Garrison Street.
At Johnson Primary (former Lamar Primary), kindergarten and first graders will drive through on California Street on Aug. 12. Second and third graders will drive through on Milligan Street. Nurse Becky Hicks will be available on California Street should families have any medical questions or related discussion.
Sulphur Springs Middle School will host Welcome the SSMS Wildcats from 5 to 6:30 p.m. Aug. 12. Students in grades 6-8 may pick up their schedules and meet their teachers during that time.
Device Pick Up
Freshmen were afforded the opportunity Aug. 3 to pick up their electronic devices (laptops) before or after orientation.
Tonight, Aug. 11, any SSHS 10-12th grader or 9th grader who was unable to obtain their device last week will be able to pick up their devices at school from 6 to 8 p.m.
From 8 a.m. to 11 a.m or noon to 4 p.m. Thursday-Friday, Aug. 12-13, and Monday-Tuesday, Aug. 16-17, have also been designated for all SSHS students to visit the high school to receive their device.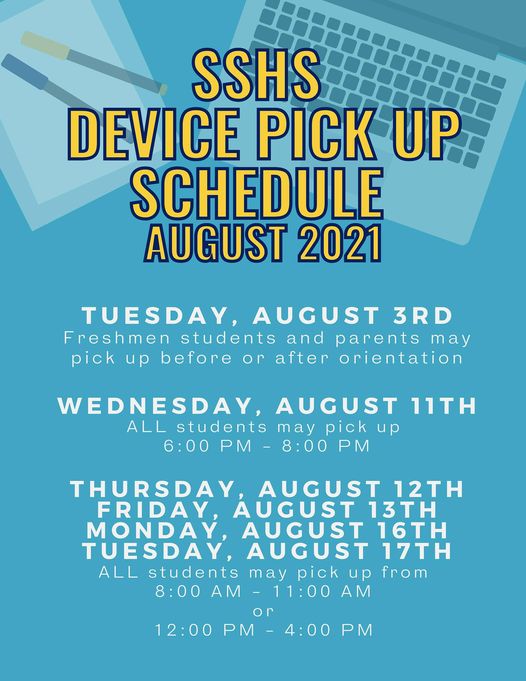 Band Squad-Off
The Sulphur Springs High School Wildcat Band Parent Performance and Squad-Off contest will begin at 6 p.m. Thursday, Aug 12, at Gerald Prim Stadium. This annual event will give students a chance to perform for an audience the music they've been working on for about a month.
The brass and wood wind section began reporting from 8 a.m. to noon July 12-14 in the stadium. Drumline camp was conducted from 8 a.m. to 4 p.m. July 12-16 in the high school band hall, while color guard camp was held in the middle school gym from 8 a.m. to 4 p.m. July 12-16. The following week, the front ensemble reported for camp from 8 a.m. to 4 p.m. July 19-24, in the high school band hall.
All SSHS band students began reporting fulltime Monday-Friday, starting July 27, and continuing until school begins for summer band practice.
Parents and family members are invited to the stadium Thursday evening for the annual battle between the different squads.

Alumni Basketball Tourney
Also slated to be conducted Aug. 14, will be the 1st Annual Alumni Basketball Tournament. Hosted by the Sulphur Springs Wildcat Boys Basketball, the cost to enter Saturday's contest is $80 per 5-person team. To register, call 318-220-6611. All proceeds from the tourney will go to provide school supplies for kids in need of a little help obtaining them.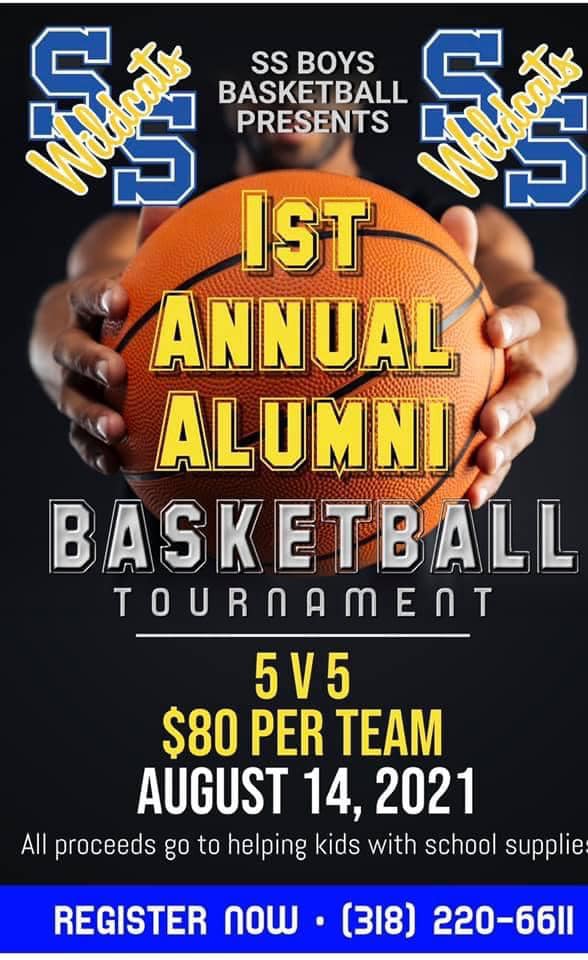 After School Program
The SSISD "After School" program will be offered for SSISD students in kindergarten through fifth grade beginning Monday, August 23, from 3:30 to 5:45 p.m.
The program will follow the SSISD school calendar and will be open for business on regular school days. Expect program closures on designated holidays, early release and staff preparation days. Students will ride the shuttle bus from their home campus each afternoon to Barbara Bush Primary, where they will be greeted by After School Program staff. All program staff are SSISD employees who have been background-checked and fingerprinted. 
The "After School" program agenda includes an afternoon snack, homework help and an opportunity to play after a busy school day. Program Coordinator Amanda Walker can be reached for questions via cell phone at 425-891-7002 or by email at [email protected].
Parents will be charged a $50 fee per child to register, $47.14 plus a $2.86 service fee to register online. Billing questions should be directed to Patty Garcia at 903-885-2153, ext. 1107, or [email protected] As o
To register students, click this link.