Deputies arrested a 48-year-old Pickton woman accused of stabbing her mother three times during an argument and of harming two other family members at the location, according to arrest reports.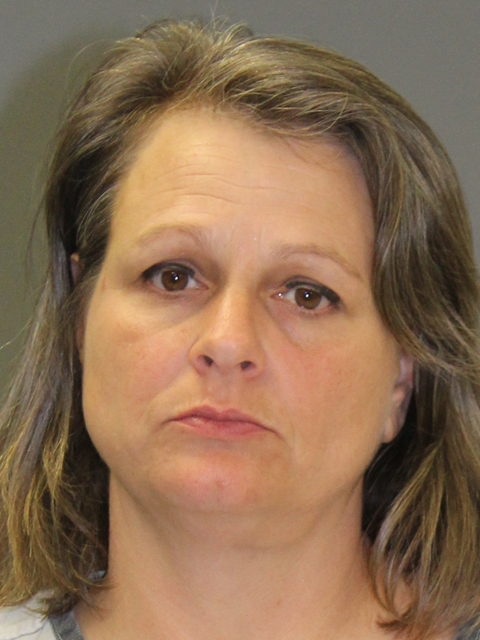 Hopkins County Sheriff's deputies responded at 3:15 p.m. Aug. 5, 2021, on FM 269 south, where a woman was alleged to have fled after stabbing her mother. The suspect was reported to have headed north on FM 269 south on a green mule with an orange triangle. The witness and injured woman traveled in a white vehicle from the residence to Weaver Store. Dispatchers relayed that the mother was reported to have been stabbed three times: once in the arm, once in the stomach and once in the leg.
Deputy Bobby Osornio arrived at the Weaver store and began administering first aid to the injured woman's wounds. Hopkins County EMS arrived to take over her care the woman and her daughter.
During an argument about time sheets being completed, Aimee Michelle Maynard allegedly retrieved a steak knife from the kitchen and stabbed her mother in the stomach, then the right lower bicep and upper left shin, just above the knee. The older woman was airlifted to CHRISTUS Mother Frances Hospital in Tyler for treatment of her injuries.
The sheriff's deputies located the suspect in the 5500 block of FM 269 south and took her into custody at 3:56 p.m. Aug. 5, 2021, on an aggravated assault of a family or household member with a weapon charge. Maynard was transported to the county jail.
Deputies and sheriff's investigators then went to the residence to speak with witnesses and family members of the two women alleged to have been involved in the altercation. While Maynard was being transported to jail, deputies learned two more of Maynard's family members had been assaulted at the FM 269 residence. As a result, 48-year-old Aimee Michelle Maynard was booked into Hopkins County jail at 7:42 p.m. Thursday, Aug. 5, 2021, on three aggravated assault of a family or household member with a deadly weapon charges, one for each person she was accused of injuring.
Maynard, who is also known to use or have used the name Melody Maynard, remained in Hopkins County jail Friday night, Aug. 6, 2021, in lieu of $600,000 in bonds, $200,000 per charge.
Thursday was the second time in less than a year that Maynard has been booked into Hopkins County jail on an assault charge. HCSO Deputies Jason Lavender and Dan Turrentine took the Pickton woman into custody Friday afternoon, Nov. 6 2020, on a warrant for assault against the elderly or disabled, an offense alleged to have occurred on Halloween of 2020. Maynard remained in Hopkins County jail from Nov. 6, 2020 to Jan. 14, 2021, in lieu of a $2,000 bond on the assault against elderly or disable charge.
---
The Hopkins County Sheriff's Office is located at 298 Rosemont St., Sulphur Springs, TX 75482. Non-emergency calls can be made to (903) 438-4040.