This world just got a little less bright with the passing of Mitchell Louis White of Mineola. Mitchell passed away August 27, 2021 in Sulphur Springs at the age of 57 after a lengthy health battle. He leaves behind the love of his life Melanie with whom he shared 38 blessed years together. His Lord and Savior met him at the pearly gates along with his precious baby girl Misty White and father Jerry White along with other loved ones and friends.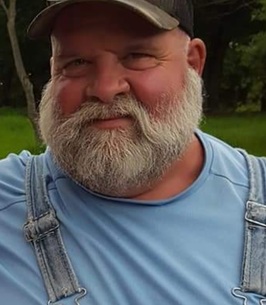 Left to carry on his legacy are his two daughters, Brittany Foster and husband Brent of Mineola, Amy Young and husband Michael of Mineola, his mother, Louise White of Mineola, brother, Marshal and wife Lynda of Hoard and sister, Katherine Mills and husband William of Columbus. The biggest joys of his life were his 5 rambunctious grandkids Emory, Olivia, Brady, Easton Foster and Allen Young.
Mitchell grew up in Conroe TX before he and his family moved to east Texas in 1981. He is a graduate of Mineola ISD, after school he went straight to work. He worked with sheet metal most of his life, there wasn't anything he couldn't build. Mitchell was always constantly going, weather it be to work, the hey field, to his shop to tinker with some of his many projects or to man store (tractor supply) which was his favorite.
Mitchell never met a stranger he had the gift of gab. He was loved by all that knew him. Most importantly he wanted us all to know he knew the Lord and that's were he is! We are all better people today for having Mitchell White in our lives.
Visitation is scheduled from 6:00 pm to 8:00 pm Tuesday, August 31, 2021 at Beaty Funeral Home in Mineola. Funeral services are scheduled for 11:00 am Wednesday, September 1, 2021 at the funeral home.
---