Members of the 2020-2021 Miller Grove Junior High Robotics Teams today received medals awarded for their participation in a different kind of robotics global world championship.
"In April of last school year, these students were strong competitors in the VEX State Robotics competition and, as a result, qualified to compete in the VEX World Competition held virtually in May. They are receiving medals today from VEX for competing in the 2021 Live Remote World Championship," Coaches Davey Moseley, Laura Smith and Robert Smith noted Wednesday morning, Aug. 18, 2021.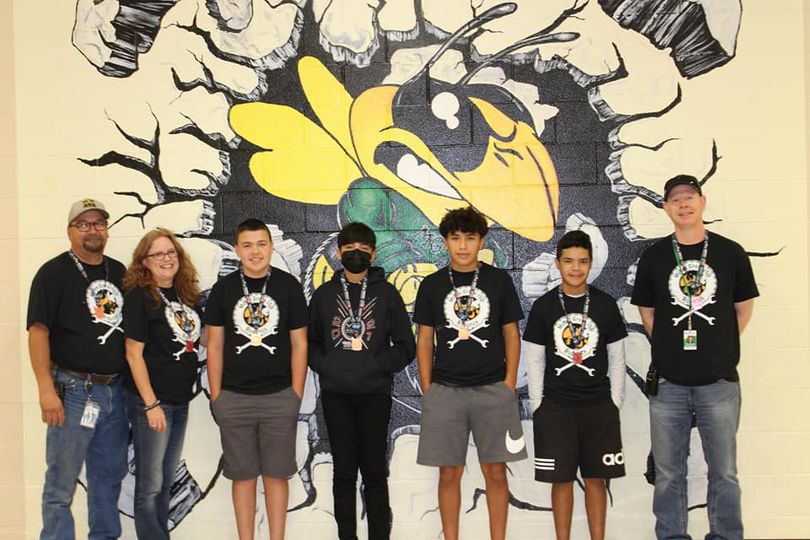 Recognized are MGISD students who participated include Alessandro Alvarez, Kaden Hiller, Yahir Santana, Sebastian Tovar.
The VEX Robotics Competitions feature competitors from schools ranging in size from 1A to 6A, as well as home school teams. The Junior High teams all compete together and against each other at competitions, not dividing into grade levels until state.
The MGJH teams ranked third and seventh in state in the robotics skills competition and qualified for the Junior High State Competition. Both teams competed virtually in the state skills competition and judges' interviews. The MGJH teams won the Build Award and the Amaze Award from the judges' interviews, which qualified them for the Global VEX Robotics Competition.
Junior high robotics students include Alessandro Alvarez, Blanca Culbertson, Kaden Hiller, Yahir Santana and Sebastian Tovar.
Both Junior High Teams had their judges interviews virtually with a panel of judges from across the world, then in May were scheduled for a skills competition.
The Miller Grove High School Robtics Team also did well last year, qualifying for and competed in their second State Tournament. The high school team, unfortunately, did not advance to the world championship. That team included George Back, Aiden Yudell and Hannah Nalls.