A 26-year-old Sulphur Springs man was arrested Sunday evening for allegedly assaulting and choking a woman, then leaving with a firearm, according to arrest reports.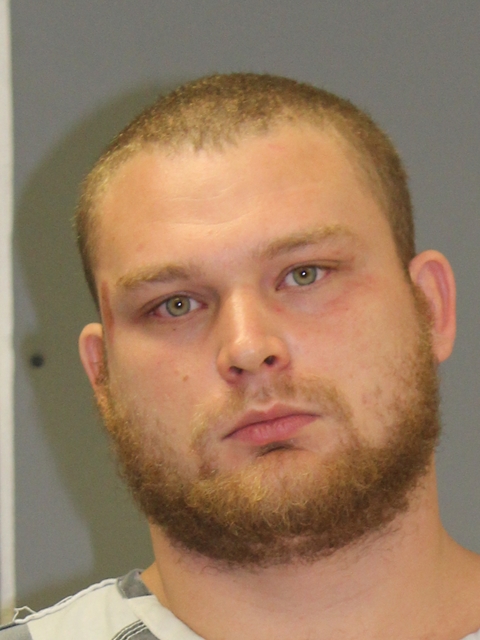 Sulphur Springs Police were dispatched at 6:30 p.m. Sunday, Aug. 6, 2021, to an Industrial Drive apartment, where an active physical disturbance had been reported.
Upon arrival, SSPD Officer Nick Floyd contacted a 38-year-old Alabama woman whose face was bleeding in the parking lot on one side of the apartment complex. EMS was requested to treat the woman.
Concern was expressed for the safety of the woman's child, who'd been left in the apartment with Andrew Dean Webber, the man accused of assaulting her. Floyd and another officer retrieved the child from the apartment and reunited him to the injured woman. While in the apartment, the officers ascertained Webber had left prior to their entry. The woman's firearm was also reported to be missing from the apartment.
The woman was transported to the emergency room, where she received stitches to her face, an injury Webber was alleged to have caused.
The 26-year-old Sulphur Springs man was accused of assaulting her inside the residence, by using his hands to choking the 38-year-old woman to the point she could not breath. Once she was able to get free she ran into the parking lot. Someone called the police to assist her, police were told. When Webber found her in the parking lot and he then allegedly began punching the woman with a closed fist, causing the injury requiring stiches to her face, according to police reports.
Webber was located at the corner of Lee and Texas Street. He had a 9 mm in his possession, Floyd alleged in arrest reports. For choking a woman he was taken into custody at 7:29 p.m. Aug. 8, 2021, on the third degree felony charge of assault family violence-impeding breathing, as well as for unlawful possession of a firearm by a felon. Webber remained in Hopkins County jail Monday Aug. 9, 2021, in lieu of $50,000 in bond, $30,000 on the assault charge and $20,000 on the firearm charge, according to jail reports.
KSSTRadio.com publishes Sulphur Springs Police Department reports and news. The Police Department is located at 125 Davis St., Sulphur Springs, Texas. Non-emergency calls can be made to (903) 885-7602.
If you have an emergency dial 9-1-1.
The Sulphur Springs Police Department continues to serve its citizens with pride in its overall mission and will strive to provide the best possible police force in the 21st century.
---
The Hopkins County Sheriff's Office is located at 298 Rosemont St., Sulphur Springs, TX 75482. Non-emergency calls can be made to (903) 438-4040.