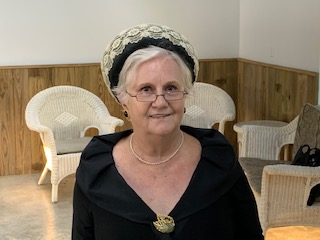 When Paula Altenbaumer took on yet another historic characterization, she had no idea it would lead to a direct connection with a former resident of Hopkins County. The occasion was a portrayal of the interesting life of Hopkins County woman Bettie Whitfield King. The enactment was presented during a joint meeting of the Hopkins County Historical and Genealogical Societies on August 26, 2021, in the Winnifred Community Building in Heritage Park.
Major Willis of the Hopkins County Sheriff's Dept. spends a good amount of time in Heritage Park with inmates doing upkeep and construction in the Park. Willis offered to introduce the speaker, and did so to an audience of about 30 persons. According to Paula, 'Once upon a time, Sulphur Springs had about three colleges operating, and at least one was a 'normal' college, or a school for teachers. That's how, in 1900 at age 29, Bettie Whitfield came to Hopkins County, took up residence in the Peerless area, attended the normal school and began teaching in Como. She would later become Mrs. Sam J. King, but that's getting ahead of the story".
Bettie may have known Mr. King and his wife Ava earlier, because Sam King had connections. His mother was Mary Ellen Hopkins and his maternal grandfather was Eldridge Hopkins, namesake of the county. His paternal grandfather was Civil War Captain L.D. King, who later became a lawyer. His father studied law as well, and Sam followed in his footsteps, studying at the Looney Institute but instead, he found his calling as an educator. He married Ava Neely in 1880, and they became parents to 7 daughters at their home in the Como area. Sam taught all over Hopkins and surrounding counties, at Sulphur Bluff, Central College, and Kings Collegiate Institute of Tarrant. Ava Neely King passed away in1900.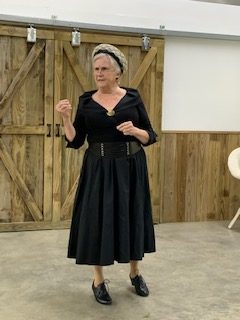 In 1903, Bettie married the widowed Sam and he started teaching upstairs in a building that would become King's Institute in Sulphur Springs. Soon, he took out a $2,000 loan to build the private school. To help pay off the debt, Bettie boarded at Como and taught in some of the many small school districts scattered throughout the county. When her mom joined them in Texas in 1914, that rounded out the family at that time. King's Collegiate Institute and Sam specialized in young adults needing education. Many would go on to become successful. One of his students was the late Judge Grover Sellers, and over time students who would become doctors, judges and other influentials received their secondary education at Kings Collegiate Institute. At the end of 1926, he retired from teaching and took up lay preaching, serving anywhere across the nation when asked. Sam was a member of the Methodist/Episcopalian Church for 60 years and he served in the Texas State Legislature during the 1927 Prohibition movement. Hopkins County was strongly for prohibition!
The King family home was on Gilmer Street near the railroad track and his Institute faced South Davis Street,directly behind. The neighbors living to the south of them had a tragedy. The young mother died of tuberculosis, and the father was struggling with a child and a baby to raise. Since times were hard and he had to work, he let the child go to relatives, and 'gave' the baby to Bettie King. "That's how we got a son. He handed him over the fence to me! We got our 'son' Edmund in 1932 as a 17-month-old baby. I was in my 60's! A few years later, when I visited my home back in Tennessee, I took the boy, then age 6. On the way home on the train he said to me, 'Miss Bettie, you paid for me to come back to Texas with you, so I know you meant to keep me'. The original Kings Institute has become site of Davis Street Baptist Church. Sam passed away in 1950 at age 91. Bettie got TB, and Edmond came home to care for her til her death in 1954.
Edmond Deaton age 92 lives in California. He was pleased about the enactment of Bettie Whitfield King, his 'mom'. Edmund was a graduate of UT, and became a professor of Mathematics in San Diego. After learning about the enactment of Miss Bettie, he made a handsome donation to the HC Genealogical Library for research on his family, which was conducted largely by Library staffers Rhonda and Jan. He also requested a Channel 18 video of the presentation, so he could view Paula's enactment of his mom. To the community of Hopkins County, Edmund said,"if you have older relatives, please ask them questions about their life and family now, while you can! That knowledge can be a treasure!"