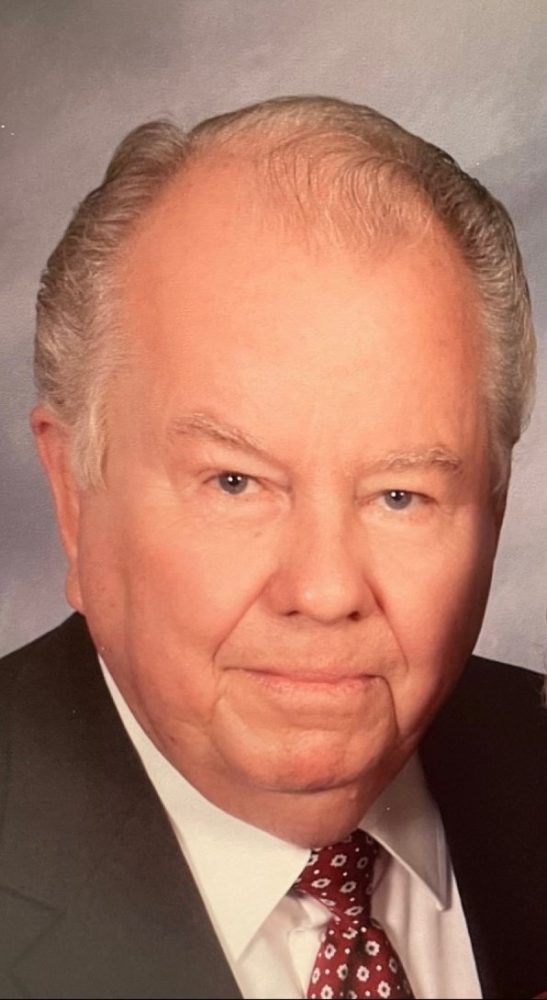 Dudley Moon went to be with our Lord and Savior on August 7, 2021, at the age of 85. Funeral services will be held at 2 p.m. Sunday, August 15, 2021, at The First Baptist Church of Sulphur Springs with Fred Lewis and Tommy Johnston officiating. Interment will follow at Pleasant Grove North Cemetery with Clint Bain, Jim Glenn, Brad Cummings, Mark Young, Murphy Howle, and Jackie Neal serving as pallbearers. Honorary pallbearers will be his loving grandsons. A come and go visitation will be held from 8 a.m. to 5 p.m. Saturday, August 14, 2021, at West Oaks Funeral Home in Sulphur Springs.
Dudley was born February 9, 1936, in Ben Franklin, Texas, to Clifford Odell and Hazel Jones Moon. Dudley attended and graduated from Pecan Gap High School in 1954. After graduating, he enlisted in the United States Air Force and served from 1955 to 1959. He enlisted as an Airman Basic and earned his rank of Staff Sergeant. He worked on instrument compasses and auto-pilot instruments.
Dudley met the love of his life Betty Duncan and were married on December 29, 1959, in Ladonia, Texas. They had three children Gary Wayne, Teresa Lynette, and Jimmy Moon. He worked at Bell Helicopter in Hurst, Texas.
Later, Dudley partnered with his brother-in-law, Scooter Duncan, in the dairy business in Weaver, Texas, for several years. Later, Dudley moved to Peculiar, Missouri, where he learned the building trade from his uncle Weldon Jones. He then moved to Sulphur Springs, where he became a professional builder and contractor until he retired in 2014.
Dudley is survived by two children, daughter Teresa Moon Palmer and husband Max Palmer, and son Jimmy Moon, and wife Jenny, both of Sulphur Springs. He is also survived by one brother, Bobby Moon of Yantis, Texas; 10 grandchildren, Cody Moon, Kasie Moon and husband Bryan, Chris Moon, Logan Wilcox, Randy Palmer and wife Sarah, Lacie Palmer, Justin Moon and wife Martha, Jordan Moon, Stephanie Hollingsworth, and Jackie Crump and husband John; eight great-grandchildren, Alayna Moon, Amelia Moon, Brylee Moon, Bryson Moon, Journey Wolfe, Sadie Lopez, Stella Lopez, and Kelsie Crump; and numerous nieces and nephews.
Dudley is preceded in death by his parents, his wife, brother Don Moon, and son Gary Moon.
Donations can be made to the Pleasant Grove North Cemetery, Attention: Sue Tittle, 230 CR 4709, Sulphur Springs, TX, 75482.
Arrangements are under the direction of West Oaks Funeral Home.