Cumby Independent School District administrators have announced the 2021-22 school day schedule and dates for parents to visit the school. The Cumby ISD Meet the Teacher and Title I Parent Meetings will be held on two different days based on grade level.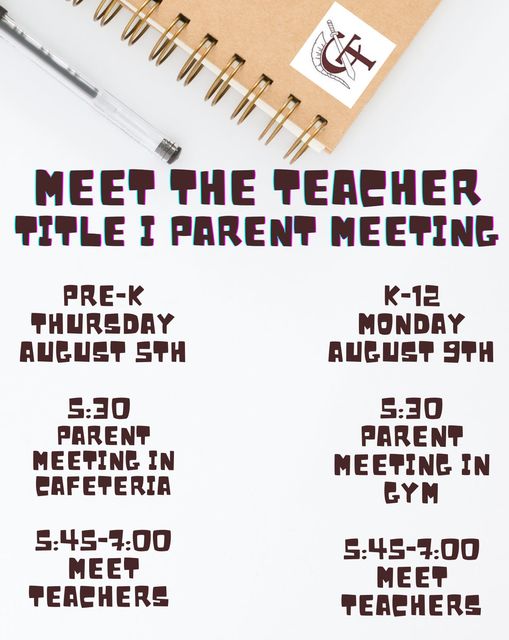 On Thursday, Aug. 5, parents of pre-kindergarten students are to meet in the cafeteria at 5:30 p.m. to go over brief information, then will have the opportunity from 5:45 to 7 p.m. to meet the pre-k students' teachers.
Then, on Monday, Aug. 9, parents of all other CISD students from kindergarten through 12th grade will meet in the gym at 5:30 p.m. for a parent meeting. Meet the teacher activities will follow from 5:45 to 7 p.m. Monday.
While all staff have been back at work steadily since Tuesday, with new-to-the-district staff reporting one day earlier, students won't report for classes for the fall semester until Aug. 12.
This school year, the doors at the school will open starting at 7:20 a.m. for all students and grade levels to begin arriving.
Announcement will be made at 7;50 a.m. for elementary students, with classes starting at 7:55 a.m. Elementary students will be dismissed for the day at 3:35 p.m.
Secondary students will begin first period classes at 7:55 a.m. Students who do not have athletics first period are expected to get breakfast before first period. Those sixth-12th grade students will be dismissed at 3:45 p.m.
Thanks to guidance issued by the United States Department of Agriculture, schools during the 2021-22 school year will be allowed to offer meals to all students at no cost. That means healthy meals are offered every school day to every CISD student at no cost, as opposed to the usual method which bases qualification for free and reduced-price meals on the student's household income.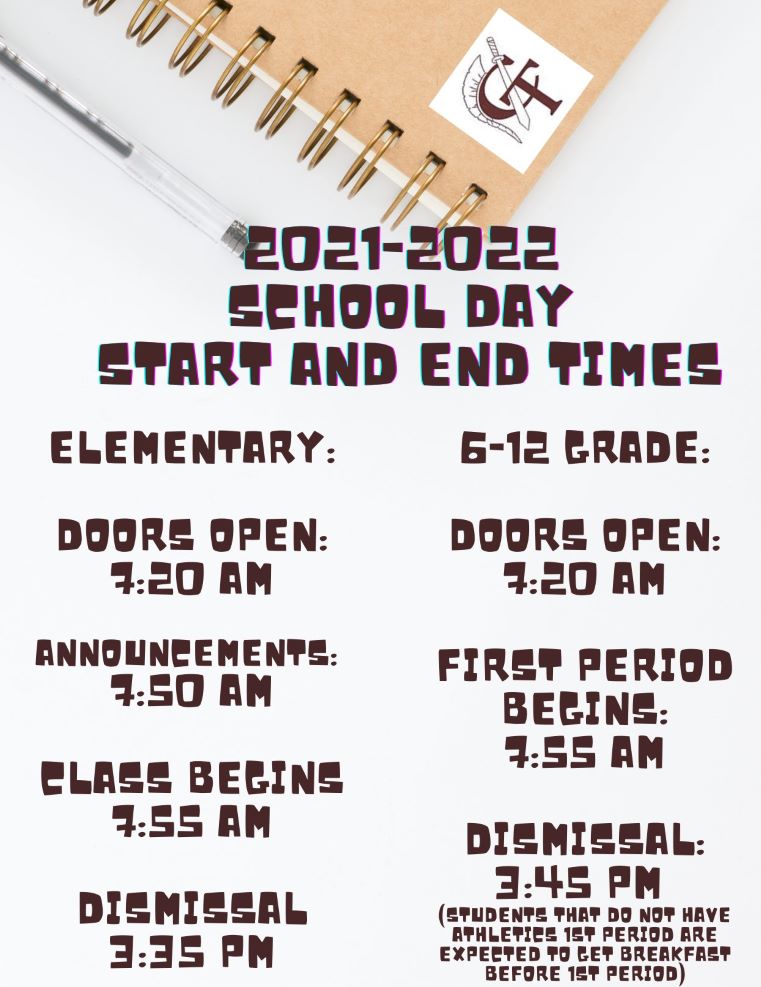 Cumby ISD is scheduled to be in class for 3 1/2 weeks before getting their first break. Holidays for students and staff will be Labor Day, Sept. 6; Oct. 25; Thanksgiving break, Nov. 19-26; Christmas break, Dec. 20-Jan. 3; Martin Luther King Jr. Day, Jan. 17; Feb. 25; and spring break, March 11-18.
Students will also get the day off for the following staff development days: Oct. 15, Nov. 18, Jan. 4-5, Feb. 14, March 10 and May 26. Students will be released from classes early on Dec. 17.
The first grading period will be Aug. 12-Oct. 8, the second Oct. 11-Dec. 17, the third Jan. 6-March 9, and the fourth and final grading period will be March 21-May 25. That will put the Cumby High School Graduation on May 27, 2022.
Face covering will be optional for the 2021-22 school year at Cumby ISD, per Texas Governor's Executive Order GA-36, issued May 18, 2021, prohibiting governmental entities and officials from mandating face coverings. The district does, however, reserve the right to require face covering if the situation changes, with higher COVID-19 transmission levels, of students who exhibit symptoms on campus or governor's orders.
To read the most up-to-date Cumby ISD Return to In-Person Instruction and Continuity of Services Plan, click here. "Back to School '21-'22 information can also be found on the district website, https://www.cumbyisd.net/, under the District heading