Repairs To 2 County Buildings, Pine Forest Solar And Hybrid's Road Use Requests Are Also On Aug. 23 Agenda
The Hopkins County Commissioners Court has a full agenda Monday morning, with adoption of the budget and tax rate at the top of the list. Bids for repairs for two county buildings, Pine Forest Solar LLC and Pine Forest Hybrid I LLC's road use requests, the Selection Committee's review of and recommendations regarding architectural RFQs received for a Community Safe Room and Trustee Housing Facility are also on the regular Aug. 23 Commissioners Court meeting agenda.
Two public hearings will be held during the 9 a.m. meeting, one for questions or comments regarding the proposed tax rate and another to give the public time to consider the proposed fiscal year 2021-2022 budget.

At the Aug. 13 Commissioners Court meeting, Tax Assessor/Collector Debbie Mitchell proposed setting the county tax rate at $0.584035 per $100 property valuation, which is a $0.040857 reduction. That would be less than or equal to the 3.5 percent cap set by the state legislature, according to Mitchell.
"When I came into office, we had to raise the tax rate almost 7 cents to build the jail, and so this is taking it backward actually for the first time since I've been county judge," Hopkins County Judge Robert Newsom said at the meeting earlier this month.
While the proposed tax rate is 4 cents lower, county property taxes are projected to raise $888,540 more revenue for Hopkins County during fiscal year 2021-2022 than the prior year's $0.624892 county tax rate. Approximately $280,336 of that 6.9 percent increase in tax revenue will be from new properties added to the tax roll this year. The rest will be from increased property appraisal values. If adopted, the new tax rate would be reflected on tax bills mailed this fall.
So, while the tax rate will be lower, taxpayers are likely to see an increase in their county tax bills. For instance, a taxpayer whose property appraisal remained unchanged would expect to pay less on their bill. Since most properties were appraised higher this year, the average tax-payer can expect to pay more this year.
The county's proposed FY 2021-2022 budget and 2021 tax notices have been posted to the county's website for public review and is expected to be announced for consideration on Aug. 23, 2021 as well.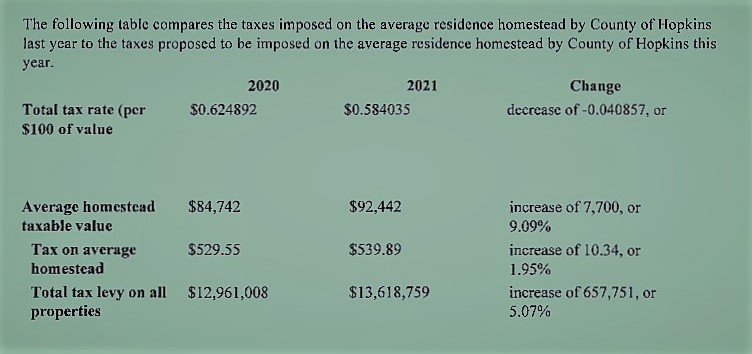 County Judge Robert Newsom said some innovative programs has provided flexibility that will enable the county to give all full-time employees a 12 percent pay increase in the coming year.
The Commissioners emphasized that the proposed 12 percent pay raise for all county employees will not come from the the additional tax revenue from new construction and increased appraisal values on property. No tax dollars will be used for pay increases; the special projects are expected to fund the raises. The additional tax revenues will be used for county operations, maintenance, debt service payments and repairs.
Precinct 1 Commissioner Mickey Barker attributed the ability to fund a raise for all county employees to "positive growth in Hopkins County and special projects." HCSO Chief Deputy Tanner Crump said they will "provide a more competitive pay, that we have been behind on for decades," which should help retain the quality employees already employed at the sheriff's office and across the county, and help attract other high caliber applicants when openings do become available.
Commissioners said additional information about the budget and special programs is planned to be discussed at the Aug. 23 meeting.
The agenda also calls for consideration setting of elected officials' salary and the salary of the official shorthand reporter of the 62nd Judicial District.
Click here to view the Proposed County Budget
Notices about can be found by clicking here and additional tax information here.
The Selection Committee is slated to present for Court approval he results of their request for qualifications for architectural services for construction of a Community Safe Room and a Trustee Housing Facility and he committee's recommendations following grading of the RFQs.
Commissioners over the last week held work sessions and on Monday are expected to consider accepting bids for removal and replacement of the roof gutter and downspouts at Hopkins County Courthouse and for roof renovations at the Hopkins County Annex Building.
The Court too will consider a resolution approving a request from Pine Forest Solar I, LLC, and Pine Forest Hybrid I, LLC, to use certain roads.
Election Judges and alternate judges are to be appointed for a 2 years, starting on Sept. 1, 2021 and ending on Aug. 31, 2023.
Also submitted for court approval will be the bond for the deputy treasurer, a request to replat lots 1-4 of Penn Addition, the County Road Inventory of County-Maintained Road mileage for certification for funding through Texas Department of Transportation, updating county holidays for 2021-2022, an interlocal agreement for E9-1-1 Public Safety Answering Point Services and PSAP equipment, the State case Registry Cooperative Agreement between the Office of the Attorney General of Texas and Hopkins County, and bids for two 2021 or newer model half-ton pickup trucks for the sheriff's office.
Hopkins County Extension Agents are slated to report on activities their office is or has recently been involved in, during Monday's 9 a.m. meeting in the Commissioners Courtroom on the first floor of Hopkins County Courthouse.
After the regular meeting adjourns, the Commissioners Court then is slated to move to the third floor of the courthouse, where they will hold a work session with sheriff's office, fire department and Civic Center personnel. A budget work session may also be held during the meeting.