As has been the case across the state and country, the active COVID-19 case county in Hopkins County rose significantly over the last week, but, unlike in some larger cities where hospitals are having to divert COVID-19 patients to other healthcare facilities, CHRISTUS Mother Frances Hospital-Sulphur Springs is still able to accept patients. In fact hospitals in the region continue to be at less than the 15 percent identified by the state last year as being at "high capacity."
That increased the total number of new COVID-19 cases reported last week (July 25-31, 2021) to 44 new confirmed cases and 22 new probable cases. That's 66 total new cases reported for Hopkins County last. The total for the entire month of July was 133 cases, 83 confirmed and 50 new probable cases. That means half of the total number of new COVID-19 cases reported in July were recorded from July 25-July 31. Until last week, the most new cases per day of any day since June 19 was six. That's only six more confirmed COVID-19 cases than in July 2020, a month ending with 48 recoveries, and two deaths.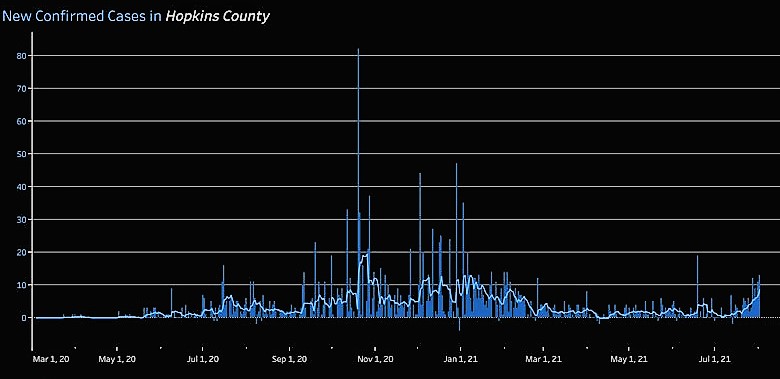 In fact, the last time the total case count and active case counts for Hopkins County were triple digit numbers was in February 2021, when 269 new cases were recorded (135 confirmed by molecular testing and 134 probable cases). Feb. 2021 also concluded with 160 active cases, five COVID deaths and 188 county residents recovering from COVID-19.
March was much improved with 98 total COVID 19 cases (60 confirmed and 38 probable), 132 active cases, three COVID-19 deaths and 121 recoveries. That downward trend continued in April 2021, with a total of 56 new cases (32 confirmed and 24 probable cases) and 56 new recoveries, and which concluded with 31 active COVID-19 cases. More cases were reported in May 2021 – 89 total cases, including 53 confirmed and 36 probable cases. A total of 41 active cases and four COVID-19 deaths cases were also reported in May 2021 for Hopkins County. In June, 63 confirmed cases and 27 probable cases were recorded, a total of 9 fewer than in May 2021. June 2021 concluded with 80 new COVID-19 cases (63 confirmed and 27 probable cases), 20 active cases and 80 recoveries
So far, 24 new COVID-19 cases have been confirmed for Hopkins County, but there have been no reports of new probable cases either. However, there have only been 10 recoveries recovered Aug. 1-2, not enough to offset the 24 new cases, increasing the number of Hopkins County residents confirmed by molecular testing to have COVID-19 Sunday and Monday, Aug. 1-2, to 118.
Although any new case is not great news, especially with mixed reports about the impact of the delta variant which is reported to be spreading, the good news is that there have been no Hopkins County resident confirmed by death certificate to have died from COVID-19 since May, that's 63 days in which new cases have been recorded. None, as of the Aug. 2 Texas Department of State Health Services/Health and Human Services report, had resulted in death.
Also, while the active case count increased from 93 to 118 over the three-day weekend, only one more confirmed COVID-19 patient was reported to be in the COVID-19 unit at CHRISTUS Mother Frances Hospital-Sulphur Springs on Monday, Aug. 2, than the 16 reported on Friday, July 30 (the same as reported on may 28). Most of the COVID-19 patients had not received any vaccine for the virus. An area on the second floor of the hospital has been designated for COVID-19 patients. That's still less than in January when the COVID-19 unit at CMFH-SS averaged 27 patients, but reported as many as 32 patients, and December when it averages 14 patients

While many tertiary hospital in cities such as Tyler and Dallas are having to divert patients, that is not the case in Sulphur Springs, according to the hospital CEO. Considering there were no new COVID-19 cases reported on July 6 and only 1 on July 7, that still means more staff attention needed as the COVID-19 patients enter through the ER seeking treatment and are transferred to the second floor dedicated to COVID-19 patients. As a result, CMFHSS Senior Marketing Development rep Holly Rage cautions those who need to visit the emergency room to "expect longer wait times than normal." Masking is also still required at all CHRISTUS facilities, and those visiting are required to keep their mouth and nose covered while inside CHRISTUS facilities as a safety measure. The CCHRISTUS Sulphur Springs also screens for Delta, but it can be weeks before the result comes back.
Currently, across Region F Trauma Service Region, in which CMFHSS is located, there were 495 total hospitalizations, and 1,183 staffed hospital bed, with 117 of those patients lab-confirmed to have COVID-19, including the 17 at the Sulphur Springs hospital. Thus, COVID-19 patients accounted for only 9.89 percent of the hospital capacity on Aug. 1. It rose to 11.9 percent on July 29, which is still below the 15 percent the state last year identified as "high capacity."
A total of 10,005 residents with Hopkins County zip codes had been fully vaccinated, and 11,672 have had at least one dose of the COVID-19 vaccine as of Sunday. CHRISTUS-Sulphur Springs as of Friday had administered approximately 9,200 COVID Vaccines (the combination of all three brands), as well as 1,233 inpatient infusions of
Remdesivir to patients in the hospital. We have also administered around 75 outpatient infusions of the MABs (Bamlanivimab/Regeneron combo). In total, we have treated 507 inpatients with COVID, 498 ER patients, and 85 observation patients, since January 1, 2020, according to Ragan.
The hospital continues to offer all three COVID-19 vaccines from 9 to 11 a.m. Fridays in the main lobby through Aug. 27. No appointment is required. Just be within the correct age range, show up at the designated time (or with an adult who can give consent if a minor).
CMFHSS also allows tele-visitation for COVID-19 patients receiving aerosol treatments. COVID-19 patients who are not receiving aerosol treatments may have on essential support person at a time, with each designated with a visible wrist band, during visiting hours.
COVID-19 VACCINES BY ZIPCODE
Vaccine Doses
Administered
People Receiving At
Least One Dose
People Fully
Vaccinated
SULPHUR SPRINGS-75482
15028
8456
7227
SULPHUR SPRINGS – 5483
395
215
195
CUMBY – 75433
1538
855
753
BRASHEAR- 75420
694
389
337
DIKE – 75437
620
356
288
SALTILLO – 75478
470
261
226
COMO – 75431
1048
594
503
PICKTON – 75471
728
419
367
SULPHUR BLUFF – 75481
228
127
109
Hopkins County Totals
20749
11672
10005
DSHS data through Aug. 1, 2021