At least 3 local school districts that serve Hopkins County students are closed for at least a week due to COVID-19 cases and related absences.
North Hopkins ISD
North Hopkins ISD officials were the first Hopkins County school to make the decision this week to close. District officials posted a notice at 5:31 p.m. Aug. 30 that the campus would be closed due to COVID-19.
"Due to an increase in Covid related absences and infection levels and symptoms, North Hopkins ISD is cancelling all classes and extra-curricular activities for the remainder of this week to allow for deep cleaning of facilities and everyone a chance to separate and recuperate. Classes will resume on Tuesday, September 7, 2021," the notice from the school stated.
NHISD officials ask families to report any new COVID concerns to the school nurse by email at [email protected] or by phone at 903-945-2192, ext. 8014.
Cumby ISD
Cumby ISD Superintendent Shelly Slaughter distributed a letter at 1 p.m. to families and scheduled an "all-call" notification Tuesday afternoon, Aug. 31, notifying them that the district will be closed starting Wednesday, Sept. 1 due to illness and COVID case. All classes and extracurricular activities are suspended until Tuesday, Sept. 7, with the next week's activities pending until further notice.
CISD too will spend the time to clean all facilities. CISD also asks that families social distance their children from group situations, wear masks as a precaution and continue good handwashing and health and safety protocols while away from school.
Anyone who has COVID symptoms is asked to be tested and not to return to school after it resumes until either they receive a negative test result or have gone to the doctor and received a different diagnosis.
Rapid COVID testing at the school is currently suspended. Testing will resume on Sept. 7 on an as needed basis. Parents are asked to please return their students' form either giving or denying consent for the test so the school can respond accordingly for their students. This is required to be on file regardless of the parents' preference. Any Cumby student who does not have a form on file by Sept. 7, will be required to quarantine if they are flagged as having a high risk exposure.
While not currently mandated, Cumby ISD is also asking and highly encouraging everyone to wear masks when indoors and around crowds upon return to campus on Sept. 7, 2021. Screening will resume each morning and visitors to campus will be limited.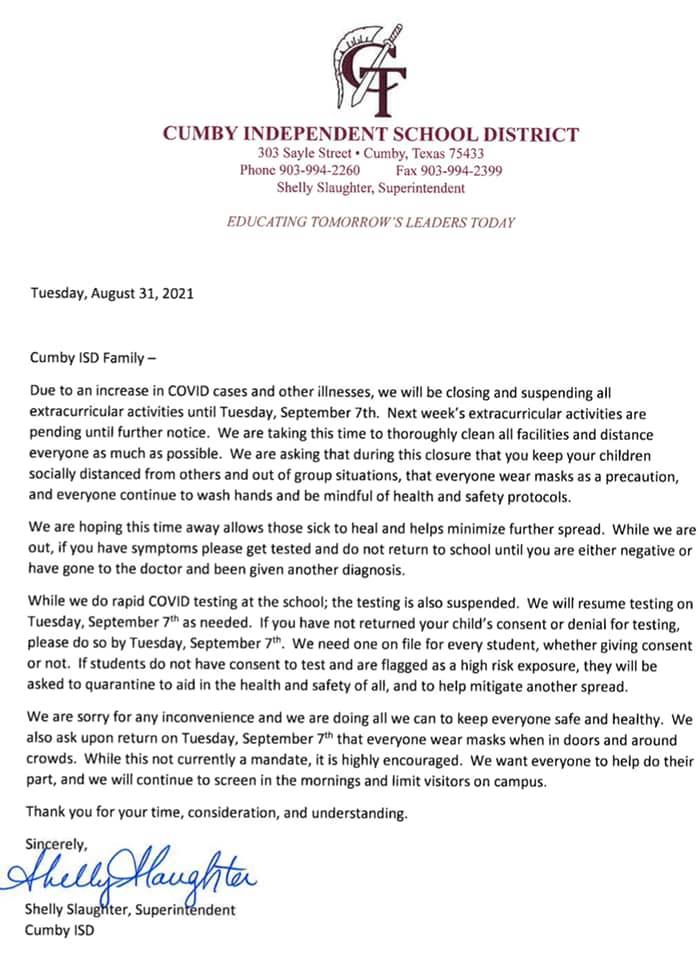 Yantis ISD
Yantis ISD posted a notice just after 4:15 p.m. Aug. 31, 2021, notifying parents that the district will be closing and suspending all extracurricular activities until Sept. 7, citing an increase in COVID cases and other illnesses. The district will use the time to thoroughly clean all facilities. Families are asked to social distance their children from others and and "out of group situations" and to be mindful of safety protocols in the mean time to better reduce potential spread of illness.
Superintendent Tracey Helfferich asks families to contact hte school nurse at 903-383-2462, ext. 111, or [email protected] if they have a student who tests COVID positive.
Several others school districts' activities are being impacted as other schools are closing or having to miss games due to COVID and other illnesses.