Although all three COVID-19 vaccines – including the Pfizer product officially approved as a vaccine by the FDA this week – are available at no charge at multiple locations in Sulphur Springs for individuals age 12 and older, COVID-19 continues to spread among Hopkins County residents, resulting in two additional COVID deaths, Texas Department of State Health Services reported on Aug. 24.

That makes 8 COVID deaths for Hopkins County so far this month and 122 cumulatively since March 2020. The two latest deaths announced for the county are reported to have occurred on Aug. 19, a day in which 25 total new COVID-19 cases and 31 recoveries were reported, and on Aug. 7, when six new lab-confirmed cases were reported. While high, January is still unarguably the worst month for county residents in 2021, with 15 COVID deaths. Since the pandemic began in March of 2020, however, the worst month in Hopkins County was October; 29 residents died as a result of COVID-19, according to DSHS and Hopkins County/Sulphur Springs Emergency Management reports.
On Tuesday, Texas Department of State Health Services reported 34 new COVID-19 cases, including 16 lab-confirmed and 18 probable cases, increasing the total for the first 3 days of the week to 36 new lab-confirmed cases and 22 probable cases. On Wednesday, 43 additional Hopkins County residents were reported to have tested positive for the virus, 25 lab-confirmed cases and 18 probable cases.
That increases total to 459 Hopkins County residents who have had COVID-19 in August, 311 lab-confirmed molecular cases and 148 probable cases, defined by the CDC and DSHS as cases in which either the individual "tested positive through an antigen test or has a combination of symptoms and a known exposure to someone with COVID-19 without a more likely diagnosis."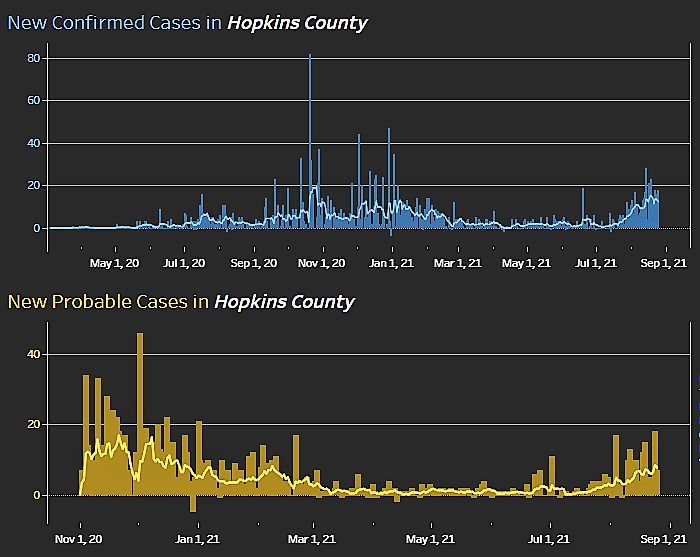 That means August is also now officially the worst month so far in 2021 in terms of overall new COVID-19 cases and the most lab-confirmed molecular cases. Until this week, January had the worst record in 2021 with 400 new cases overall, including 247 lab-confirmed cases and 153 probable cases.
The worst month since the pandemic began was October 2020, when 323 new lab-confirmed COVID-19 cases were reported. At that time, the state was not tracking probable cases; those were not reported daily until Dec. 11. December 2020 concluded with 483 new cases, 290 lab-confirmed cases and 193 new probable cases.
Cumulatively, 4,128 Hopkins County residents have had COVID-19 during the pandemic, 2,307 lab-confirmed cases and 1,879 probable cases. A total of 3,758 of the 4,128 cases were reported to have recovered from the coronavirus as of Tuesday afternoon, Aug. 24, 2021.
That leaves 305 Hopkins County residents who still actively had COVID-19 on Aug. 25, 2021, down from 308 active cases on Tuesday, the most active cases reported during any one day in Hopkins County since the state began tracking active case counts on April 7, 2020.
A total of 26 COVID-19 patients were reported to be in the COVID Unit at CHRISTUS Mother Frances Hospital-Sulphur Springs Aug. 24, one more than the day before, Hopkins County/Sulphur Springs Emergency Management officials reported. That's up from 15 patients on Aug. 3, making Tuesday's patient count the highest reported for the local COVID Unit since January 26, when the COVID unit census was 26 for the third consecutive day.
The 26 patients at CMFHSS help make up the overall patient count in Trauma Service Area F hospitals, which held 208 lab-confirmed coronavirus patients Monday and 199 Wednesday. TSA-F COVID patients also help make up the 13,666 COVID patients being treated in Texas hospital on Aug. 23 and the 13,928 in TSA-F on Aug. 24, according to Texas Health and Human Services Commission "Lab-Confirmed COVID-19 Hospitalized Patients By Trauma Center" report.
On Aug. 23, 5 ICU beds were available across TSA-F and 365 across the state, with a total of 52 ventilators available in Region F and 6,174 in hospitals across Texas Monday. On Tuesday, the number of available ICU beds in TSA-F, had dwindled to three; across the entire state, only 306 ICU beds were available Aug. 24.