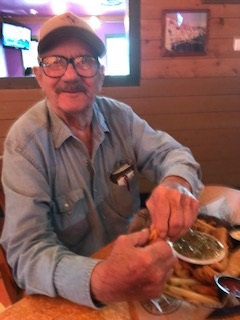 A Private Family Burial for Ralph Hobaugh, age 83, were held at 1 PM on Thursday, August 5, 2021, at Blackburn Cemetery in Franklin, OK.  Mr. Hobaugh passed away on July 26, 2021, at Christus Mother Frances Hospital in Tyler, Texas.   
He was born the son of John Albert Hobaugh and Effie Dora Mayhew Hobaugh on May 29, 1938, in Newalla, Oklahoma. He was married to Charlene Lambert in Levelland, Texas, in 1962. She preceded him in death in 2011. Ralph was a sheet metal fabricator with A&S Air Conditioning in Sulphur Springs, Texas, for 20 years before he retired.
Survivors include: daughters, Rena Davidson, Robin Reynolds and Selena Hobaugh; sons, Randy Hobaugh and Terry Hobaugh; brothers, Wendell Hobaugh, Albert Hobaugh and Hershal Hobaugh; sister, Betty Jean Hobaugh; grandchildren, Jerry Dale Edge, Patricia Crabtree, Kyle Case, Saschtity Patton, Chevis Hobaugh and Drew Hobaugh; and 8 great-grandchildren.
He was preceded in death by his parents, John and Effie Hobaugh; wife, Charlene Hobaugh; brothers, Johnny Ray Hobaugh, Jack Hobaugh and David L. Hobaugh; and sisters, Mary Jane Montgomery, Geneva Lacy, Sue Hadden and Jill Hobaugh.
---