North Hopkins-South Sulphur Volunteer Fire Department received a donation to help finish building the new station Monday morning.
During the regular July 26 Hopkins County Commissioners Court meeting, RWE Renewables Americas LLC Solar Development Manager Sean Pattee and Senior Project Manager of Construction Sean O'Hagan presented North Hopkins-South Sulphur VFD Chief Bobby Harris with a $70,000 donation to help the the volunteer fire department finish building a new station.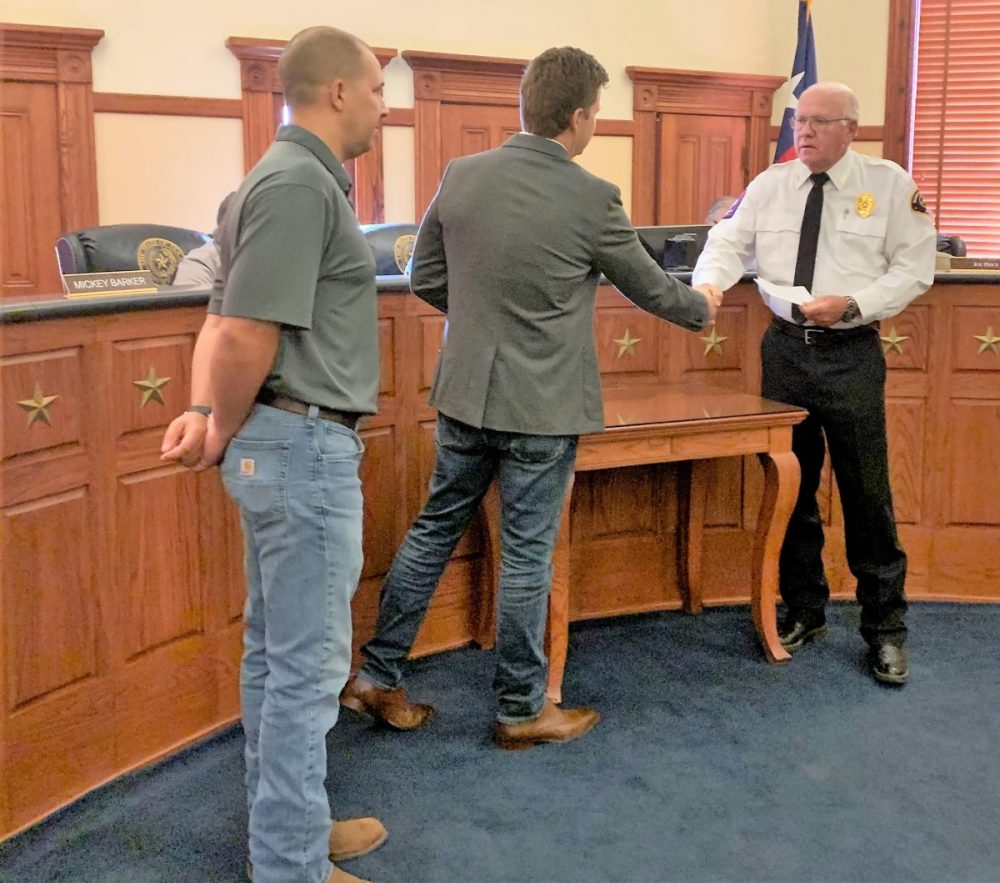 "This is a big event for North Hopkins fire department as well as RWE," Hopkins County Judge Robert Newsom said of the company that is planning to construct Bright Arrow Solar, a solar facility in Northwestern Hopkins County.
"Thank you, it's really been a pleasure to work with folks in Hopkins County and starting to get to know everybody. On behalf of RWE workers I present this check for $70,000 to go towards finishing out the building for North Hopkins fire district. It's a small contribution, I think, to what you and the folks have already done. A lot of folks have volunteered time and donations, put in a lot of work donating land, to get where you're at," Pattee said. "We just want to kind of note we want to be a good member of the community and make this donation."
"We appreciate that so very much," Harris said. "A donation of this size is going to go a long way, but it's not to diminish any of the donations from the people that have given $20, $40, $100, $1,000. We appreciate them and they are the ones that keep us going on a day-to-day basis. This right here is going to go so far. For the people of the community of the North Hopkins Department 3 District and the people of Hopkins County I want to thank you so very much for this donation."
Precinct 4 Commissioner Joe Price presented Pattee with a cap from Precinct 4 and Harris presented him with one from NHVFD as well, and offered to get one for O'Hagan if needed.
The funds will allow North Hopkins Fire Department to finish building its newest station, located just past Pleasant Grove estates on FM 2285. The foundation for the station is already down, and the frame work is up. Currently, the department is waiting for the sheet metal to come, then will require electrical and other interior work. The project is a little bit behind the originally projected schedule due to the rainy weather experienced earlier in the summer and the contractor waiting on the sheet metal to come in.
Harris noted the station typically relies on one annual fundraiser, a yearly photo drive in which a company canvasses the area, offering a large professional photo for a set donation amount. The department, due to COVID-19, was unable to hold it's annual fundraiser last year, and has not been able to conduct it this year either due to COVID precautions.
NH-SSVFD, has however, been very fortunate to receive several donations this year to help the department, including but in no way limited to, the donation from RWE.
"We have been blessed with some off the cuff donations from different businesses and individuals," Harris said. "With this, we will be able to finish the station."
RWE is the company behind Bright Arrow Solar, LLC. Pattee and O'Hagan said the solar project is still in the early stages and not quite to the construction phase yet. Hopkins County and Sulphur Springs ISD each approved tax incentives for Bright Arrow Solar farm. The school district accepted an application from the company in September 2020 to consider a tax incentive, if Texas Comptroller's Office approved it, for a 300 MW/AC facility comprised of approximately 867,000 photovoltaic panels and 85 central inverters and is being developed by RWE Renewables Americas, LLC. Hopkins County in November 2020 approved a reinvestment zone for the $275 million project planned off State Highway 11 west in Precinct 4, on three separate properties.