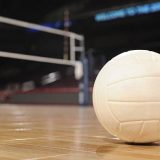 The volleyball schedule for Coach Bailey Dorner's Lady Cats has been finalized, the coach confirmed over text Monday, July 12.
The Edge wraps up for most teams this week, but for others closer to the end of July. The summer is quickly approaching its conclusion which means season schedules for teams here in Sulphur Springs are soon to be finalized and released.
The first team to release their season schedule to KSST was Coach Bailey Dorner's Lady Cats, who wrapped up the Edge for volleyball last Thursday, July 8.
Coach Dorner and her squad will host several scrimmages and matches; a tri-match between the Lady Cats, North Lamar and Sherman is set to serve citizens of Sulphur Springs on Aug. 10, and will be taking on Quinlan Ford and Pleasant Grove in the SSHS main gym on Aug. 24 and Sept. 7, respectively.
Sulphur Springs will also play a home-and-home series with Edgewood before district play begins.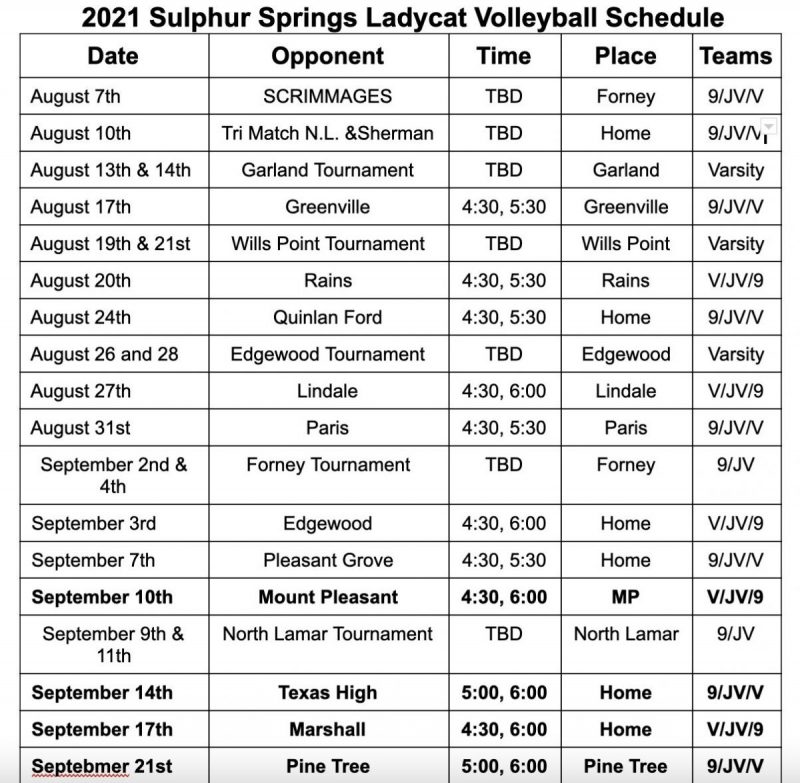 Other notable games include the district opener at Mt. Pleasant on Sept. 10, before playing in the North Lamar tourney.
After the tournament, the Lady Cats volleyball team will be deeply entrenched in their district season when they host the Texas High Lady Tigers on Sept. 14 to begin a three game streak versus district foes Texas High, Marshall and Pine Tree.
Coach Dorner's Lady Cats have a bye on Sept. 24 before beginning another stretch versus district opponents, this time six-straight games, before getting their final bye on Oct. 19.
The Lady Cats volleyball team close out their season with a game versus Hallsville on Oct. 22 and then at Longview on Oct. 26.
But before the season gets underway, volleyball tryouts start August 2 from 8 A.M. to 11 A.M. and then 12 P.M. to 1 P.M.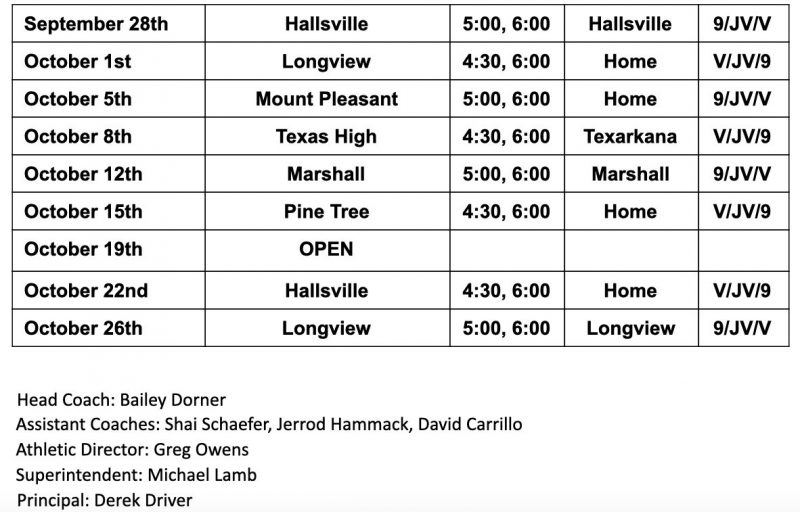 ---
KSST is proud to be the official Wildcat and Lady Cat Station. We broadcast Sulphur Springs ISD games year round live on radio. When allowed, we also broadcast games via our YouTube channel.