Hopkins and Franklin counties both had an unemployment rate of 5.3 percent last month, the lowest June 2021 unemployment rate in the Northeast Texas area. While it's not uncommon for Hopkins County to have the lowest unemployment rate with Franklin County a close second, but June 2021 was the first time Franklin matched Hopkins for lowest unemployment rate, according to the latest employment numbers released Friday, July 16, 2021 by Texas Workforce Commission on the Texas Labor Market Information website.
Both Hopkins and Franklin counties' June unemployment rates are below Texas' 6.6 percent June 2021 unemployment rate, the 6.7 percent unemployment rate posted for the 9 counties that make up the Northeast Texas Workforce Development Area (WDA) and the overall 6.1 percent for the entire United States.
The June 2021 unemployment rate recorded for Hopkins and Franklin counties is an improvement over last year, when Hopkins County's unemployment rate was 6.5 percent and Franklin County's was 6.7 percent unemployment rate as businesses began opening back up at limited occupancies in June 2020 due to the pandemic.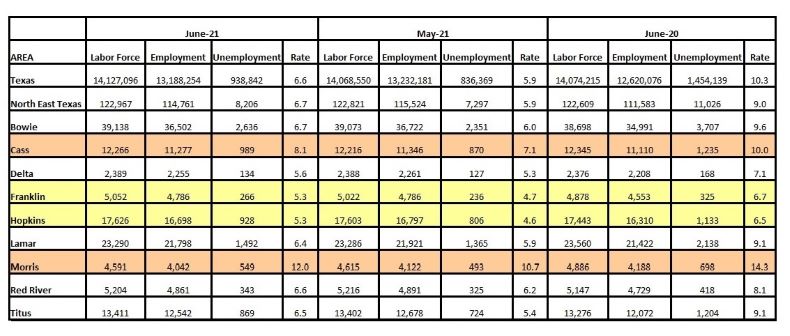 Texas' June 2021 unemployment rate was down from the 10.3 percent recorded one year before. Northeast Texas' unemployment rate during June 2020 was 9.0 percent. The US 2021 unemployment rate was almost half what it was in June 2020, dropping from the 11.2 percent recorded in June 2020.
"Texas employers continue to pave the way in 2021 and many have diligently reshaped their businesses to adapt and grow for the safety of their employees and customers alike," said Aaron Demerson, Texas Workforce Commission Commissioner Representing Employers after the June 2021 unemployment numbers were posted Friday, July 16, 2021.
"This month continues to show new career opportunities and job growth for Texans across the state with over 55,000 jobs added," said TWC Commissioner Representing Labor Julian Alvarez. "Job seekers in Texas have access to programs through TWC like Metrix Learning to brush up on skills to prepare for the employment opportunities available across the state."
The increase in jobs across the state, however, was still not enough to offset the usual seasonal increase in the civilian labor force (the total number of people who are employed and who are seeking employment) during the first month of summer
According to the TLMI data, Texas labor force grew from 14,068,0550 in May 2021 to 14,127,096 in June 2021, and was also up from the 14,074,215 state labor force in June of 2020. Northeast Texas WDA's labor force was 122,609 in June 2020, rose to 122,821 in May 2021 and was reported to be 122,967.
Hopkins County's labor force rose from 17,443 in June 2020 to 17,603 in May 20201 and 17,626 in June 2021; the number of unemployed in Hopkins County dropped from 1,133 in June 2020 to 806 in May 2021, but rose to 928 last month due to the increased labor force. Franklin County's labor force grew from 4,878 in June 2020 to 5,022 in May 2021 and 5,052 in June 2021; the number of unemployed dropped from 325 in June 2020 to 236 in May 2021 when business occupancy was wide open, but with the uptick in labor force, 30 more people were unemployed in Franklin County in June 2021 than the month before.
So, while Franklin and Hopkins counties had the lowest unemployment rates in the Northeast Texas WDA in June 2020, last month's unemployment rates for both counties still increased from May, when the unemployment rate was 4.6 percent in Hopkins County and 4.7 percent in Franklin County.
In the Northeast Texas WDA, Delta County had the second lowest unemployment rate of 5.6 percent, up from 5.3 percent in May, but still less than the 7.1 percent unemployment rate recorded in June 2020.
Lamar County's unemployment rate was 6.4 percent last month, up from 5.9 in May 2021, but considerably improved from the 9.1 percent unemployment rate of June 2020.
Titus County had a 6.5 percent unemployment rate last month, considerably less than the 9.1 percent recorded for June 2020, but still up from the 5.4 percent in May 2021.
The unemployment rate in Red River County declined from 8.1 percent in June 2020 to 6.2 percent in May 2021, but with a dozen fewer people in the labor force and 18 additional people who were unemployed last month, the unemployment rate rose slightly to 6.6 percent for June 2021.
In the 9-county NET WDA, Morris and Cass counties both continued to have the highest unemployment rates. Morris County's unemployment rate rose to 12 percent in June 2021, up from 10.7 percent in May 2021, but still less than the 14.3 percent recorded in June 2020. Cass County had an 8.1 percent unemployment rate in June 2021, up 1 point from May 2021, but still almost 2 points less than in June 2020.