The Hopkins County community's generosity allowed United Way officers to award an additional $17,531.47 to 17 of the agencies that benefitted from the 2019-2020 campaign. All funds were contributions to the campaign co-chaired by Bill and Beverley Owens, which exceeded the year's goal.
A representative from the agencies allocated a portion of the excess funding received from the 2019-2020 campaign were invited to Hopkins County AgriLife Extension office Wednesday morning, July 7, 2021. During that time, each was awarded a check for the amount allocated.
"Really, this isn't United Way. This is our wonderful community, that just went above and beyond their goal. All I can say is thank you. Thank you for the generosity," said Mike Horne, 2020-21 HCUW Campaign Chair, and 2021-22 HCUW President.
Bill Owens too expressed special thanks to all in the community for their continued support of HCUW and the agencies and groups allocated funds, which will provide additional dollars for to assist people of all ages in Hopkins County. The organization offer enriching activities and services such as meals or bags of food for hungry families, baseball for children with disabilities, shelter and services for abused children and adults, mental health and therapeutic services. He also offered thanks to HCUW Executive Secretary Susan Berning.
As Judy Gilreath pointed out, that's more food that can be purchased for the Dinner Bell, which offers a free meal to anyone in need on Wednesdays at First United Methodist Church.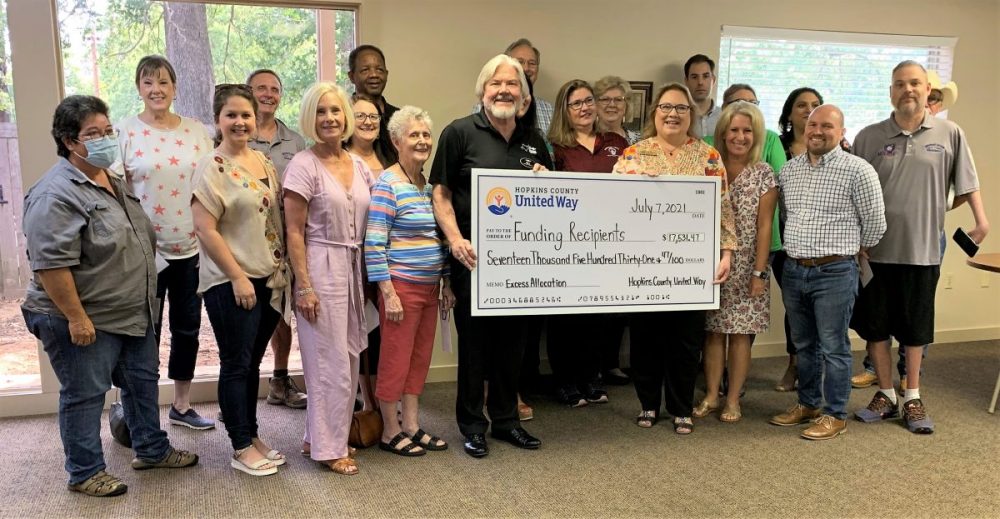 "We want to say a big thank you for each and every one of ya'll and what you do in our community. Thank you," Beverley Owens said to those present Wednesday.
"Ya'll are wiling to do what you do and it's hard," Lake County CASA Executive Director Gina Law told the HCUW representatives. "We could not do what we do because we rely on you."
Many of the organization representatives, in addition to their function within their group, also served as HCUW campaign workers each year as well.
Among the agencies receiving a check Wednesday for a portion of the more than $17,500 in additional funds were: