And the winner is … Jamie Wilson.
Jamie, a graphic artist at Latsons.com submitted the winning artwork for the 52nd Annual Hopkins County Championship, and she did it with a colorful combination of stew-related art and Woodstock flair.
The artwork will appear on posters, signs, T-shirts and other memorabilia for the stew fest, which is Saturday, Oct. 23, with a Friday night lead-in at Buford Park.
Speaking of stew, we will start accepting cook registrations on Monday, Aug. 2, as well as applications for nonprofits to sell drinks at the contest, market booth registrations and sponsorships. Be looking for more information on all of that in the next few weeks.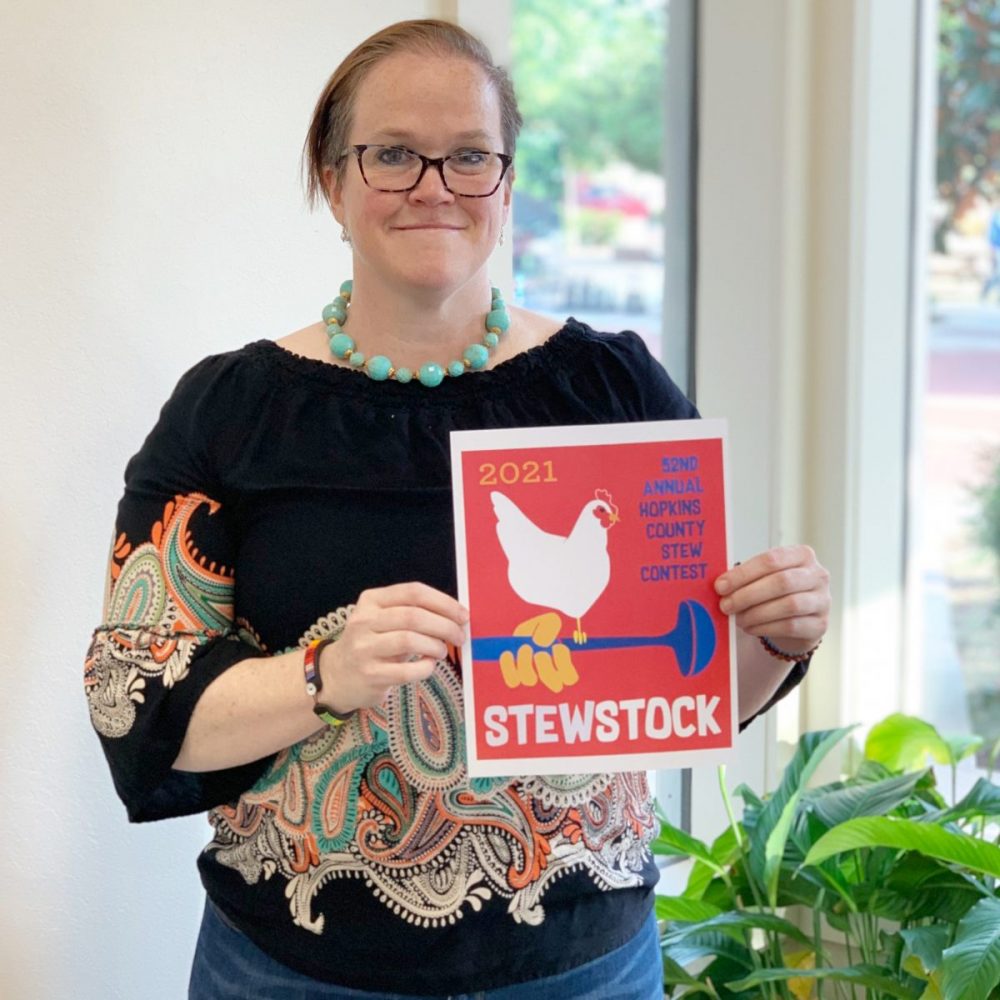 Chamber Showcase
Time is getting short to sign up for the 3rd Annual Chamber Showcase. The Showcase is set for Thursday, Aug. 5, at the Sulphur Springs Country Club. Tables are available for $60 each and vendors are asked to bring a $25 gift or gift card to be given away at random drawings. This is a fantastic networking event and a way for you, as a business owner or representative, to get your name and services out to the public. Only Chamber members can reserve booths for display (the public is invited to attend free of charge), so contact us at the Chamber to find out how your affordable annual membership not only allows you to rent a booth at the Showcase but gives you advantages and opportunities all year long. Come by or call the Chamber office at 903-885-6515 for more information. A registration link is on our website, HopkinsChamber.org.
Adult Leadership
The Adult Leadership program is currently accepting applications for the 2021-22 Adult Leadership class. Registration is on our website, HopkinsChamber.org or I can email you the documents if you contact me at [email protected] or by calling 903-885-6515.
Adult Leadership takes you through all of the services of the city and county in an in-depth program that will enrich your life, both occupationally and individually.
If you applied last year, please re-apply this year. The class needs 20-25 members, and the deadline is Aug. 13.
Lunch and Learn
State Sen. Bob Hall and State Rep. Bryan Slaton will be in town for a Lunch and Learn from 11:30 a.m. to 1 p.m. Wednesday, Sept. 15. Registration forms are on our website, so sign up to learn how laws passed (and not passed) by the Texas Legislature will affect your business. Lunch will be provided at the Sulphur Springs Country Club. Tickets are $15 for Chamber members and $20 for nonmembers. Thanks for Atmos Energy and Oncor for sponsoring this important luncheon.
Journey Road Golf Tournament
Journey Road Ministries, a foster care ministry, is hosting its inaugural golf tournament at the Sulphur Springs Country Club on Monday, July 19. The four-person scramble will tee off at 8 a.m. To register, go to their website, JourneyRoadMinistries.com.
Mammography Screening
Hunt Regional Healthcare's Tubby Adkisson Memorial Mobile Mammography Coach will be at the Spring Village Shopping Center on Tuesday, July 22. All insurance is accepted, including Medicaid and Medicare. To schedule a mammogram, call 903-408-5010.
Jet Ski Race
A professional Jet Ski race event is coming to Sulphur Springs July 24-25 at Coleman Lake (Saturday 8 a.m. to 5 p.m. and Sunday 8 a.m. to 3 p.m.). Admission is free to the public and features food venders, local business booths, jet ski performance, and action-packed racing.
Jettribe is the title sponsor of the final round of the Texas WaterX Championship watercraft race series, sanctioned by the IJSBA, in Sulphur Springs. Winners of the Sulphur Springs Championship will be crowned Texas State Champions.
Details for vendors, hotel information, and racer registration can be found on the website www.jettribe.com/events/.
Youth Skills Camp
Texas A&M AgriLife Extension Service is offering its Youth Skills Camp face-to-face this year. It is set for 9 a.m. to noon July 19-21 at the Extension office, with participation limited to the first 15 young people who register by calling 903-885-3443. The camp is free this year.
Sessions include: Fun with Foods, Public and Impromptu Speaking, and a horticulture class led by Hopkins County Master Gardeners.
Business Highlight
The Hopkins County Chamber of Commerce is highlighting a member of the Chamber each week. Please join me in congratulating our Business of the Week for July 14, Rehoboth Baptist Association. You can read biographical stories at the Hopkins County Chamber of Commerce's Facebook page and Instagram page.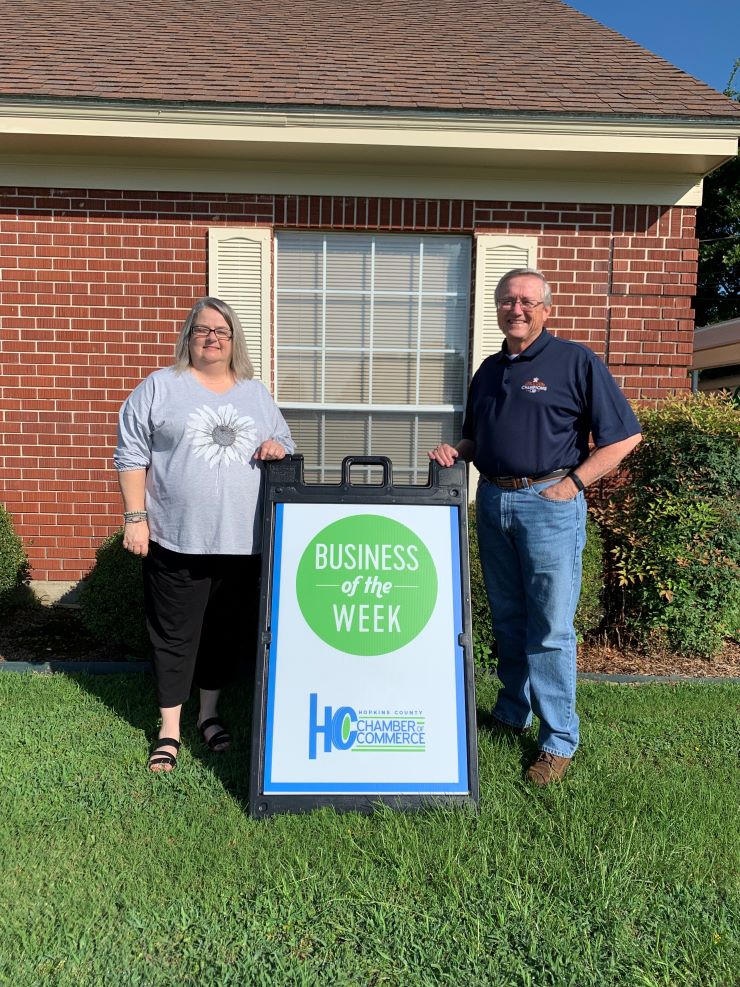 Ribbon Cuttings
On Wednesday, July 14, Joe's Exxon will have a ribbon cutting at noon at the convenience store located at 1234 South Broadway St.
Seamless Gutter Experts will host a ribbon cutting at the Chamber office, 110 Main St., at noon on Wednesday, July 21. Please come welcome them to the business community.
Fish Fry
First American Title (Money Law Firm) is having a fish lunch from 11:30 a.m. to 1 p.m. Friday, July 16, at their office, 1335 South Broadway St.