By Ross LaBenske and Savannah Everett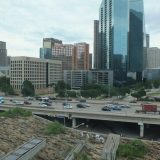 Tuesday, June 8, the Perot Museum of Nature and Science held the Summer Media Family Day for the Science of Guinness World Records exhibit.
The exhibit was a roaring success and while incredibly entertaining, it was still packed with information and challenges for people of all ages.
KRVA/KSST's Savannah Everett and Ross LaBenske visited the exhibit on June 8, 2021 for the Summer Family Media Day for "The Science of Guinness World Records" exhibit, which finally has made its debut at the Perot Museum of Nature and Science.
We had a chance to sit down with John Corcoran, Director of Traveling Shows and Creator of the New Guinness exhibit at the Perot Museum. Ripley's Believe It or Not! and Guinness World Records are sister companies. Corcoran said the idea for this exhibit came from working with a Canadian science center named "Science North" that helped build an exhibit called the "Science of Ripley's Believe it or Not!"
The Ripley's exhibit was so successful, that it led to the green-lighting of the "Science of Guinness World Records exhibit".
Corcoran emphasized the how remarkably similar the scientific process is with the process for being a world record holder. He noted that a desired world record must be measurable and must also be breakable. Breaking a world record and the scientific process are "a natural fit".
"At Guinness World Records, we believe everybody can be the best in the world at something" Corcoran said. So If you're an aspiring record-breaker be sure to find out what you're good at, and "Let [Guinness] help you to celebrate that success."
For Guinness, the kid that can build the fastest LEGO brick tower builder is just as important as Usain Bolt, the fastest man in the world. Corcoran explained these are people who find what they're great at, and practice it. Guinness is just thankful to be able to help the champions celebrate.
"Guinness Book of World Records is nothing without record-breakers," Corcoran said, "so that's what's important to us."
There were at least 24 activities in the Science of Guinness World Records, ranging anywhere from a shooting a basketball in to a moving hoop, to how long one can keep balance on a board on one axis, to building the fastest LEGO brick tower, to playing on the world's largest Pac-Man machine, shown below.
There were also activities that were as zany as how many punches you and a partner can get in on a wall mat, a 21st century spin on Perfection, whereas participants had to pick the right shape from a silhouette shown on-screen with the corresponding shape which were displayed around the middle-circle, where the silhouette was shown.
Another activity had participants try and keep balance, staying perfectly still, on one leg, while they are shown footage of roller-coasters and other drifting footage.
Ross's personal favorite, however, was an activity where participants were tested in how many times and how hard they could hit a pair of bongo drums over a 30-second period.
Savannah's favorite remained the "World's Largest Pack-Man machine" where she surprised herself and won first place. She may have found her hidden talent.
While this may sound like a lot of fun and games, Corcoran praised the science division for their ability to incorporate as much science as possible in to the exhibit. Things such as: understanding the science behind balancing, or how peripheral vision works, or even the complex technologies that made the exhibits possible, (like the worlds largest panoramic photo) were all things that visitors may not initially realize they're learning about.
While Corcoran recognized that kids and families will mostly enjoy the exhibit due to having fun, he's glad that there is still a lot of science and problem-solving skills on display.
"Our goal is that at the end of the day: kids are having fun, and learn a little bit of science along the way," Corcoran said.
The exhibition will be open until September 6, 2021.
For more information or to buy tickets for the exhibit at the Perot Museum of Nature and Science in Dallas before it leaves on Labor Day, click here.