June 25 Agenda Includes 2 Appointments, Equipment Purchase, Office Equipment Leases
When Hopkins County Commissioners Court meets Friday for the regular court session, the elected officials will be asked to consider approving two appointments, a large equipment purchase and two office equipment leases. A work session is also scheduled for Friday morning.
Regular Meeting
The agenda calls for nomination of a county representative to the North East Regional Water Group; proposed for court approval is Hopkins County Fire Marshal Andy Endsley.
Hopkins County Treasurer Danny Davis is scheduled to present to the court an appointment of a deputy treasurer.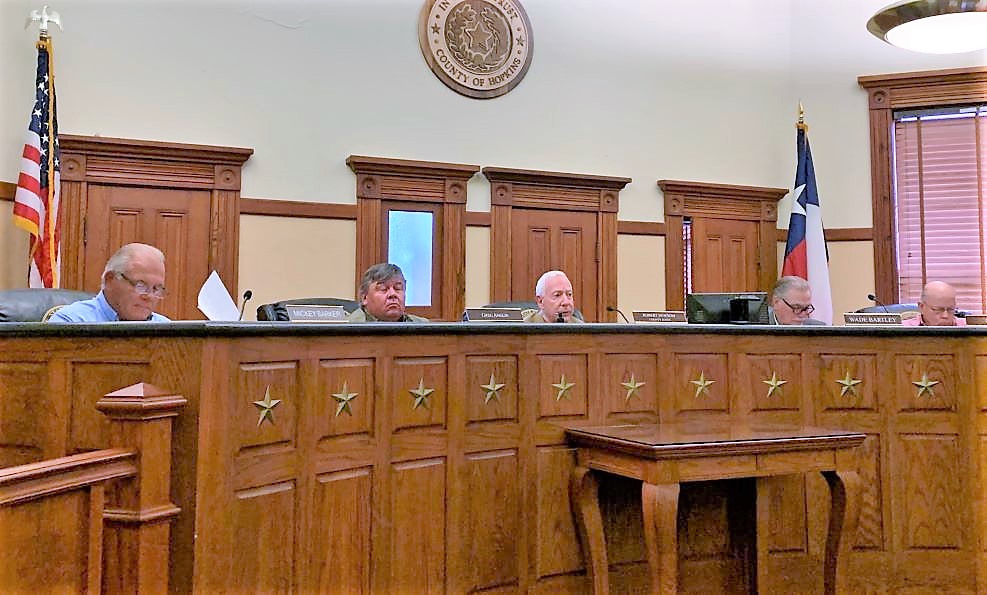 Submitted for court approval are lease contracts with Datamax for the Hopkins County Sheriff's Office and the department's Criminal Investigations Division.
Precinct 4 Commissioner Joe Price has submitted for approval the purchase of a backhoe from Nor-Tex Tractor through BuyBoard Purchasing Cooperative.
The Commissioners Court too is expected to consider approving a Texas Association of Counties Health and Employees Benefits Pool plan for 2020-2021 for Hopkins County.
The agenda also allows for discussion and consideration of the previous meeting and work session minutes of June 14, 2021; any utility easements or burial of phone and construction of utility distribution facilities requests; log for record purposes any reports submitted from county offices; budget amendments or line item transfers; grants; donations, contracts; asset disposal; resolutions or proclamations that may have been submitted for consideration since the June 14 Commissioners Court meeting.
Community members will also be allowed to address the Commissioners Court during the June 25 meeting, which begins at 9 a.m. in the Commissioners Courtroom on the first floor of Hopkins County Courthouse, 118 Church St.
Work Session
Following the adjournment of the regular meeting, the Commissioners Court will move to the third floor Meeting Room, where a work session is slated to begin. The order of business for the work session includes discussions with HCFD Marshal Endsley, Sheriff Lewis Tatum and Civic Center Manager Lonnie Fox regarding operations, revenue and expenditures, improvements and repairs for each county facility.
The court too is slated to hear from the HCFD environmental inspector regarding any environmental concerns, if there are any, and meet with Chad Rawson. Discussion during the work session is also expected to include Texas Department of Transportation salvage materials and broadband internet. The commissioners and judge too will have the option of conducting a budget work session if needed or they so choose, during the work session.