The Retired Senior Volunteer Program recognized the volunteers from the Meal A Day Program and Genealogy Library for their service to the community and one Hopkins County individual's volunteer work during the annual RSVP Banquet, held Thursday, June 3, 2021. The banquet, held at New Beginnings Fellowship, featured a barbecue meal provided by Phat Phil's BBQ served by Hopkins County RSVP Board along side a healthy helping of fun, fellowship and lots of door prizes. The evening's theme was "Volunteers are Happy Campers." Volunteers from various "station" across Hopkins County attended.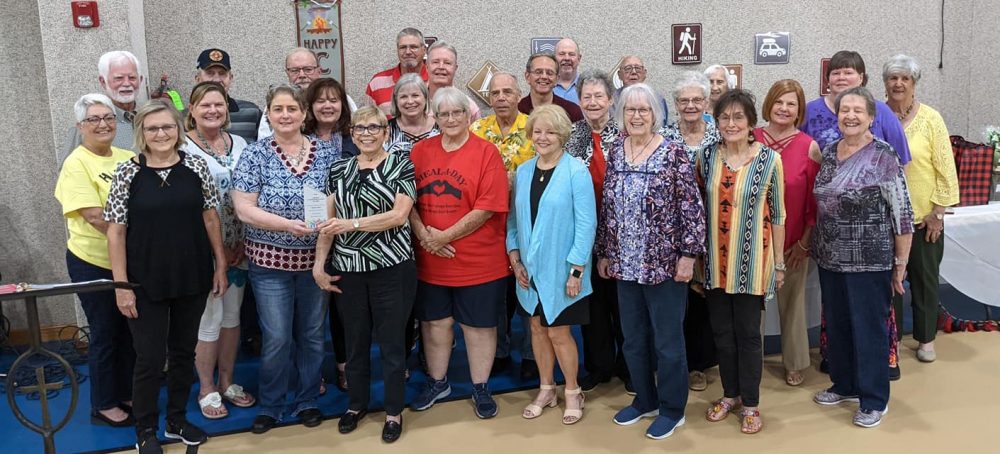 The Meal A Day program received the 2020 Grace Under Pressure Award for the dedicated volunteers' tireless efforts the Senior Citizens Center and the Meal A Day program provided to Hopkins County residents during the COVID-19 Pandemic.
Senior Citizens Center Director Karon Weatherman submitted the nomination of the Meal A Day program, "a vital part of taking care of our ocunty during COVID-19 this last year." Although the Senior Citizens Center was one of the first public places closed during the pandemic in an effort to protect the higher-risk population who frequent the facility, the Meal A Day program soldiered on, with the ever faithful volunteers returning day after day, even contributing extra days or duties, when the need arose.
"We haven't missed any days of serving the seniors of Hopkins County.  Our volunteers have gone way above and beyond to make sure that the sniors have a hot nutritious lunch every day," Weatherman wrote.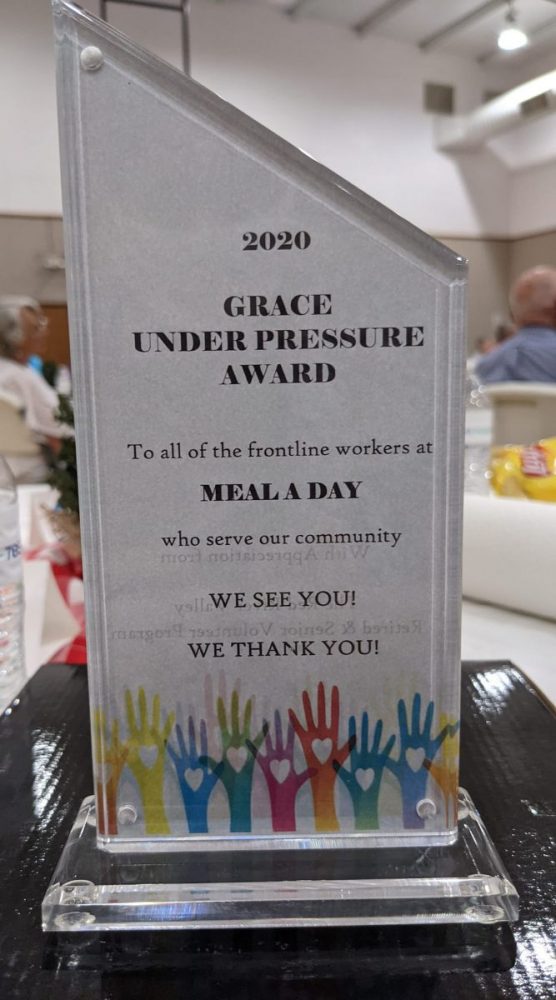 The SCC Director noted that even losing one of the "wonderful volutneers" to COVID, did not deter the commitment of these retired individuals to serve others in need of that meal, and more importantly, the caring the delivery volunteers show them with every delivery.
"The rest of the volunteers just kept working like energizer bunnies. They did everything that was necessary to keep themselves and our seniors safe. We Love all of our seniors so much. It was so hard on them to be isolated from their friends and families," Weatherman said.
Several of the Meal A Day volunteers went above the call to prepare and deliver meals to shut-ins and disabled senior adults; they did their best to make sure these individuals' needs were met as much as possible, and the community, despite shut downs and reduced operating capacities as most businesses and public places over the last year, still showed generosity by directly helping their neighbors and by donating to Meal A Day so that the volunteers could help others as well, Weatherman reported.
"Our volunteers even went to the store and picked up food and prescriptions when someone needed them to. We kept them in water, toilet paper, hand sanitizers, masks and paper towels. We had people in the community donating items and our seniors would deliver to the other seniors that are home bound," Weatherman noted in the nomination. "It has been really something to see. I am proud of all of them for persevering this past year. They are always an amazing bunch of Volunteers but this past year they have really shined."
Volunteer Of The Year
The 2020 Volunteer of the Year lends his time to assist senior adults as well in the community and at church.
John Little is a Meal A Day and Senior Citizen Center volunteer. He teaches the "Fit and Strong Class" at the Senior Citizens Center three days a week. John and Mary Ellen also deliver Meals for Meal A Day every Friday. 
John also volunteers as a Sunday school and vacation Bible school teacher at First United Methodist Church.
"He is an awesome person and is loved by everyone who knows him," Weatherman noted of 2020 Volunteer of the Year Little.
John Little, 2020 RSVP Volunteer of the Year award recipient (Photos submitted by Karon Weatherman)
Station of the Year
The Hopkins County Genealogy Library won "2020 Station of the Year" for the wonderful work they do in our county to keep our history alive. Live events were hosted when possible, with social distancing measures in place as needed.
While the facility wasn't always open throughout the pandemic, the genealogical socity members and docents found ways to connect with the community. When Genealogical Society members and docents were not able to welcome visitors and host guest programs in person, they adapted, letting people know about Zoom programs, meetings and seminars offered online on a variety of topics.
Library workers and generalogists also assisted residents when possible, advising on available resources for research via email or calls.
One crafty library docent even offered clever, custom tote bags that were sold to help generate a little revenue for the library, which could be ordered in person when the library was open or online.