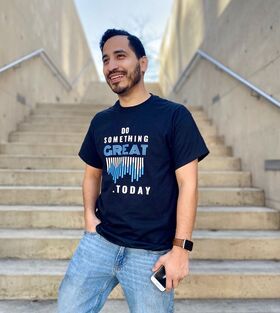 By Ashley Fordinal and Steven Hernandez – Steven Hernandez, Founder of Do Something Great, empowers the next generation through music, speaking, and videos. He has worked with Grammy nominated artists and local nonprofits that are making positive changes in their communities. Steven's latest EP, In My Lane, was released in 2021 and has already made an impact. Songs from this EP were featured on a nationally syndicated radio show. Steven performed on the International Festival for Folk Alliance with Grammy Nominated Artist, Saul Paul. In light of the pandemic, Music to Life Org created a compilation album featuring 15 artists from around the country and Do Something Great was chosen to be on the Hope Rises project as an Artist Activist. His curriculum for Rap to Record was used a Del Valle Middle School and will be featured at a Summer Camp at Gardner Betts Juvenile Center.
While Steven is heavily involved with speaking and producing music, he is gifted in producing videos as well. Owning much of his own production equipment and equipped with a drive to impact others, he is well-prepared to partner with Riseup Films in the making of this film.
As Camera Operator for From Ashes, We Rise, Steven will bring his expertise of camera composition, storytelling, and his desire to positively impact others. To follow the production of this film, follow us on Facebook and Instagram. Be sure to stay tuned here for EXCLUSIVE content.
Find out more about the film From Ashes, We Rise. Donate to Riseup Films here, your contributions will assure the film is completed. Learn more about the subject of the film, Jerry Schemmel, at his website available here.