Community Invited To Join Julian's KSST Family and Friends On Monday As They Celebrate The Sports Director
Don Julian has turned in his microphone and press pass to enjoy life and games on his own schedule after more than 40 years in broadcasting, the last 15 of which have been as news and sports broadcaster for KSST/Channel 18. While he won't be gracing the airwaves, retirement doesn't mean Julian is giving up sports for good. You're likely to see him in the stands at a few games, out on his usual walk, and about town.

Looking Back
Julian received his formal training at Baylor University, graduating in 1973. He graduated and had an interview on a Friday, then reported for work on Monday morning. With the exception of a few gaps between jobs, he has worked consistently in broadcasting ever since. He spent 1973-1990 working in Central Texas, in the Killeen and Waco areas, worked for 7 years in the Sacramento area before returning to Texas, including time working in public TV.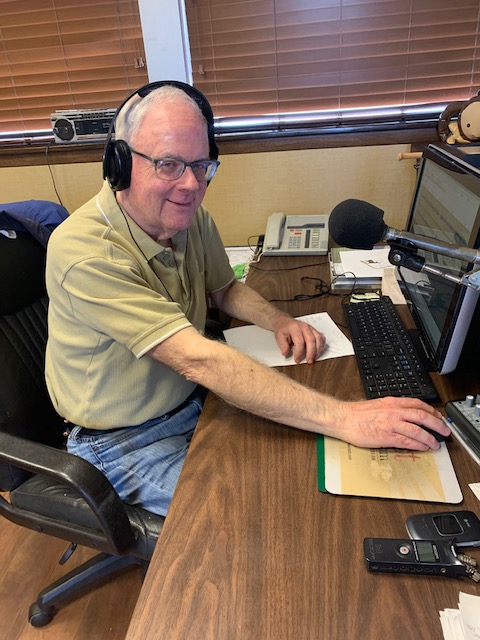 He had moved to Sulphur Springs, where his parents lived, and was working at Walmart when he was encouraged to submit a resume at KSST. Before too long, he got the call to join KSST where he has spent what he calls the final 15-year chapter of his career in public broadcasting.
Typically, the times between radio and TV jobs were due to radio stations selling and changing formatting and staffing. At least twice, the radio station he was working for sold and his position as a health broadcaster and news broadcaster were eliminated, leaving him without work, Julian noted.
That, he said, was not the case for KSST, when the station sold to Chad and Rhonda Young, after the passing of station founder Bill Bradford. The KSST employees kept their jobs.
Julian confided his career began with work behind the scenes, as there were no news jobs there at that time, only production jobs. Others had already filled all the news jobs. He spent three or four months doing production work before someone left, so he auditioned for a news job. After some persistence, he was in.
Julian has worked both in radio and TV, for public and private broadcasting over the last 40-plus years. Most of his career he worked in broadcast news. He's worked for PBS and in Waco was on the Morning Show. Aside for the last few years at KSST, he recalls filling in one time on a sports desk.
During the last five decades, Julian said, the industry – radio especially has changed so much. When he first began his career, there used to be more radio news staff. He recalls a time when radio news personnel from three to four different radio stations staffed every commissioners court and city council meeting in the cities where he worked. By his second go round in Temple, however, that had changed. The focus was more on TV news, and he often found himself the only radio news reporter present. When he was hired in 2006, he quickly learned KSST Radio was and remains a vital source of local news and sports.
"Bill Bradford was the exception. He was a big believer of covering news and gatherings," Julian noted. Bradford, Julian noted, would give as much recognition to as many as possible when covering a competitive event, whether reading off the name of each student involved in sports or to recognize academic UIL, band, FFA or 4-H accomplishments.
Don Julian's regular beat at KSST has included visits with the school board, county officials, police and sheriff's office staff to collect crime news, which he noted were briefer, with just the pertinent important details.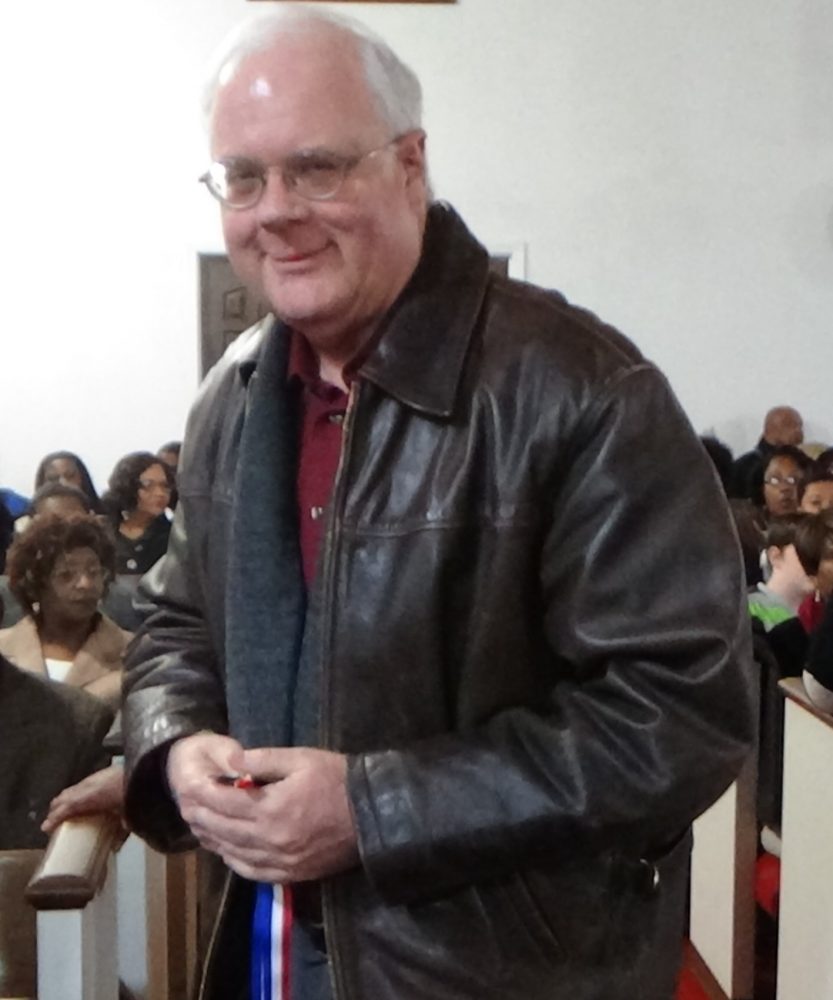 KSST and Sulphur Springs, Julian found, are unique – the focus remains on community. On Channel 18, instead of the usual 10-to-15- second sound bites that many news outlets give, the team is afforded the opportunity to conduct longer interviews.
It was not uncommon, back in the days when Patsy Bolton was a top administrator at Sulphur Springs ISD, to stop by and talk to her from 1 to 3 or even 5 minutes at a time, he recalled. With 30-minute news slots to fill on Channel 18, interviews could be up to 10 minutes each.
Julian followed in Bradford's tradition when calling games; he tried to mention as many participants as possible who contributed. Instead of focusing more on their troubles on the field, he tried to find something positive to say. He relishes good stories, and tries to remember that while not every story seems of earth-shattering importance to many, a good solid story is important to the person you are talking to.
While the very nature of sports is competition, Julian's game reporting is also a reflection of the man himself – always quick to offer praise to those who work hard for their valuable contributions to the team. He offers credit to the top scorers and outstanding athletes on the home team as well as their opponents.
Julian said when he gets in a groove, and may get a little excited during a game, he tries to be fair to both teams. "There's no doubt who I support. I try not to be 100 percent the home team. I try not to fry the competition; I try to keep it down the middle. For instance, if a player makes a great catch, I do not care which uniform they have on. I might say a player was robbed, but I try not to cross the line," Julian said.
Julian always makes a concerted effort to acknowledge those students who go the extra mile on the field and off. He recognizes that while not all students can make the scoring basket or be the ace pitcher, without the contribution of all participants, the team could not be successful. He celebrates the personal victories and achievements for the students and coaches.
He has spent untold hours at event practices, in the stands and press box, calling games, collecting stories, noting when students beat their own personal best record. He learns about the students, shares anecdotes and offers encouragement. He tracks those personal victories, and not just those of athletes.
"I have been here 13 years working with Don. What a blessing to this community he has been. Don knows it is and always will be about the kids. He always wanted to highlight their effort and representation of our community. He knew the value of a player's family hearing good things about their kid," said SSHS Math Teacher and Football/ Track Coach Matt Young.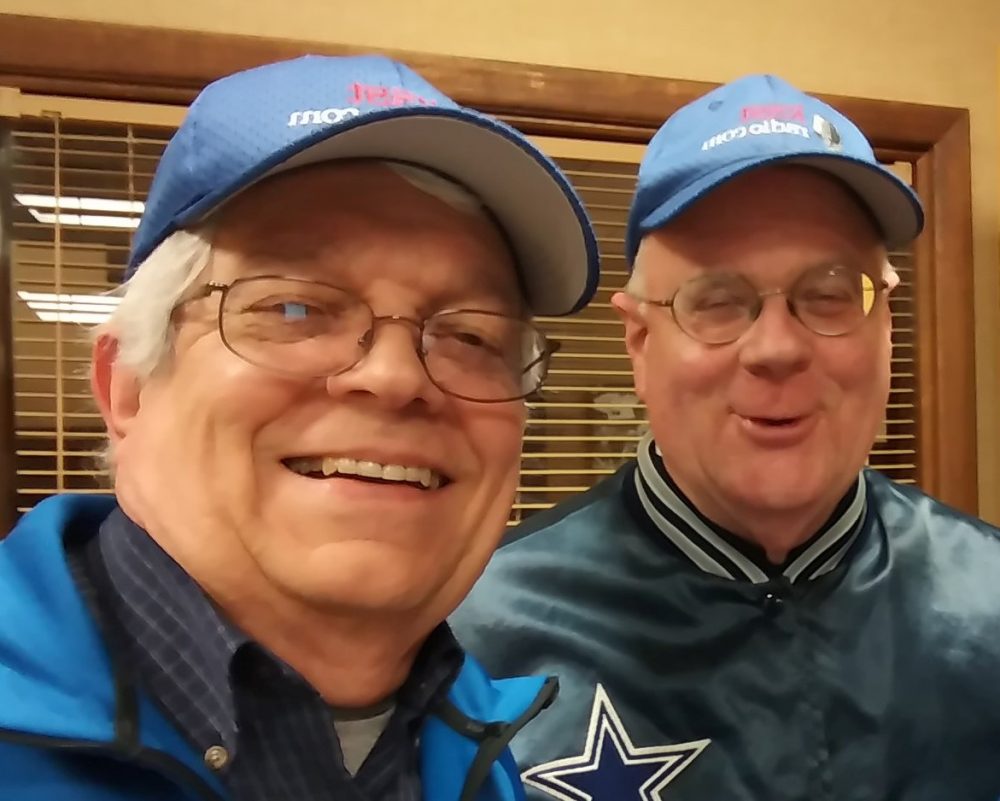 "Don's first interview on the coach's show was my first time as well," said Jerrod Hammack, Head Baseball Coach at Sulphur Springs High School for the last 16 years. "Over the course of these last 16 years, we have become good friends. Whenever we see one another at other sports games, we always talk at length. Many times, after the coach's show, we would sit and talk for another hour. Don has always been professional yet with a down home touch. He really cares about Sulphur Springs athletics and does a great job of putting the spotlight on our athletes."
Coach Young said a few "great things" about working with Don Julian at soccer games are his stories and his patience. He explained that he learned so much about the game and Julians' "attention to detail" while running the clock next to Juian, who was "doing radio, at the games.
"I loved hearing stories about Don's past. From small town TV to covering and attending various athletic events to his interaction with Temple football to being in California, he has seen and been a part of a ton. Finally, he was so patient with all of us – definitely a blessing to work with," Coach Young said.
Over the last 15 years and 3 months, Julian said by his rough calculations, he has had the pleasure of calling over 300 Wildcat and LadyCat Basketball games, approximately 200 football games, more than 100 baseball and softball games, as well as a number of volleyball games for KSST. Some have only been radio broadcasts and some TV only, sometimes due to the conflict of KSST staff or Channel 18 as a Rangers affiliate.
For especially big events such as the annual Chamber Banquet, they'd standby to do cut-ins about the game. Other times Channel 18/KSST Videographer Doug Haston wasn't able to attend some games, so Julian did those by himself. Those times, as in all events, he worked to the best of his ability to give as good a broadcast as possible.
Some things, such as equipment failure or service outages, just can't be controlled. For instance, he and Haston were out at an event when the equipment malfunctioned, scorching it. They brought it back to Bradford, who had a knack for making things work and building things. They expected to have to replace the unit entirely, lamented Julian. However, about a week later Bradford brought it back, saying simply, "I fixed it."
"He made the equipment. He could work on any of it," Julian recalled with a grin.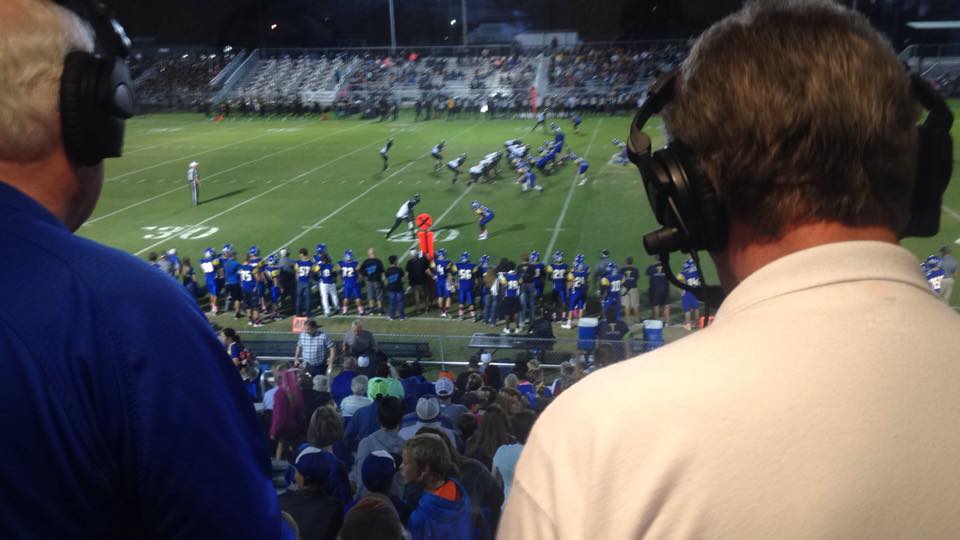 (That's Don, though, always ready to share a smile and laugh, noticing and acknowledging even the small kindnesses and the contributions of all of his coworkers.)
"Don is a kind and professional man and will be missed," said Matt Janson, KSST production manager.
In 2016, Julian decided to "semi" retire – which meant he planned to reduce his workload to 30-40 hours a week. To him, that meant covering only sports – and band, of course, because Charles McCauley would have had it no other way.
He has, however, stepped up for KSST's broadcast of Sulphur Springs and Cumby high school graduations and even a parade or two, when he had time.
Over the past few years, another challenge KSST has taken on has been the addition of live streaming of Wildcat and Lady Cat games, Julian noted. During the regular season, that means obtaining additional permission from coaches and schools involved to broadcast via radio, livestream and tape for replay prior to each match.
KSST personnel soon learned that streaming does not extend to playoff games, which require jumping through hoops and fees to UIL, who has exclusive rights to those matchups. Even submitting the required paperwork and paying the fee doesn't guarantee UIL will grant permission to broadcast playoff or postseason sports matchups. So, Julian said, KSST hasn't streamed playoff games in a while.
During the pandemic, UIL bent the rules a bit, allowing certain streaming as a COVID-19 safety precaution. Fan seating was limited to provide the recommended social distancing at sporting events. Those who were unable or chose not to travel to see the game could catch the livestream on KSST. Still live football, however, is not televised. Even when ESPN televised them, the football games were not televised on Friday nights; those games were on Thursday and Friday. Julian noted one player's father told him that his child's grandparents enjoy seeing the grandkids play, but live in West Texas and were unable to travel this fall to see the games. They were able to tune in to the livestream, and didn't miss the game. He said he was glad to be able to provide that valuable service for families.
Another challenge of livestreaming is that some venues are just not equipped for effective live-streaming. For instance, KSST attempted to live stream the high school graduation this year on YouTube. During test runs the equipment worked as it should. However, having thousands of cell phones in use at one time impacted the WiFi, hotspot and signal. Thus, the attempt to livestream, broadcast on radio and video for playback on KSST was interrupted.
Looking Ahead
After a full career and much consideration, Julian decided this spring was his last season as sports director at KSST.
"This has been a good final chapter to close out my career. The people I work with are great," Julian said, referring to the many coaches, sponsors, parents and students he's encountered over the last 15 years as well as the KSST team. "I've worked with some great coaches."
He recalled being told after he completed one Saturday morning Coaches' Show that his father had died. It meant a lot to him that SSISD Athletic Director Greg Owens, who'd been the featured guest on the show, took the time to offer a prayer for him and to attend his dad's funeral too. Julian said it has been great working with all of the local coaches, whose goals are to glorify and honor the men and women, boys and girls who play sports for their athletic accomplishments.
Julian explained that the pandemic last year pretty much put him out of business for a few months, forcing him like many others to be at home because there were no sporting events to cover after spring break of 2020. It gave him a small taste of what life in retirement might be like.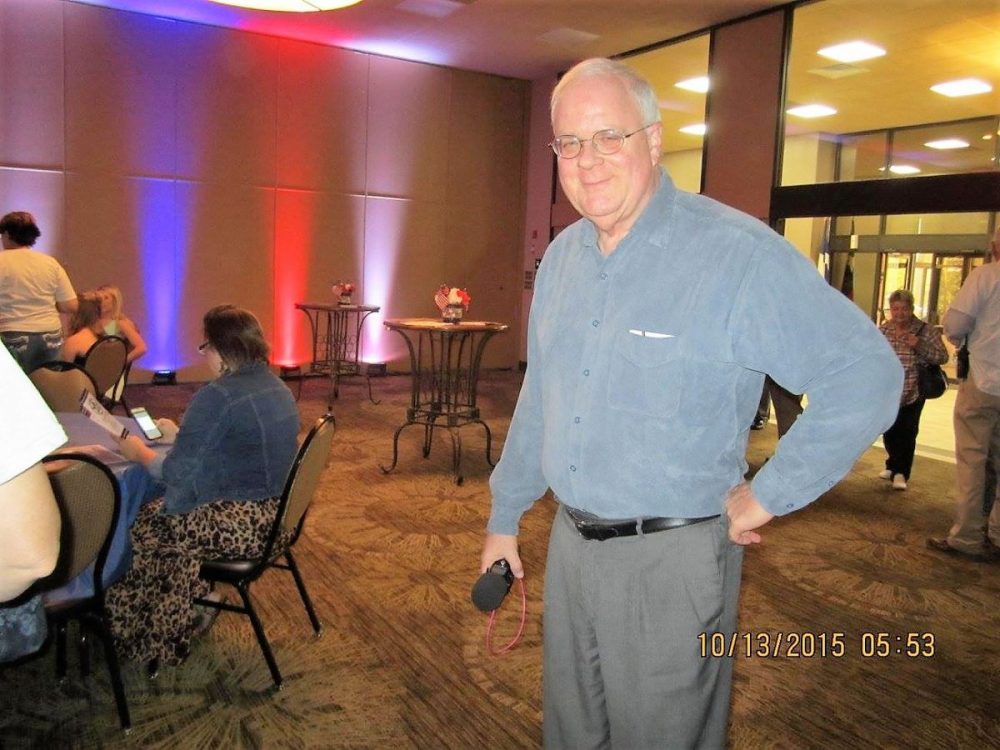 He noted that his brother, who retired about a year ago, has also inspired him to retire. His brother has enjoyed several day trips and has even traveled from Colorado Springs to Texas to visit Don a few times.
"This has been a fun, interesting chapter in this book of life. It's later but not the last chapter. From play by play, sports coverage, watching baseball – it's been wonderful," Julian said.
It afforded him the opportunity to work for KSST founder, the late Bill Bradford. Not many, Julian said, can say they've worked with legendary Texas broadcasters. Bradford, he said, was very supportive, complimentary, making a point after a game to tell him he sounded good, smooth. It made him feel like a VIP.
"He thought we were the best team in Texas. He was wonderful to work with. Chad was the same way. With the pandemic, he told us to stay safe, work from home as much as possible. He sent us home, but I was not contributing because the coaches weren't doing anything," Julian noted. "The schedule I have can be brutal in spring and fall. He never complained when there wasn't much to do in the summer — I took vacation. He never complained during the slow months — June and July."
"Don Julian is a seasoned broadcaster who is very good at his craft. We will miss him," said KSST's James Terry, who has often worked the control board at KSST when Julian is calling games and announcing at live events.
Don, unlike his predecessors, did not per se have to find his replacement before leaving, KSST Morning Show host Enola Gay Mathews said, referring to what she calls a "long-standing" KSST tradition for permanent employees. Former Sports Director Cecil Savage brought in Jimmy Rogers, then years later, Rogers found Don.
"Fast forward to 2021, Don did not have to seek his own replacement, but that would have been impossible anyway because he could not be duplicated. With a vast knowledge of sports and decades of experience in the television and radio broadcast industry, Don is a total professional and a class act, plus, a heckuva nice guy to work with!" said Mathews.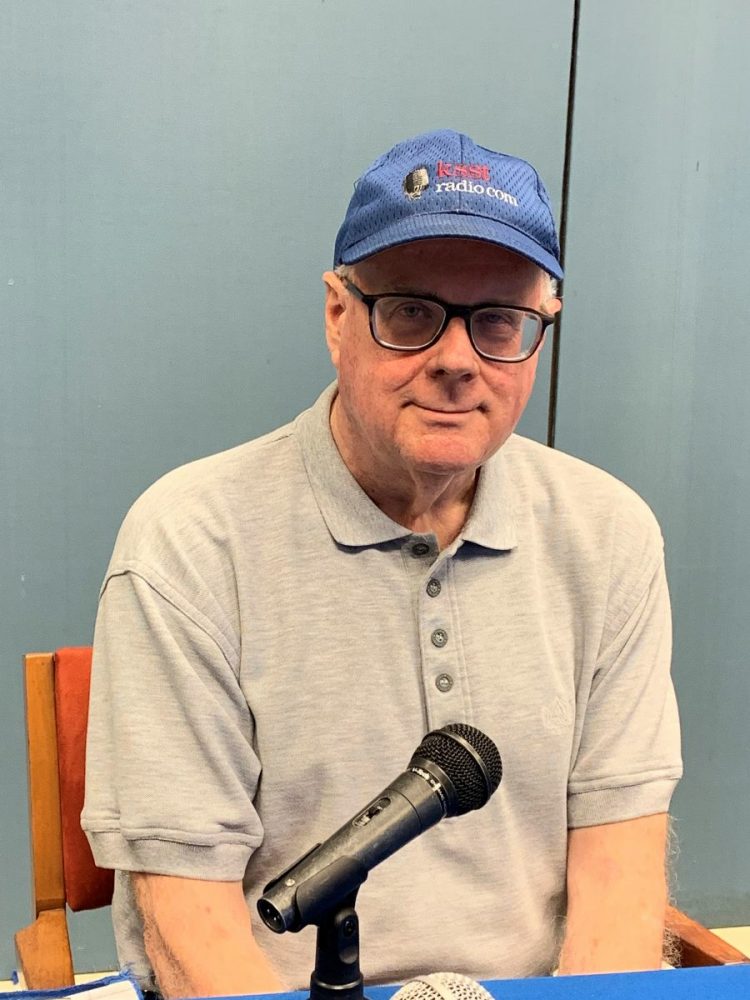 While he was not responsible for finding his replacement, Julian has been working with Ross Labenske over the last couple of years. Labenske has been gradually increasing his duties at KSST from college intern to staff member, posting stories to www.ksstradio.com, helping call football games and calling LadyCats softball games, enabling KSST to broadcast LadyCat and Wildcat games simultaneously on KSST's sister station, KRVA.
"Don has been an asset to KSST for the last 15 years, but has decided to enjoy full retirement," KSST owner Chad Young said. "We wish him well in all his future endeavors."
This month, Julian passed the sports microphone off to Labenske, Julian has shown Labenske the ropes of sports broadcasting at KSST, which should make the transition of sports director from Julian to Labenske easier.
"It will be interesting to see,' Julian said. "They are putting a lot on him quickly. He can handle it. It should be a smooth transition. The boss did not have to do a wide search. This youngster will keep things going."
Julian will continue to be a part of the community and looks forward to sleeping in a little, fewer late hours unless he chooses them, getting in his regular walks and enjoying the great people of Sulphur Springs – his adopted hometown.
"I have no big plans. I'd like to continue seeing athletic events, sporting events. I hope to continue to do that kind of thing, relax," Julian said of his plans during retirement. "I felt like it was the right time. I don't want to stay too long.… The time is right."
And, who knows, you might see him once in a while at the mic, lending his talents for special events or in the event a little extra help is needed for broadcasts.
KSST will be hosting an appreciation reception Monday, June 28, from 11am to 1pm to allow community members to stop by the studio and wish Don Julian well in his retirement and meet the new sports director, Ross Labenske